Nick Blackwell vs Chris Eubank Jr: Boxing's values are to be admired but making weight is safety issue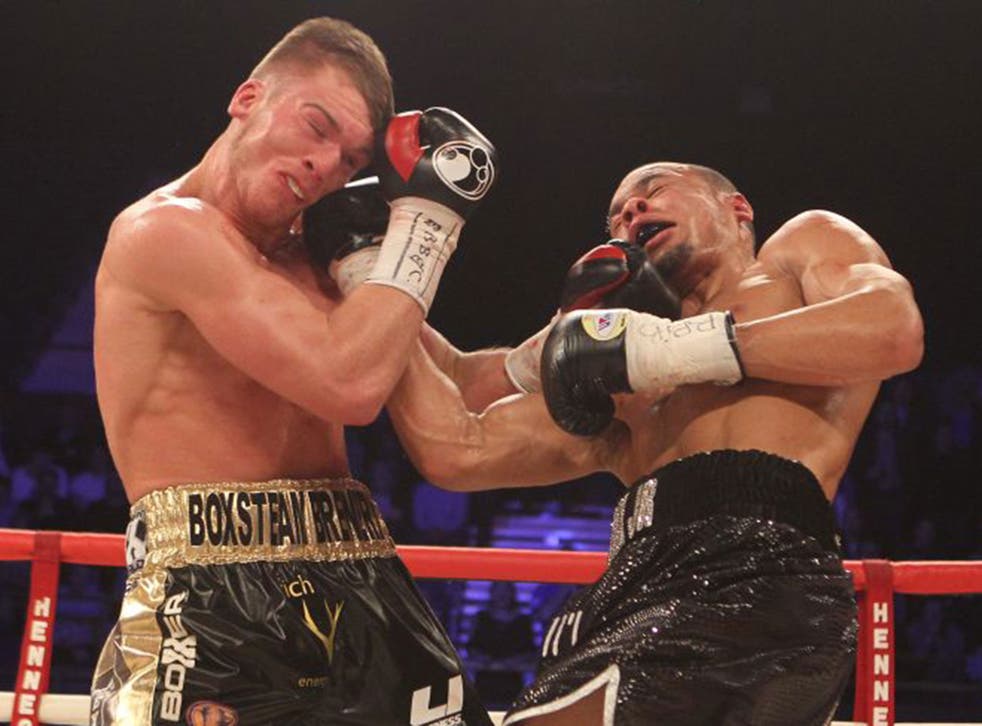 The world of sport holds its breath. The anti-boxing lobby voices the familiar, stinging chorus of "We told you so". And at the centre of the crisis, Nick Blackwell lies inert in a hospital bed surrounded by doctors doing their utmost to bring back a fighter suffering the consequences of his trade.
The distressing scenes on Saturday night at Wembley, where Blackwell collapsed after losing his British middleweight crown to Chris Eubank Jnr, were, for those who would have the sport outlawed, further proof of its inappropriate brutality and offensive presence.
They wonder why, in the early part of the 21st century, a sport which carries such inherent risk is permitted in a civilised society. Peter McCabe, chief executive of the brain injury organisation, Headway, claimed it perverse that there is not greater scrutiny of "so-called sports in which participants are rewarded for rendering their opponents senseless by targeting the head and causing damage to the brain".
It is a position with which boxing supporters are familiar and answer with arguments about civility of their own.
Though this might sound counter-intuitive when removed from the incendiary atmosphere of a boxer fighting for his life, the examples of happier outcomes far outweigh the bad, it is claimed, especially when the measure is the number of young men and women whose lives have been transformed by the disciplines the sport imposes and the values of dignity and respect for opponents that underpin it.
There is no intent to maim, apologists argue. The objective is not to destruct but to win. Boxing is governed by rules and regulations and the last instruction issued to the boxers by the referee before the first bell is to protect themselves at all times. Within that framework there is, of course, danger.
Back to the detail of Saturday night. On the advice of ringside medics concerned at the swelling over Blackwell's left eye, referee Victor Loughlin stopped the bout after 10 rounds. Hindsight wonders if the fight should not have ended sooner. That was certainly the view of Eubank Snr, who expressed his surprise that the referee had not already intervened at the end of the eighth round.
"If he doesn't stop it and we keep beating him like this, one, he is getting hurt, and two, why didn't the referee stop the fight?" Eubank Snr asked. "I don't get why… you're not going to take him out to the face, you're going to take him out to the body."
Britain's current boxing world champions

Show all 8
Eubank Snr's advice was informed by the grim memory of the night 25 years ago that he sent Michael Watson to the canvas and ultimately into a coma for 40 days. Watson sustained permanent brain damage and after six operations, remains partially paralysed. His return to something like good health is a testament to his courage and will.
Watson's plight led to the radical revision of medical provision at ringside, a feature that has saved lives since and might just have spared Blackwell, who was rushed to hospital and placed in a medically induced coma to allow the swelling to recede.
One injury of this sort is obviously too many. Where boxing might seek to make the sport safer relates to the issue of making weight. The sport is wedded to the idea that a bigger man might boil himself down to fight in a lighter category without a commensurate loss of strength, thus gaining an advantage.
For example, former world light welterweight champion Ricky Hatton fought at 10 stones but between fights would regularly top 12. Therefore three or four times a year he would be required to diet dramatically, shedding 30 pounds or so in a matter of weeks to make the light-welter limit. Hatton was typical of the industry standard.
The evidence points to a relationship between the dehydration that accompanies rapid weight loss and brain injury among fighters in lighter divisions. Though there are regulations that govern the weight loss process, particularly the requirement to visit the scales at designated times before a fight to ensure set targets are met, there is clearly more that might be done in this area.
Hatton was not by nature a light welterweight, but made himself so artificially. Perhaps boxing should scrutinise this practice to gain a better, safer balance between the weight of a man imposed by nature and that by ambition.
If we keep beating him like this, one, he is getting hurt and two, why didn't the referee stop the fight?
Join our new commenting forum
Join thought-provoking conversations, follow other Independent readers and see their replies