Canelo vs Golovkin is a perfect 50-50 contest and truly a fight of the decade
A true fifty-fifty fight, two men at their peaks, the best possible fight in boxing - take your pick of glowing descriptions because on Saturday night it will be special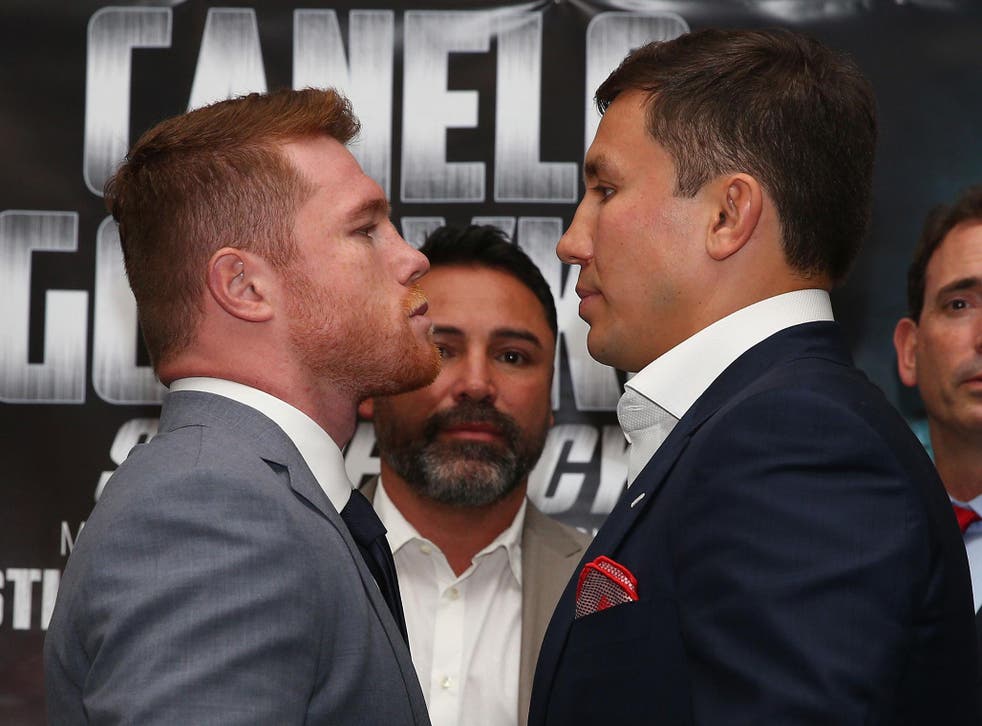 Long before they became famous as boxers, rich beyond their dreams and viewed with admiration by everybody in the business, both Gennady Golovkin and Saul Alvarez were tiny scrappers in two very different worlds.
As a boy boxer in Kazakhstan little Gennady, weighing about 5 stone dripping wet, started to collect his first glitzy trophies when he was 11 and finished his amateur life with close to 400 contests. "I have hundreds of my fights on tapes from when I was a small boy and I still watch them when I'm in Kazakhstan," Golovkin told me. He was dominant and brutal at the end of his time in a vest, winning the World amateur title and losing in the 2004 Olympic final. He stopped half of his last fifty opponents, a truly remarkable feat in modern amateur boxing.
In Mexico Alvarez fought as an amateur but turned professional three months after his fifteenth birthday and entered an uneasy twilight world that exists in far too many countries where boys fight as men, against men and are often finished before their teenage years have ended. Alvarez was lucky, smart and tough. He survived, going 12 full rounds of three minutes each round for the first time when he was just 17 and one month, an age and a time when he should have been fighting three rounds of just two minutes. In Britain he would have still been too young to turn professional.
On Saturday night they fight in Las Vegas inside the T-Mobile Arena and the four middleweight belts, the money and the wrongs and rights have not once been mentioned during a refreshing build-up. It's all about the fight. The Conor McGregor and Floyd Mayweather event, at the same venue, was all about the cash, the projected pay-per-view figures and a green belt crafted from a dead alligator by an Italian leather worker somewhere in Milan. Nobody in their right mind claimed it was a fight, nobody can claim Saturday's fight is a pig circus and at the same time the dreary lament about Golovkin v Alvarez saving boxing is equally spurious; this is a fight that starts as contender for Fight of the Decade, an old-fashioned label seldom used in the relentless modern business where last receipts are more important than the fighting.
Golovkin is unbeaten in 37 fights as a professional, including a consecutive run of 19 world title fights, which started with a 58-second win in Panama in 2010. Only Danny Jacobs has heard the last bell in a championship fight and during Golovkin's reign 22 other boxers have held a segment of the middleweight world title and only three have dared fight him; it is a statistic that brutally defines what is wrong with boxing far more potently than people moaning about McGregor making 150 million dollars in a prize ring. One was a carnival attraction, the damning statistic is boxing's shame.
Alvarez has lost just the once in 51 fights when he was easily outpointed in 2013 by a composed Mayweather in an odd fight to watch and a horrible fight for Alvarez. "I made mistakes, I did things wrong, I was young," said Alvarez, his translator putting a bit of remorse and regret where there is still clearly a lot of pain. Since the loss Alvarez, who is now 27, has been ruthless, focused and looked impressive. He has left several opponents out cold, not dropped and stumbling but out with their eyes closed, their legs still and their heads being cradled by emergency ringside medics.
Golovkin, now 35, looked tired, frustrated and shockingly short on ideas in his last fight when he outpointed Jacobs back in March. He offered few excuses, shrugged his shoulders on the night and has looked sharp in preparation at his isolated camp at altitude in Big Bear. Has Golovkin lost just a bit, a tiny edge? "Old, me old? I guarantee big Mexican drama show - this is the only fight I have wanted for a long time," insisted Golovkin. Incidentally, since late 2015 both boxers and their teams have claimed the other man has refused the fight and they are probably both telling the truth.
Alvarez was savage against British boxers Amir Khan and Liam Smith last year and so easily handled Julio Cesar Chavez Jr this year when he put on display of his pure boxing skills. Jacobs gave Golovkin real problems when he boxed, kept it simple and was competitive until the end, but still lost clearly. It is hard to imagine Alvarez being able to outbox Golovkin over the full twelve rounds and even harder to picture Golovkin running short of ideas, frustrated behind a mobile opponent's reluctance to fight. Alvarez likes to fight too much, the essential quality of all crowd-pleasing boxers, and that is what was so bemusing about the Mayweather fight.
On Saturday the level of skill necessary to win by countering, taking risks and at the same time staying close safely is rare indeed and thankfully both are capable of brilliance. Fight of the Decade, a true fifty-fifty fight, two men at their peaks, the best possible fight in boxing - take your pick of glowing descriptions because on Saturday night it will be special.
On the same night at the CopperBox in east London Billy Joe Saunders will defend his WBO middleweight title, the only belt not available in Las Vegas, when he meets Willie Monroe Jr. "Don't tell me about Golovkin and Alvarez and how they are saving the sport," said Saunders, who is unbeaten in 24. "I couldn't get either of them to fight me." In theory, Saunders is next for the winner but between a rematch, a fantasy fight or two and the usual lunatic plans at dawn in Las Vegas there is every chance that Saunders is not the name on the lips of the winner.
Golovkin v Alvarez and Saunders v Monroe Jr are available on BoxNation
Join our new commenting forum
Join thought-provoking conversations, follow other Independent readers and see their replies