Canelo Alvarez vs Billy Joe Saunders result: Mexican wins by knockout to unify WBC, WBA and WBO titles
The Mexican's pressure and power finally told after eight tense rounds at a raucous AT&T Stadium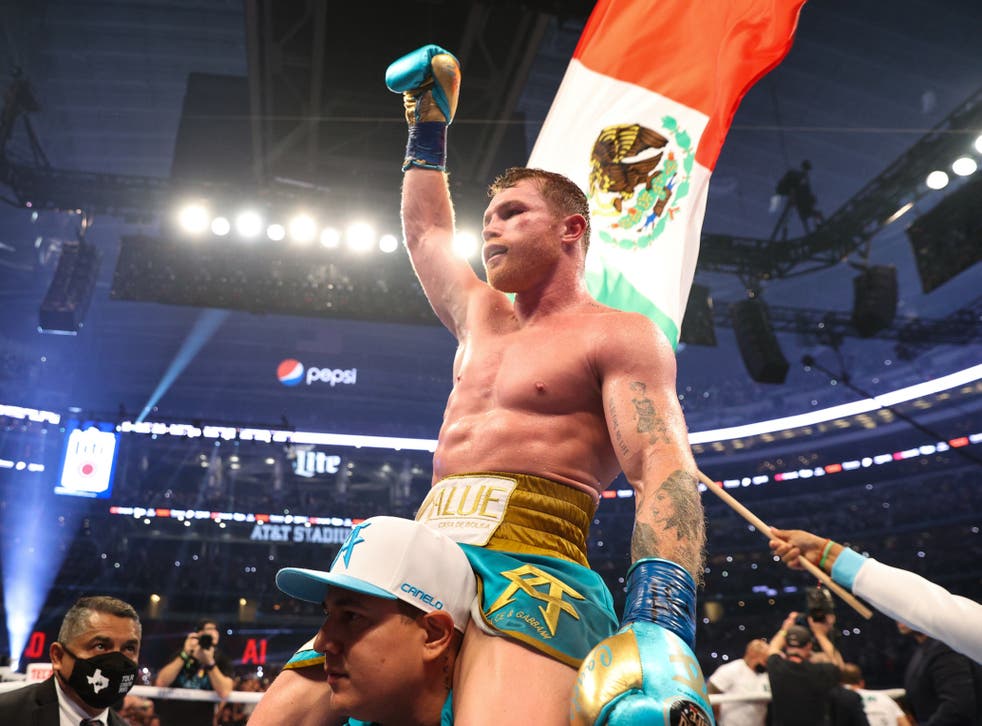 Leer en Español
Billy Joe Saunders made use of every inch of the 22ft ring, at times dancing irresistibly as he bravely went toe-to-toe with Canelo Alvarez, but after eight close-fought rounds, the pressure in Texas became suffocating and the four walls closed in. Down on all three scorecards, with his right eye horribly swollen from a brutal uppercut and a raucous partisan crowd hailing every one of Alvarez's grimacing punches, the Briton retired on his stool in the first defeat of his professional career. 
His submission might not illustrate the full story of a competitive fight, with Saunders' slippery southpaw style confounding Alvarez in spells, darting in-and-out of range behind his jab. However, the Mexican's power had always been evident, a clap of rolling thunder that only became more deadly as the fight wore on, and the moment Saunders' feints slowed, the finish became inevitable.
In delivering on his promise of a late knockout, Alvarez becomes the unified WBA, WBC and WBO super middleweight world champion and undeniably remains boxing's biggest superstar. In September, he will almost certainly face Caleb Plant, who holds the IBF belt, and is unlikely to provide a sterner of a test.
"As I said beforehand, the fight was going to develop by the seventh or eighth round. That's what happened. But it wasn't as difficult as I expected. That's where I take note that my preparation is good, and I improve day-by-day," Alvarez said.
"The fight I was winning round-by-round. I told you, my fight would develop after six or seven rounds. But I started getting adjusted quickly.  "I knew that this [the eighth] was going to be the final round. But I knew it. I think I broke his cheek, and I knew he wasn't going to come out. That was it."
While the victory continued Alvarez's quest to become the undisputed champion at 168lbs, its manner was also an act of retribution. The 30-year-old had been infuriated by Saunders' pre-fight antics but ceded to his demands, comfortable in the knowledge that a larger ring would still offer no routes of escape.
It did not seem quite so immaterial in the early stages, though. In front of over 70,000 supporters at the AT&T Stadium - a US boxing indoor record - Saunders' subtle movements at least made the four-weight champion pause for thought. The Briton, a two-time champion in his own right, who was undefeated in 30 professional fights, proved elusive behind a snaking jab, continually slipping out of Alvarez's range, and landed flurries of punches.
But without the power to stop Alvarez's relentless march forwards, the second and third rounds provided an omen of what was to come. Saunders found himself backed up onto the ropes, dodging a string of explosive hooks to the body. The Briton stuck out his tongue and dismissed any signs of pain, but from thereon the disguise always felt temporary.
Alvarez was already searching for a spectacular finish, coiled in a squat low stance, every punch hurled with menace. Yet, Saunders grew in confidence in the middle rounds, happy to hold his feet and throw combinations, even managing to back Alvarez up on occasion. If not enough to hurt the Mexican, he was winning rounds and, at the halfway stage, the scores were at least close.
Alvarez, though, had admitted openly in the build-up that the first six rounds would be "complicated". He is a fine counter-puncher yet not an outright technician like Saunders. But in the seventh, the toll of his pressure and power began to drain Saunders' energy, the distance between the pair closed quickly, Alvarez's immense punches landing ever more frequently, if not flush.
The telling shot, a vicious uppercut in the eighth round, did not cause Saunders to buckle, but the damage was immediately evident. The Briton's eye blackened, its lid completely closed, and he sought only to dodge and escape, desperately covering his face until the bell rang. Alvarez beat his chest and raised his arms in the air like a bull with a helpless matador as the AT&T Stadium bayed for blood.
They booed when Saunders failed to rise for the start of the ninth, their accusations of quitting hanging in the air, but the decision was sensible, limiting any further punishment. At that point, all three judges had Alvarez ahead. Saunders was fighting a losing tide and was taken to a hospital afterwards with a suspected fractured orbital bone, a towel draped over his head to hide the pain. He will be bitterly disappointed, but there is no shame in defeat against arguably the world's best pound-for-pound fighter.
Now, Alvarez's juggernaut rolls on from one Mexican holiday to another, from a 15-year-old prodigy to an unstoppable force. This was already the 56th victory of his professional career and, perhaps, only now he is entering his prime. There is still far more to be written into his already heavy legend.
Register for free to continue reading
Registration is a free and easy way to support our truly independent journalism
By registering, you will also enjoy limited access to Premium articles, exclusive newsletters, commenting, and virtual events with our leading journalists
Already have an account? sign in
Register for free to continue reading
Registration is a free and easy way to support our truly independent journalism
By registering, you will also enjoy limited access to Premium articles, exclusive newsletters, commenting, and virtual events with our leading journalists
Already have an account? sign in
Join our new commenting forum
Join thought-provoking conversations, follow other Independent readers and see their replies