Carl Frampton vs Leo Santa Cruz: Tearful Barry McGuigan's protégé rivals King of the fighting Irish title after masterclass
Bunce on Boxing: McGuigan's son Shane masterminded a perfect performance from two-weight world champion Frampton in New York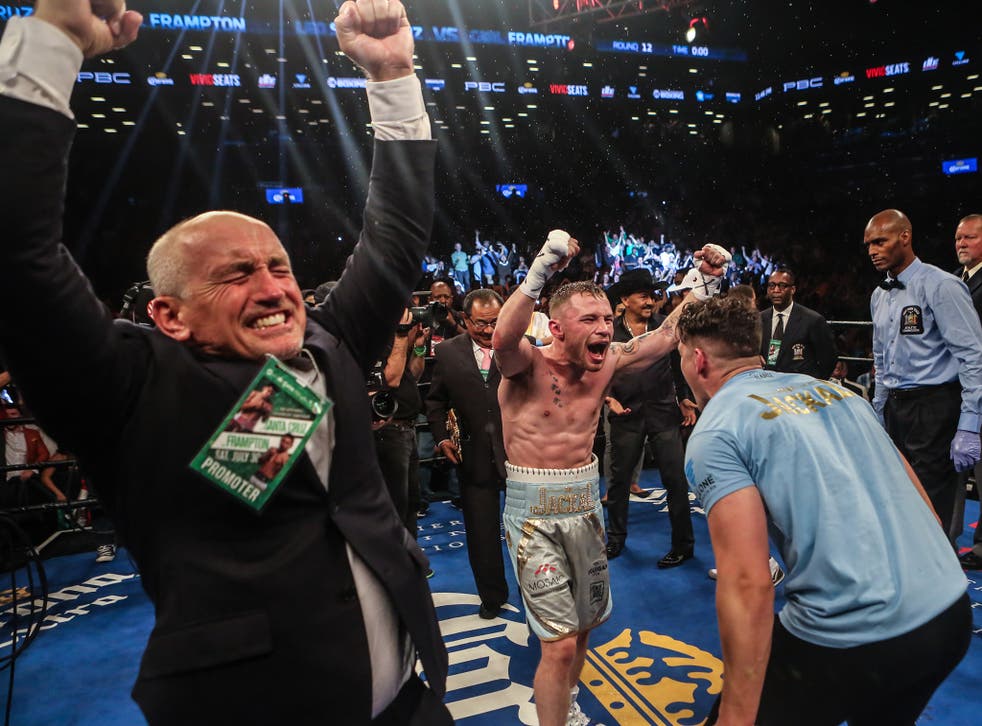 It was a dream fight that left Barry McGuigan in tears of joy on Saturday night in New York when Carl Frampton performed a flawless dance of grace and power to win the WBA featherweight world title.
It is the same belt that Wee Barry first won 30 years ago during a night of equal brilliance at Loftus Road in west London; since that night 13 men have strapped the WBA belt on and McGuigan has become the fighting saint of Ireland, a man praised for blubbing at ringside on Saturday night when his protégé was stunning in a win that will challenge forever his title as the King of the fighting Irish.
Frampton's control and belief were astounding and the betting favourite, the unbeaten champion Leo Santa Cruz, was often made to look like a clueless witness. The Mexican-American's cornermen had no remedy for Frampton's tiny genius and started shrugging their shoulders at the end of the twelfth round when the unlikely heist was complete. Santa Cruz mumbled something about the Irish crowd at the Barclays Centre in Brooklyn swaying the judges, but even he lacked the heart to deny Frampton his glory.
Frampton was shorter, conceded six-inches in reach but all of Santa Cruz's very real physical advantages vanished once Frampton's timing, footwork and speed started to shape the brawl the minute the opening bell called to order a magnificent crowd. Santa Cruz has a way of fighting that is easy on the eye, he delivers relentless assaults with a chilling smile on his face and simply wears people down. Defeat was not an option, not a scheduled pit stop on his journey to the higher divisions and after 11 world title wins in four years he lost his belt and his unbeaten record in fight number 34. Frampton beat a great boxer.
The fight changed in round two when Frampton timed a short left hook to precision and it connected cleanly to send Santa Cruz wobbling back into the ropes. It was the dreadful moment when the Santa Cruz business realised it was in trouble and, it has to be said, it was a moment they had not considered during all of the good-natured smiling days; it was joyous reward for every Irish soul in the five boroughs of New York who had descended on the gleaming pile of the Barclays Centre to make it a home fixture for Frampton.
Britain's current boxing world champions

Show all 8
"I knew it was about angles, I told people that and everybody just kept on smiling at me," said Frampton. "I hurt him, he knew it and I just had to stay calm and not get involved." Frampton's words are applicable to every boxer in any gruelling fight away from home against an unbeaten champion - the difference is that Frampton did exactly what he had to do and his trainer Shane, who is Barry's son, deserves praise. It was a masterclass and that was the only possible way he was ever going to win.
"Shane was telling me to keep it smart, not to get involved," said Frampton. The pair worked magic on Saturday night, outwitting experienced men, one or two of whom were a bit condescending in the build-up, in the deflated Santa Cruz business. Shane is younger than Frampton, the pair met as amateurs in the Belfast championships, and he also trains David Haye and George Groves. It was a bit early for the traditional fairy tale in New York, but you get the picture.
Santa Cruz did have a smile on his face in rounds six and seven and then again briefly in nine and ten, but these were rounds that he could have nicked on the scorecards, not rounds he dominated. Santa Cruz's best most destructive punches only inspired renewed choruses of devotion from the baying crowd and never once did Frampton look in danger of being slayed by the grinning Santa Cruz. It was still tight at the final bell as McGuigan dropped his head into his hands at ringside and in the ring neither boxer celebrated like they knew they had done enough to win.
The first score was a draw, which was not outrageous, and the boxers stood silent bruised sentinel on either side of the referee as the final two scores were announced by the peerless Jimmy Lennon Jr: it was 116-112 and 117-111 to Frampton and then the tears started to flow. The dream, they all said, will continue and there will be a rematch or unification fights, there will be grand nights in Belfast, emotional returns to New York, sieges of Las Vegas and on into the warm summer night the plans and the joy continued of a little fighter and his fearless team of believers.
Register for free to continue reading
Registration is a free and easy way to support our truly independent journalism
By registering, you will also enjoy limited access to Premium articles, exclusive newsletters, commenting, and virtual events with our leading journalists
Already have an account? sign in
Register for free to continue reading
Registration is a free and easy way to support our truly independent journalism
By registering, you will also enjoy limited access to Premium articles, exclusive newsletters, commenting, and virtual events with our leading journalists
Already have an account? sign in
Join our new commenting forum
Join thought-provoking conversations, follow other Independent readers and see their replies