Chris Eubank Jr needs to step out of his father's shadow if he is to fulfil his potential
What we don't yet know is how far this talent will stretch and we might never get that answer until we discover where he begins and his father ends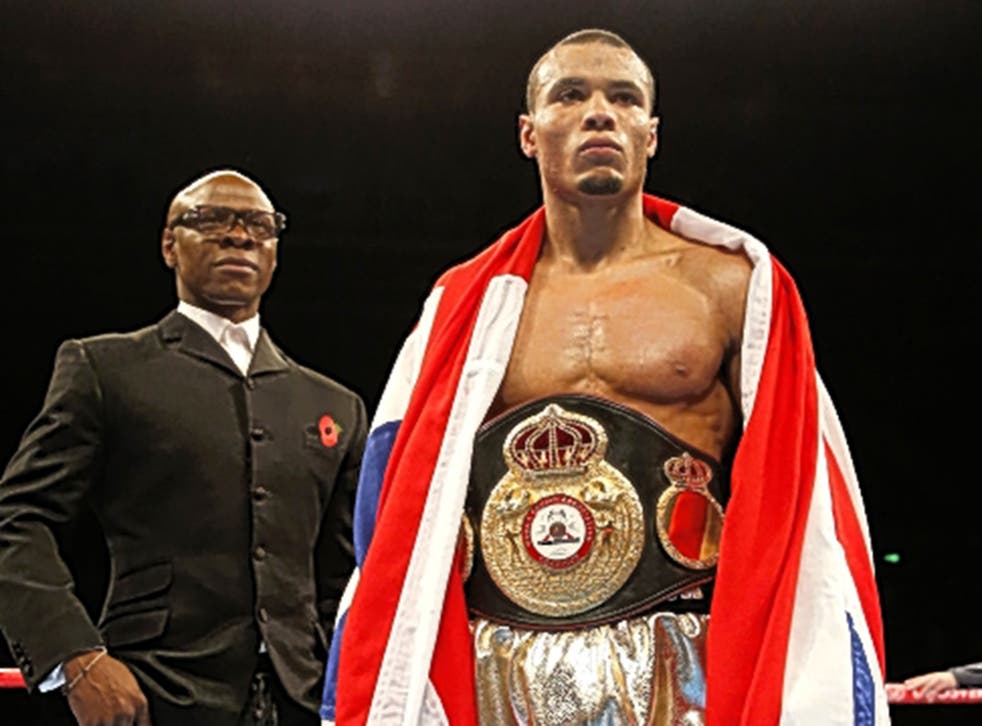 Chris Eubank Jr is his father's son. He does not want for bombast or self-esteem. He can jump a rope with the best of them on his way into the ring and strike the "look at me, aren't I the bollocks?" pose when the opponent lies slain at his feet.
Boxing is made for the vaudeville dimension. It likes its characters big, and junior is coming along nicely in this regard. His second-round annihilation of the over-matched Tony Jeter in Sheffield on Saturday was neither here nor there as a barometer of progress. We know the kid is above being fed bodies to beat up.
What we don't yet know is how far this talent will stretch. And I'm guessing we might never get that answer until we discover where he begins and his father ends. At some point Eubank Jr has to become his own man, to establish his credentials not only as a fighter but as an individual, so that the next time his hands are in the fire, as they were against Billy Joe Saunders during his one defeat, he sets about the task according to his own standards not those of his father.
Perhaps the addition of trainer Adam Booth is recognition of that. Booth was diplomatically vague when asked about a working relationship that involved Eubank Sr. There is no doubt pops has his son's best interests at heart. It is equally true that he loves the limelight as much as he ever did, and between those blurred lines lurks the potential for confusion and disaster when clear thinking is the requirement.
It was obvious in the Saunders engagement last year that Eubank Jr was so convinced of his own pre-eminence, and as a result there was no Plan B when hubris led him into the wrong fight. It was as if the priority was to please his father with the size of his cojones first and win second. There was deference to his father's idea of the fighter he should be that was getting in the way of business.
Heart, stamina, and will he did not lack but as necessary as those qualities are they are not sufficient in the highest class. Eubank Jr has talked about laying down a challenge to Kazakh world middleweight champion and pound for pound king Gennady Golovkin. To achieve that goal he must put some distance between self and sire and learn to add guile to guts.
Eubank Sr's forte was to box on the back foot, invite allcomers on, but when required to take the fight to an opponent who boxed clever, it was never fluent and never pretty. The Dark Destroyer, Nigel Benn, made Eubank a hero by throwing everything at him. He would step back, sway out of distance and hit hard on the counter, stopping to admire his work en route.
The son carries the same hauteur into the ring, the same love of self, and hits the same brick wall when a world class opponent, in his case Saunders, knows how to advance without a target on his chin. Golovkin is another step-plus beyond Saunders, and a long way out of Eubank's range at this juncture.
Eubank Jr has steamrollered his two opponents since Saunders but we cannot know what that means until he is tested again. When the roof caved in against Saunders he needed a voice in his corner offering intelligent prompts. What he had was a father bound up in the Eubank aura, standing with one booted foot on the steps, arms folded like Caesar projecting the message that all would come right because he was a Eubank with a warrior's heart.
I was reminded of a weekend in France in 2008 when Lewis Hamilton was in pursuit of his first world title and the media were on his case after crashing into Kimi Raikkonen in the pit lane in Canada a fortnight earlier. His father cancelled a pre-arranged TV interview with Dutch TV, thus raising the ante hugely and placing his son at the centre of a needless controversy.
Hamilton was second in the championship trailing Robert Kubica by four points. He needed to bounce back but found himself doused in the emotional turmoil of a father with his nose out of joint. Hamilton's head was all over the place, qualified only third and finished 10th in a car good enough to take him to the world championship once he had his brains back in gear.
You will note that Hamilton is no longer managed by his father, who did a brilliant job on the way up it should be noted, and both are better for it. Eubank Jr needs to fill his own space in the same way, to grow as a result of decisions taken outside the orbit and influence of his father.
The sharper experts note the need to fight on the front foot more, to make better use of the jab, to learn to initiate attacks, as Barry McGuigan put it in his own critique. In other words be the fighter his father wasn't. And perhaps then he might become the champion his father so desires.

Join our new commenting forum
Join thought-provoking conversations, follow other Independent readers and see their replies