Conor Benn echoes his father's iconic rivalry with Chris Eubank by claiming he's 'messing up' his son's career
The son of two-weight world champion Nigel Benn claims Eubank Jr needs to realise his father is 'an absolute t***' and is costing him both a career and a fortune in the ring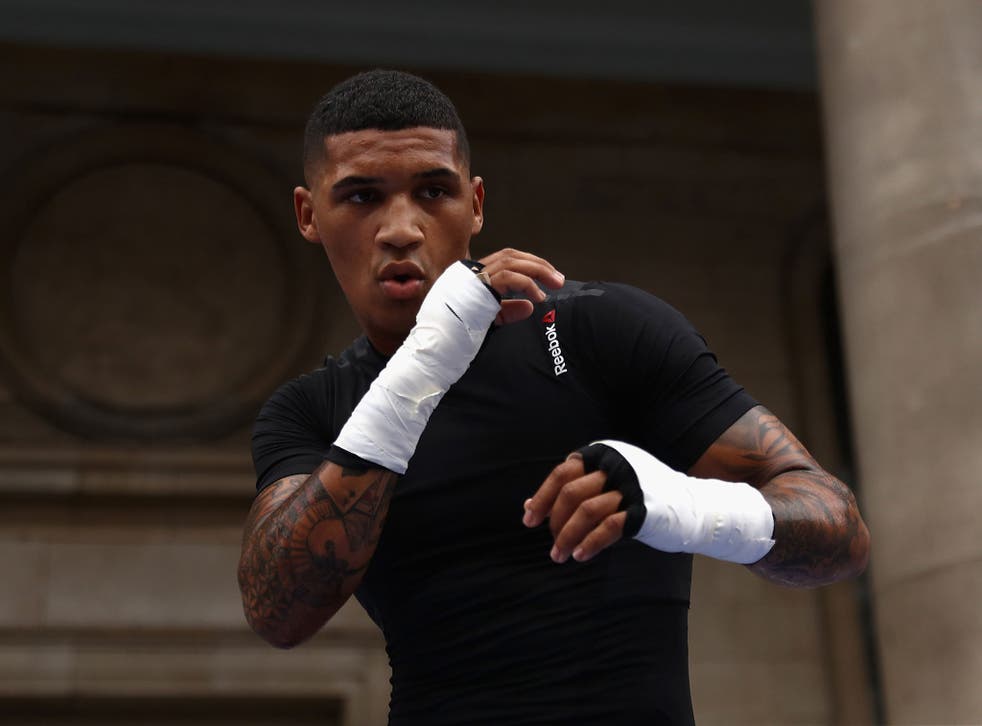 "Listen, I ain't a diva, alright?" Conor Benn laughs as he issues this denial, knowing it is likely to fall on deaf ears given the two things he has just revealed about his home life. First, that he has a maid at his home in Brentwood, Essex - someone to take care of all his washing, dusting and ironing. And second, that he gets all his meals delivered daily to his door - each one carefully assembled to meet his specific calorie and macronutrient requirements.
The 20-year-old boxer - son of the former two-weight world champion, Nigel "The Dark Destroyer" Benn - is just six fights in to his career after making his professional debut at London's O2 Arena last April. Unbeaten so far, earning an early stoppage in four of those fights, Benn is in something of a precarious position. With a surname that evokes some special memories for British boxing fans and an aggressive style reminiscent of his father's, the welterweight prospect has been fast tracked to a level of fame and expectation that is at odds with his shallow experience in the ring.
Benn is well aware of the mismatch. It's hard not to be given that he's speaking at an appearance for Reebok, who signed him up as an ambassador last September. Sportswear brands have typically been reluctant to get too involved with boxing. Even 2012 Olympic champion, Anthony Joshua struggled initially according to a trustworthy source close to his camp who says that before signing with Under Armour, the heavyweight star was waved away by two of the UK's biggest sport brands.
Not so for Benn, though, who talks earnestly of his gratitude to Reebok for backing him on his journey towards becoming a world champion. It's clear that he's still wide-eyed about the speed of it all, though: "I only had 22 fights as an amateur, which when you're 16 and 17 years old isn't really a lot. It's different having that many fights when you're 18 or 19 because then you understand things a lot more. I was just throwing punches back in the amateurs. I didn't really know what I was doing. It means that my progress will be a bit slower because I still need to learn."
He admits though that he harbours a desire to impress. After all, he is a Benn - a name synonymous with formidable punching power and relentless aggression. He's understandably proud of that heritage, saying that while he rarely watches the current fighters ("I watch the top ones and that's really it"), he spends a lot of time looking back at footage from his dad's fights. "I love watching my dad all the time. It never gets old. It's just for entertainment really, though, not to learn because he was one of a kind.
"To try and be like him, you've got to be ferocious, you've got to be right mentally, you've got to be strong, you've got to have knockout power. If you're missing one of those things, it don't work. You've got to have all of that. Do I think I could be like him? I wish I could. He was unbelievable as a fighter. I guess I might one day - I'm still a baby, so we'll see."
One current fighter that Benn can't ignore (even if he wanted to) is Chris Eubank Jr, the son of former two weight world champion, Chris Eubank Sr. The latter's fierce rivalry with Nigel Benn helped ignite British boxing in the 1990s and Benn junior seems keen to continue the family rivalry - though it remains in words for now, given the difference in weights between himself and super middleweight, Eubank Jr. "I watched about four rounds of his last fight then fell asleep" says Benn of Eubank Jr's recent victory against Renold Quinlan - a win that secured him the much derided IBO Super Middleweight title.
Eubank Jr's performances have become noted as much for his father's antics as for his boxing ability. Ahead of the Quinlan fight, Eubank Sr strutted to the ring accompanied by his own ring walk music - an act of egotism balked at by most boxing trainers. Added to this is Eubank Sr's decision to move Junior away from Eddie Hearn's Matchroom stable and its lucrative tie-in with Sky television, to a brand new ITV box office platform.
"I don't know what to make of it really," says Benn. "Are they both deluded? Is it mind games or are they trying to get people talking? His dad is basically ruining his career. He [Junior] could have made six million by now. If my dad messed that up for me I'd be like; 'listen dad, me and you are falling out mate.' But my dad is cool. My dad's sick, whereas Eubank's dad is an absolute t***. It's as if his son doesn't realise it."
"The Destroyer" (Benn has adopted his father's nickname, just without the "Dark" precursor), fought as an amateur in Australia where Benn Senior settled a few years ago. His 22 bouts took place in "stables or bingo halls" in front of a small handful of interested (or not) spectators. "My last amateur fight was in front of maybe 20 people" he recalls. "Then I walked into a packed O2 arena on my pro' debut. That's a lot to deal with on its own. On a pro' fight night there are all these different emotions and it's about how you deal with them. You have to make sure you're in the right mindset because when you're going into the ring there's thousands of people watching right there and even more on TV. That's at the back of your mind so you need to make sure you're ready in all aspects."
Benn has fought just 15 rounds as a professional so far. Three of his opponents have hit the canvas in the very first round. It's great for his confidence, but not so good for his boxing education - the more rounds he fights, the more he will learn. But there's a delicate balance to be struck in boxing. The task for his promoter, Eddie Hearn and trainer Tony Sims this year is to find opponents strong enough to give Benn the rounds he needs but who are not so strong that they cause lasting damage to his development as a fighter.
It can be difficult for young, hungry fighters to accept the risks in taking on too much too soon - particularly if they listen to the social media noise from fans eager to call out boxers who they believe are collecting victories with 'easy' fights. But Benn seems at ease with the position he's in 10 months into his pro' career, saying: "I need to not rush it. I need to think about the future - there's no point getting in hard fights now, because I'm still learning. When I look back at the fights I've had so far I see that I need to keep my defence up. I get caught a lot because of my style. I'm so eager. I need to slow things down a bit - calm it down and just be more boxing smart."
Nigel Benn remains in Sydney, having made the decision to leave his son's career in the hands of renowned trainer, Tony Sims. Conor says Sims and his father talk on the phone frequently though, so fatherly advice is still forthcoming (or in his words "I get it in the ear all the time"). After moving to England from Australia on his own at the age of 19, Benn lived in Manchester for a few months where he was working with former world champion, Ricky Hatton. But he couldn't settle there and after six months relocated to Brentwood. "I felt like a fish out of water up in Manchester. I'd come from Sydney and it was like, what have I done? It was raining all the time and I was there on my own. My grandparents are in London as well so I came to Brentwood and I preferred it. I got my own place and thought 'yeah, I like this'."
Moving away from home for the first time is a steep learning curve for most young adults. For Benn, with his immediate family on the other side of the world and his sudden immersion into the intense world of professional boxing, it must have been particularly so? "I guess," he nods. "Though I've got my maid who comes and does everything for me…" At this point he breaks into laughter. "But listen, I ain't a diva, alright?"
He's sheepish about being looked after so well. But given the speed with which Benn has been tasked with transitioning from amateur to professional, and from privileged son to lone fighter, it's perhaps understandable that he needs a little help when it comes to living the life of an elite athlete. This year is likely to bring him fights on some extraordinarily high profile cards (such as the Anthony Joshua v Wladimir Klitschko bill on April 29th), and Benn is already itching to get started. "I'll talk with my team this week so my next fight should be announced soon. I just want to have as many fights as I can this year and try and smash them all out in the first round. I'll be happy with that."
The fighting talk is already in place, then. But the calmness and ability to engage that boxing brain? That's clearly still a work in progress (along with the housework).
Conor Benn is the face of Reebok's new SS17 Men's Training Range, available now at DWSports.com
Register for free to continue reading
Registration is a free and easy way to support our truly independent journalism
By registering, you will also enjoy limited access to Premium articles, exclusive newsletters, commenting, and virtual events with our leading journalists
Already have an account? sign in
Register for free to continue reading
Registration is a free and easy way to support our truly independent journalism
By registering, you will also enjoy limited access to Premium articles, exclusive newsletters, commenting, and virtual events with our leading journalists
Already have an account? sign in
Join our new commenting forum
Join thought-provoking conversations, follow other Independent readers and see their replies