Daniel Dubois makes light work of mismatch but greater things will arrive in electric heavyweight division
British heavyweight is the most exciting prospect in a stacked division, and though Saturday night's procession will not win any plaudits, it is a step that needs to be taken to deliver the showcase bout against Joe Joyce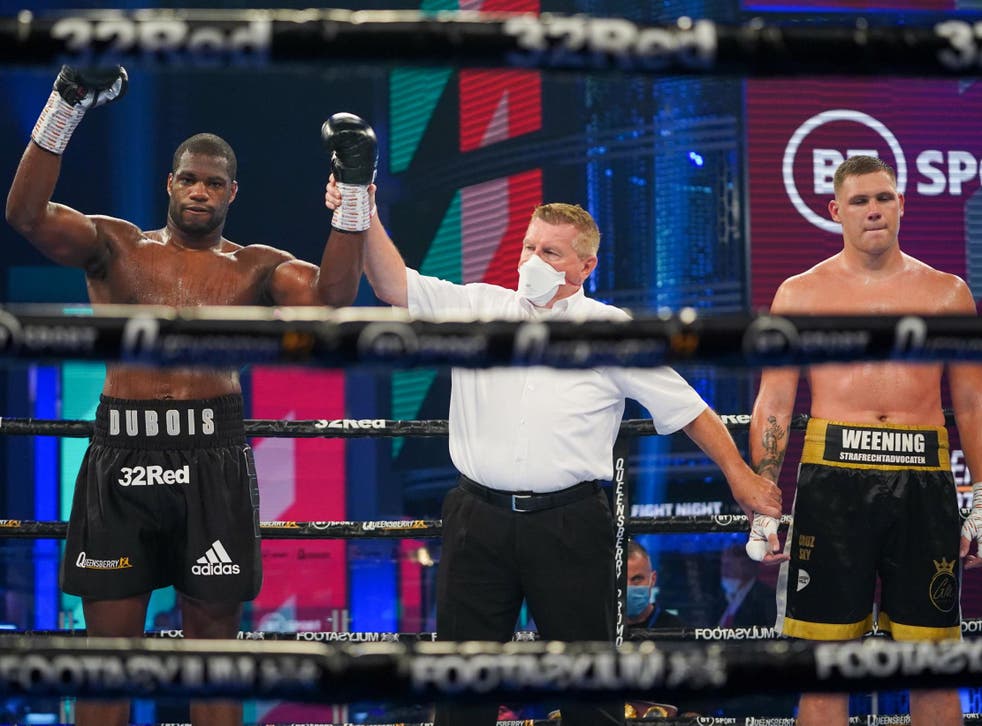 There was no surprise when Daniel Dubois, arguably the world's number one heavyweight prospect, was led away from his latest victim on Saturday night at the BT studio in East London.
There was no swagger, no bragging, no wasted punches, it was just Dubois banging away at a man with no chance – a man he couldn't miss.
Dubois is 22 now, unbeaten in 15 fights with 14 ending early and there is not another heavyweight with the same amount of expectation hovering above their shoulders, not another heavyweight on the planet with anything like the genuine excitement that surrounds this fighter. This is not normal hope, these are not normal heavyweight days.
Late on Saturday he walked through Ricardo Snijders in what was an expected mismatch, but in boxing it was just business and any distant howls of outrage are silenced by the hopes of future glory. It is not great sport, but it is great business and it has always been the way our game works, especially when a fighter has something substantial planned. Dubois has a terrific fight scheduled with Joe Joyce for October; the unknowns about spectators, the possible second wave and this government's confusion might combine to see the fight pushed back again.
Dubois was meant to fight Joyce in April, both unbeaten, both British and for some crazy reason both agreeing to meet each other at this early and critical point in their careers. They are, alongside Croatian Filip Hrgovic, France's Tony Yoka and Texas-based Nigerian Efe Ajagba, the future of a division that is creating some fine boxing history right now. This is one of the finest line-ups of young, dangerous, marketable and quality heavyweights that I can remember. All have had 15 or fewer fights, and they each bring something; Dubois is the youngest and he is the one with the most expectation. There are no Americans expected at the party.
On Saturday night, Dubois had it easy and poor Snijders quickly realised what his role was in the fight; he looked over during the ring introductions and gulped like a goldfish in the desert sands. He was stranded and there was no chance of help. I have seen that moment of truth before, seen much better fighters crumble at that point when they realise they are on the bloody side of an ordered massacre.
The Dutchman had lost just once in 19 fights, he accepted the fight at short notice and in these problematic days for matchmakers a few extra concessions are being extended. He did, to his credit, let a few punches go and, even if he lacked boxing grade, he must have known just how hopeless his chances were long before Dubois started to hurt him. In other words, he was brave. He was also dropped four times before the referee called a halt, officially logged as 20 seconds of round two, but a more accurate time for the stoppage was about ten days ago when somebody accepted the fight on his behalf. Snijders saved the day with his sacrifice.
Dubois and his team wanted and hoped for more rounds, perhaps six or seven, and there is a chance that the original opponent, the big German Erik Pfeifer, would have given them what they needed. However, Pfeifer's medical files were a problem and Snijders, who had been on hold, was given the job. It was not a unique mismatch in the heavyweight game and it was possibly unavoidable, but the truth is nobody – on this occasion – was hurt and everybody got paid and went home safely. If that sounds cynical, I'm sorry.
So now Dubois continues his wait for the fight with Joyce, which is surely the most unfortunate boxing fixture victim of these odd days; it is a fight that just keeps getting kicked about, it has fallen victim to a moveable feast of dates, the seemingly arbitrary whim of the government and it will soon be struggling with an unforgiving calendar. It is just such a pure fight, a wonderful prospect.
The fight fits perfectly into a heavyweight landscape of filthy riches, intrigue and an increasing desire to make fights happen; it is not just a little British scuffle, something for the traditional heavyweight rulers - the Americans - to dismiss as insignificant, to gloat over and to ignore. Joyce and Dubois remains a rare piece of fearless boxing, a fight for any age. The fighters, the fans, the television backers all need a bit of guidance and it would be nice to get some positive news on crowds. There is no bottomless pit of cash in the boxing business and with over 11,000 tickets sold, this fight is big business. And that is why we wait.
It is a glorious boxing tale desperate to happen, a fight with two hard men ready right now to deliver an unforgettable event. And then we will find out how it all ends because it will surely be the start of something special. On Saturday night, Snijders was just a tiny, bruised and hurt part of a much bigger story.
Join our new commenting forum
Join thought-provoking conversations, follow other Independent readers and see their replies