David Haye's rebuilding process to continue apace in anticipation of Anthony Joshua showdown
Haye is hoping to re-establish himself as a contender in a changing heavyweight division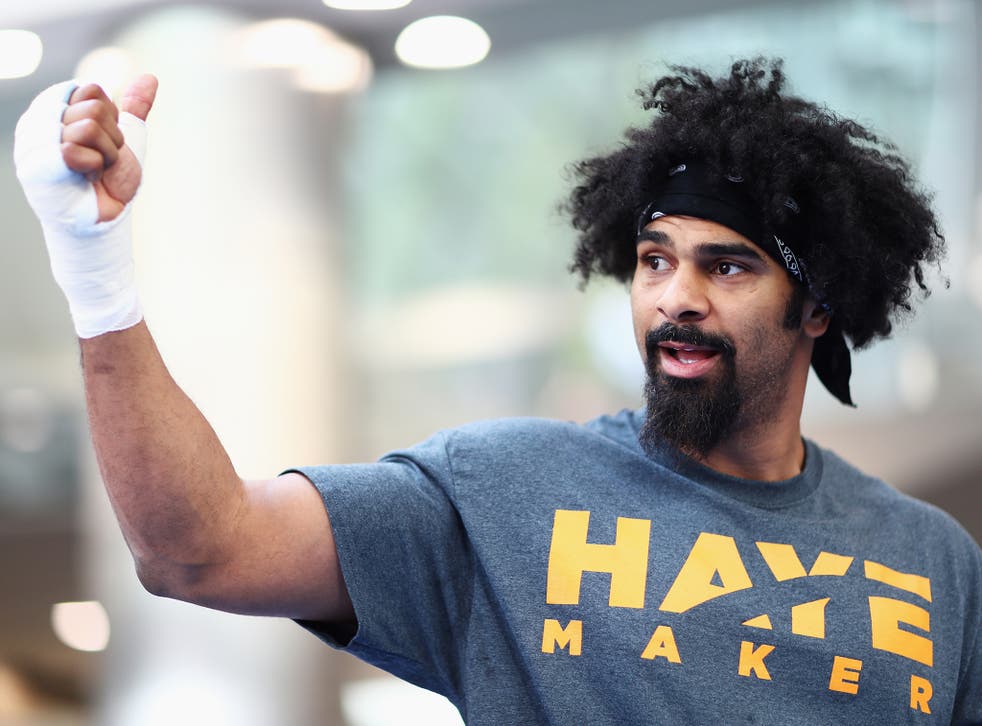 Deontay Wilder's mansion is on hold and it is not clear yet what David Haye is building in a week of tarnished heavyweight fights.
Wilder is the current WBC heavyweight champion and on Monday morning, after two weeks at a training camp in Sheffield, he flew back to Tuscaloosa, Alabama, when his defence this Saturday in Moscow was officially postponed.
Wilder's opponent Alexander Povetkin added his name to a deepening cesspit of shame for Russian athletes when he failed a pre-fight test and was positive for meldonium. Povetkin, an Olympic champion from 2004 and former world heavyweight champion, launched a brutal defence during a weekend of pleading, claims, contradictions and empty promises. The fight is off, the jury on Povetkin is out. Wilder, incidentally, had accused Povetkin of cheating last year.
It is thought that Wilder, who is unbeaten in 36 with 35 knockouts, was making just under five million dollars for the fight, which is many times what he had received previously. "The plan was to get back home, get in a bulldozer and take down my old home and then start building the mansion for my children on my land," said Wilder.
The American fight public is still reluctant to embrace the heavyweight scene after the relatively recent highs with Lennox Lewis, Mike Tyson and Evander Holyfield, which ended 13 years ago, were exchanged for distant safety-first fights in European locations during ten-years of Wladimir and Vitali, the Klitschko brothers, reigning as champions. The Americans turned off, booed Big Wlad one night in 2008 at Madison Square Garden, New York, and Wilder is doing his best to change the thinking of a generation of lost heavyweight fans.
A deal announced last month between Anthony Joshua, the IBF champion, and American company ShowTime to show the British boxer's fights live will potentially alter the heavyweight landscape. The looming spectre of a showdown with Tyson Fury, the closest thing to the lineal champion, is less important to the American market than a series of quick knockouts against men with poor credentials. Joshua is good at finishing fights early and that is the only requirement necessary for the American audience.
Britain's current boxing world champions

Show all 8
In London on Saturday night Haye, who returned from a celebrity exile in January with a painful 131-second mismatch against a body-builder with a Mohican haircut and impressive tattoos, is back on television channel Dave. His return after three years away from the ring was watched by over 3 million people on Dave and this time he fights a man with a record of 29 fights without loss; the wins have been compiled in boxing's forgotten corners against flabby men with names that would score high in a game of Scrabble.
Haye meets Kosovan-born and Swiss-based Arnold Gjergjaj, who sadly is not known as 'Triple J'. The towering Kosovan has biffed and bashed his way through a totally unknown list of Igors, Gabors and Tibors, leaving a trail of terror in his wake. However, he is big at 6ft5ins and heavy enough at 18-stone to pose Haye, still a small heavyweight, a few problems. Haye is clearly heading for the Joshua Promised Land and some type of big fight, possibly outdoors in September.
It is a brilliant piece of matchmaking and promotion by Haye and his tiny, tight team because big Gjergjaj will go down swinging and look good toppling to the canvas. Haye loves fighting big men - the one exception being the night he froze against Wladimir Klitschko - and that is because he is a twitch fighter, a man that relies on quick, quick instinctive punches. He will take care of Gjergjaj and then start to threaten Joshua, possibly even Fury or his old sparring partner Wilder. Haye could still be a heavyweight option.
Haskins under all radars
Lee Haskins of Bristol won his IBF world bantamweight title in Las Vegas last year when unbeaten and heavy betting favourite Randy Caballero failed to make the weight, coming in five pounds heavy. Haskins was the interim champion at the time, and had the option to simply accept the belt, because of Cabellero's mistake, or fight Caballero at a heavier weight, in a fight where only Haskins could win the title.
On Saturday night in Cardiff, Haskins dominated against Ivan Morales to defend the title for the first time in a fight that went without any recognition. Haskins has been devoted to his trade for 13 years, toiling away far from the glamour for a long time and is a decent, if neglected, fighter. He did the right thing turning down a fight with Caballero, even if it went against his fighting heart and now he has a few fight options that could transform his life.
Register for free to continue reading
Registration is a free and easy way to support our truly independent journalism
By registering, you will also enjoy limited access to Premium articles, exclusive newsletters, commenting, and virtual events with our leading journalists
Already have an account? sign in
Register for free to continue reading
Registration is a free and easy way to support our truly independent journalism
By registering, you will also enjoy limited access to Premium articles, exclusive newsletters, commenting, and virtual events with our leading journalists
Already have an account? sign in
Join our new commenting forum
Join thought-provoking conversations, follow other Independent readers and see their replies