Tony Bellew deserves to fight anyone, but David Haye's warrior performance banishes any question of desire
Haye deserves a rematch but Bellew deserves to pick his opponent, writes Steve Bunce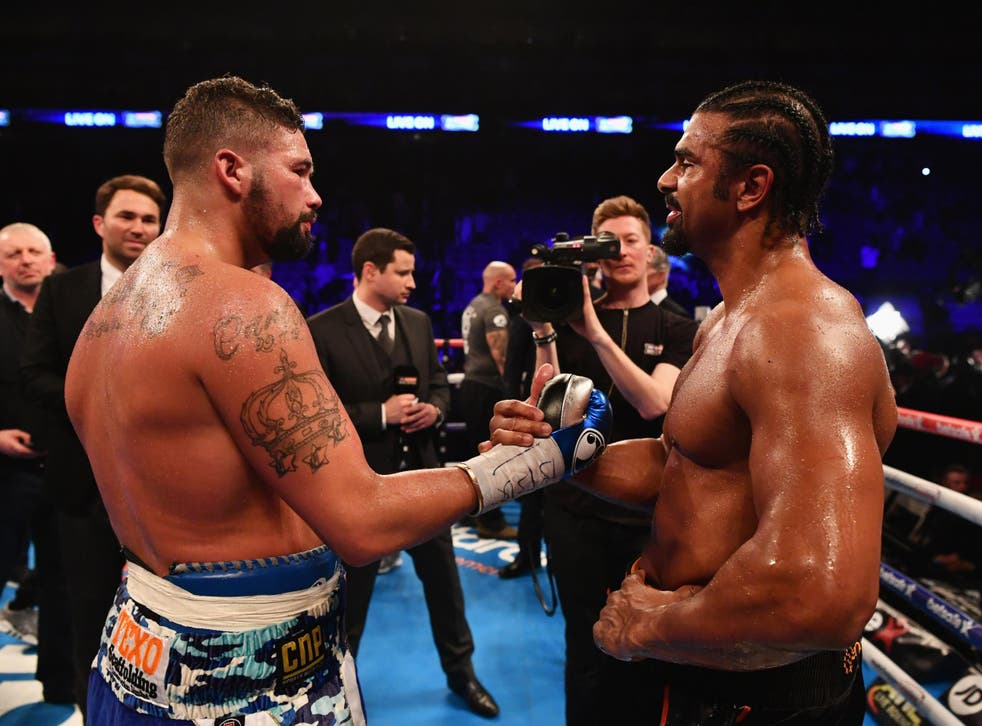 Late on Saturday night Tony Bellew circled a broken David Haye in round 11 at the O2 inside a ring that had sat uneasily on the very edges of decency for most of the night and it was obvious that both had committed to fight to the bitter end.
Haye and Bellew had made promises during too many meetings before the first bell and it was clear after about 10 seconds that they would each honour their claims, each suffer to make their pact as genuine as the hatred had been. There was no phoney war, trust me.
Bellew took punches that had dropped men four-stone heavier and Haye, wobbled in the very first exchange, was caught flush repeatedly in the first two rounds because his timing was awful. There was not a moment to think, to feint, to probe; Haye was relentless, fighting to a ticking clock somewhere in his head and Bellew magnificent as he sought to box, move and contain Haye's swings.
David Haye vs Tony Bellew - in pictures

Show all 15
There was a rapid improvement in Haye's timing by round four and the fight's ferocity eased slightly as it slipped away from the rounds when Haye was favoured and into the rounds that Bellew was expected to dominate. However, up until the injury the lines had started to blur and it looked like Haye was prepared for a longer night than people had thought.
The fight changed when Haye injured his Achilles in round six, Bellew had damaged both hands by round four and each was forced to take more punishment than they have at any point in their careers. They had no intention of looking away, there was nothing that either could do but continue getting up from their short corner reprieves to fight some more. The hate before the fight was, ladies and gentleman, real and that is why the fight was so relentlessly brutal.
Will there be a David Haye v Tony Bellew rematch?
Haye should have been retired at the end of round six when his right Achilles was damaged but the malevolence of their conferences and the excesses of their promises had to be met and they were in a fight that set new limits on pain. Haye had been in Germany four days before the fight having his shoulder and Achilles examined and he had promised that neither potentially career-ending injury would force him to quit. His bravery was stupid, but expected and he never turned away from Bellew's punches even when he lost the ability to move away.
At the end of five rounds Haye was leading, his Achilles was fine, but the fight was poised at the point where Bellew, who had boxed sensibly up until that moment, was expected to take over. He did once the injury was obvious and from that moment until the very violent end the fight was confirmed as a classic.
The Achilles injury ended Haye's ability to direct his punches, immediately stopped him from moving freely and it happened at a point in the fight that had been the subject of endless debate; could Haye actually win late or would Bellew force him to quit? Haye hobbled through the remainder of the sixth round, his pain and distress clearly visible from my seat three feet from the ropes. He tumbled over several times in the wild sixth as he tried to find some traction for his lame leg and it was just about the most pitiful thing I have seen in 35 years at ringside.
Haye stumbled and fell all over the ring from that point, handicapped by the injury, directed only by his heart; his looping desperate shots were easy for Bellew to avoid. Haye resembled a stricken beast, the mad bull that avoids the fatal thrust from a matador and staggers bleeding and doomed in the filthy dust of a forsaken fighting pit. He was wounded but still dangerous.
At one point in round eight, Haye, stuck in his own corner having been able to only move just about six inches once the bell went, had to hold the rope with his right hand to steady his body as he desperately tried to sway away from Bellew's punches. It was desperate stuff and in Bellew's corner a man called David Coldwell was having to read the riot act and telling his boxer to use his brain. Haye, amazingly, still believed that he had that one glorious punch left that could alter the fight's outcome. Bellew is a smarter fighter than he wants anybody to imagine and he was quite brilliant with his patience.
Tony Bellew: Bodies don't win you fights, heart and brains do
They somehow fought through nine and 10, Haye no more mobile than he had been when the Achilles went and often falling over or into the ropes each time he tried to land a punch. Haye was exhausted and Bellew was, by the end of round 10, also marked and tired. Bellew had boxed a perfect fight, but would it have been different if Haye had not suffered the injury and been forced to deal with Bellew without the essential luxury of movement. Was Haye really blowing before the injury? He was not noticeably flailing, his attempt at survival was draining him and Bellew had a trapped target from the crazy sixth round. Haye refused to blame the Achilles and limped from the arena to a hospital praising Bellew, a final classy act to end the conflict.
Just before the finish in the 11th round the compassion in Bellew had fully replaced the rage and he asked Haye to quit; there was no chance of either man surrendering after so many hours of malice in a build-up that created the excesses of the fight and at times shamed the business. Bellew then finished it, his punches not reduced by any fear of harming the helpless man at his mercy. Haye was left draped and tangled and broken on the ropes and canvas and Bellew, his own face swollen from the savagery, turned to celebrate the end of an unforgettable fight. He then went to Haye and helped to carry him back to his desolate corner; it was the embrace we feared would never happen.
David Haye and Tony Bellew's best trash-talk

Show all 11
There is a long list of fighters wanting to share a ring with Bellew, seemingly growing by the minute, but fights like this take a dreadful and often hidden toll; when Bellew emerges from the sanctuary of his beloved family in a few months' time he can make any decision he wants and his wild flock will lovingly respect it. There could be a rematch, a fight with WBC heavyweight champion Deontay Wilder or a return to cruiserweight, where he is the WBC champion. Haye's future will depend on his diagnosis, but he left wanting a rematch and that is something he deserves.
Bellew earned the right in the O2 ring to do anything he wants and that will never be taken away from him. In defeat Haye finally has the same warrior rights and, just like Bellew, he will never have to answer any questions about his heart and desire ever again. Oddly, for a fight with such a nasty ending, there still remain a few questions and that always makes rematches compulsive.
Register for free to continue reading
Registration is a free and easy way to support our truly independent journalism
By registering, you will also enjoy limited access to Premium articles, exclusive newsletters, commenting, and virtual events with our leading journalists
Already have an account? sign in
Register for free to continue reading
Registration is a free and easy way to support our truly independent journalism
By registering, you will also enjoy limited access to Premium articles, exclusive newsletters, commenting, and virtual events with our leading journalists
Already have an account? sign in
Join our new commenting forum
Join thought-provoking conversations, follow other Independent readers and see their replies