Deontay Wilder vs Bermane Stiverne is a joke fight that shames the proud sport of boxing
Boxing on TV: You just wouldn't get this in any other sport, an athlete such as Stiverne getting an opportunity based on years of inactivity and nothing to deserve it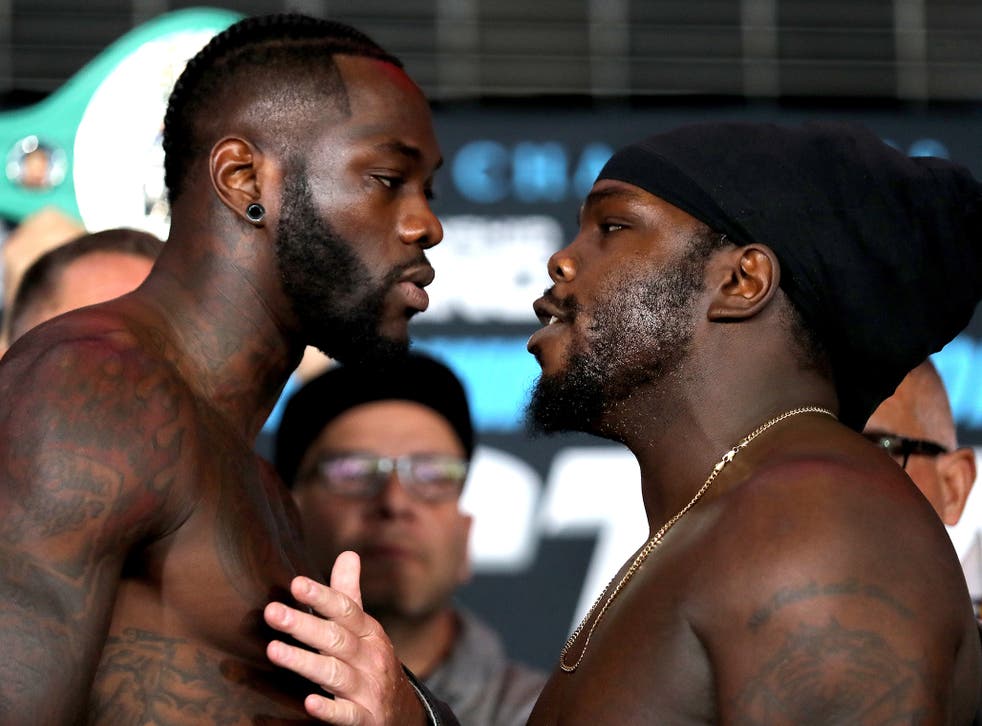 The complexity of boxing match-making can leave fans scratching their heads at the best of times, but occasionally a fight can take place which makes so little sense that you wonder what they're smoking over there in the boxing world.
Deontay Wilder won the WBC heavyweight title in January 2015 after outpointing Bermane Stiverne. It was an average fight with few fireworks, although it did represent the first time that the heavy-hitting Wilder had failed to stop an opponent.
Fast forward nearly three years, and Wilder has defended his title five times, beating the likes of Gerald Washington, Chris Arreola and Artur Szpilka.
Stiverne only fought once after that fight when he laboured to a win over heavyweight gatekeeper Derric Rossy in November 2015. His second fight back will take place tonight. Against Deontay Wilder. For the WBC heavyweight title. At the Barclays Center in New York.
Wilder was originally scheduled to fight Luis Ortiz in a much anticipated clash, but following a drug test failure for the unbeaten Cuban heavyweight, the replacement being Stiverne is another indicator of how flawed boxing rankings are. You just wouldn't get this in any other sport, an athlete getting an opportunity based on years of inactivity and nothing to deserve it.
In tennis, while a ranking is protected for a certain time, if an injury takes too long to recover, a player will tumble down the rankings. It's the same in golf and most individual sports. Simply existing on this planet isn't enough to be taken seriously, you actually have to work to get back to title contention. So why in boxing are we constantly faced with joke fights like this? You've got one of the best heavyweights in the world having to waste time in a no-win fight.
Who are the reigning heavyweight world champions?

Show all 4
If Wilder wins, nothing happens to increase his stock. Even if he knocks out Stiverne in spectacular style, he's beaten a guy who has fought 10 rounds in three years. And if somehow he loses, he's just lost to an inactive 39-year-old guy he's already beaten.
Stiverne weighed in two and a half stone heavier than Wilder, who is at his best when relatively lean in the ring. Considering Stiverne's added weight, don't be surprised if this fight ends in the mid rounds, and doesn't go the distance as the first bout did.
After Anthony Joshua's victory over Carlos Takam last weekend, Wilder will want to prove he's still a viable opponent for Joshua, and with the two expected to finally meet in the ring next year, he'll be looking to showcase the fearsome power which has resulted in 37 stoppages from 38 fights.
A more competitive card takes place in Monaco tonight, where Dereck Chisora aims to become European heavyweight champion once again when he fights unbeaten German Agit Kabayel. Chisora's stock has risen since his war with Dillian Whyte towards the end of 2016, and though he lost that fight, his reputation as one of Europe's toughest heavyweights has been enhanced.
Kabayel's level of opposition has not been great, but sparring stories have indicated that he's a fighter with a lot of promise, and Chisora will have to be at his best to prove he is still a viable contender at heavyweight. The Brit is the betting favourite at 2/5, with Kabayel a 6/4 underdog.
Elsewhere in Monaco, Britain's most unheralded world champion Jamie McDonnell defends his WBA bantamweight title against Liborio Solis, Scott Quigg meets Oleg Yefimovych at bantamweight, and Dmitry Bivol and Trent Broadhurst meet for the WBA light heavyweight title.
Join our new commenting forum
Join thought-provoking conversations, follow other Independent readers and see their replies