Eddie Hearn reveals boxing's first ever $1bn deal as Matchroom and streaming giant DAZN take on America
Matchroom Boxing will stage 16 shows in America, which will be streamed exclusively on DAZN in the States, while 16 of his UK shows will also be shown on the platform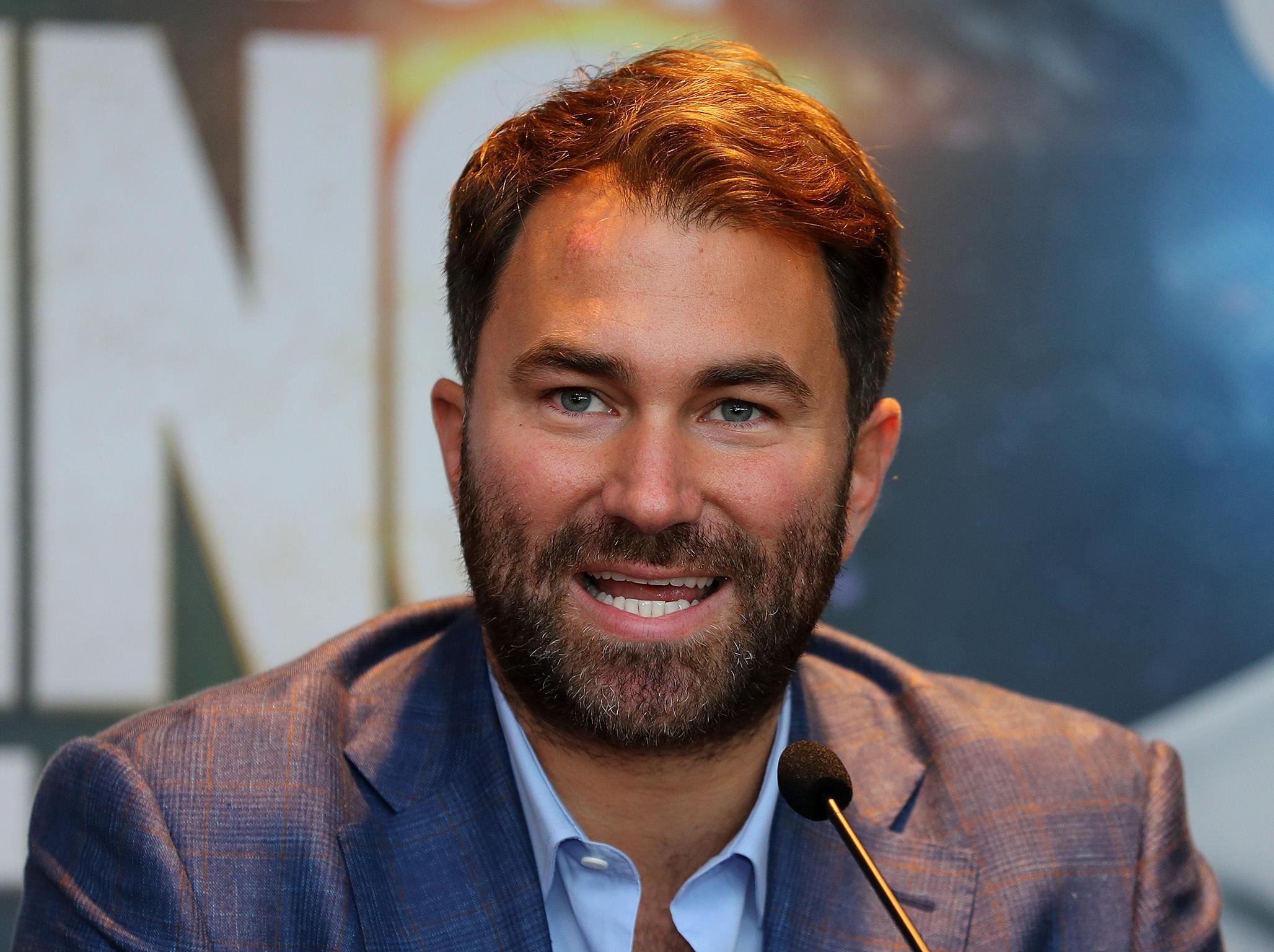 Thirty floors up one of the many tower blocks in the heart of lower Manhattan's financial district, the new headquarters for Eddie Hearn's American revolution could not be further away from the converted Essex mansion his company currently calls home.
But Hearn will now be splitting his time between either side of the pond after signing a remarkable broadcasting agreement with streaming giant DAZN, which will go down as boxing's first ever billion dollar deal.
At the heart of the deal, Hearn and Matchroom Boxing will stage 16 shows in America, which will be streamed exclusively on DAZN in the States, while 16 of his UK shows will also be shown on the platform.
Hearn believes it will be the start of a sea change in the way boxing is 'consumed' by fans and marks the beginning of the end for the current pay-per-view system employed on both sides of the Atlantic.
The groundbreaking deal is worth $1bn (£740m) over eight years which, at current exchange rates means around £92.5m per year. Therefore he will have a staggering average of £5.7m to spend on each of his 16 US shows per year.
"HBO and Showtime are the two major players over here," Hearn said. "And that is a bigger annual budget than they have put together. It's the biggest deal in boxing history."
DAZN, who are hoping to emerge as 'the Netflix of sport', already operate in Canada, Japan, Germany, Austria and Switzerland but they have huge plans to take over America too.
"Probably six months ago we had a meeting with DAZN and they told us about their launch in America," he said. "That was straight away appealing but then they said 16 shows and one billion dollars split across eight years. That's nine figures – I've always wanted to say that – every year.
The 20 best Anthony Joshua pictures
Show all 21
"When they told us the numbers and how aggressively they wanted to back the platform, it's frightening. With us in charge of that war chest it was an opportunity too good to turn down. I feel like streaming is the future of boxing broadcasting. It's a new platform and a new concept but look at Netflix's numbers – 120 million subscribers.
"It might take two or three years but what you'll find over time is that people will come off the traditional cable subscription and take individual packages. It's the future, without a shadow of a doubt. Kids aren't watching TV anymore."
Hearn's current stable of British fighters are expected to feature prominently on the shows but the plan is for him to create a 30-man super stable including some of the most established names in America.
Top of his hit-list is WBC heavyweight king Deontay Wilder, while he also wants to sign the exciting twin brothers Jermell and Jermall Charlo. Erroll Spence Jr, Mikey Garcia and Adrien Broner are also on Hearn's radar.
He added: "If you don't have a promotional contract and you're a world class fighter – you need to call me ASAP. I've got exactly what you need. This stable will surpass anything in the world. Within 12 months, we will have by far the strongest stable ever seen in world boxing, especially including our current stable in the UK.
"I could have done this with less money – probably half the money – but to make it as powerful as we can, this figure enables us to do it. This will end up eradicating, in my opinion, the pay-per-view model here in America. It's so expensive, it's ridiculous – $99 for a pay-per-view.
"Our plan is for 16 shows a year which includes 12 traditional championship fight nights and four absolute jambusters. That means monster, pay-per-view style shows but for no extra fee. We will be signing the big-name world champions and making sure they box two, three or four times a year. We can deliver for all fighters across our 16 shows."
The good news for British boxing fans is that all 16 of the DAZN shows will be aired at no extra cost on Sky Sports in the UK. All of Hearn's current fighters, such as world heavyweight champion Anthony Joshua, however, remain free agents when it comes to broadcasters in America.
It has been suggested that putting on 16 shows in America may have a damaging impact on Matchroom's output back home in the UK. But Hearn, who will employ a new eight-man team in New York, disagrees.
"My focus won't change," said Hearn. "The UK is our core business and that's how it will remain but this is an opportunity of a lifetime. I might not have a holiday over the next eight years. It's a lot of work but I'm just a travelling salesman. I'll take my family with me. I'm in and out of hotels at the moment but maybe I'll get an apartment.
"You just roll me out when needed. I fly to an event and sell it, then fly to another event and sell it. I'm the caricature but the engine is behind that.
"From a personal point of view, we are talking about 30 years of Matchroom. That's a bloke from a council estate in Dagenham and his chubby, silver-spoon son. To have achieved this billion dollar deal is another level."
With his big secret now out in the open, Hearn will head back to the UK to finish Matchroom's UK output for the remainder of the current season.
News of major signings and fight dates are expected in June before he will relocate to New York for the whole of August in order to build towards the first show of the new deal, which will take place in late September.
"We were dangerous before, now we're unstoppable and that's the difference," he said. "And if I don't make this work, I've failed miserably."
Join our commenting forum
Join thought-provoking conversations, follow other Independent readers and see their replies