interview
After dancing with death, Erik Skoglund is still fighting
Swedish boxer suffered a traumatic brain injury in 2017 and underwent two emergency operations. However, he still harbours dreams of one day returning to the ring, writes Tom Kershaw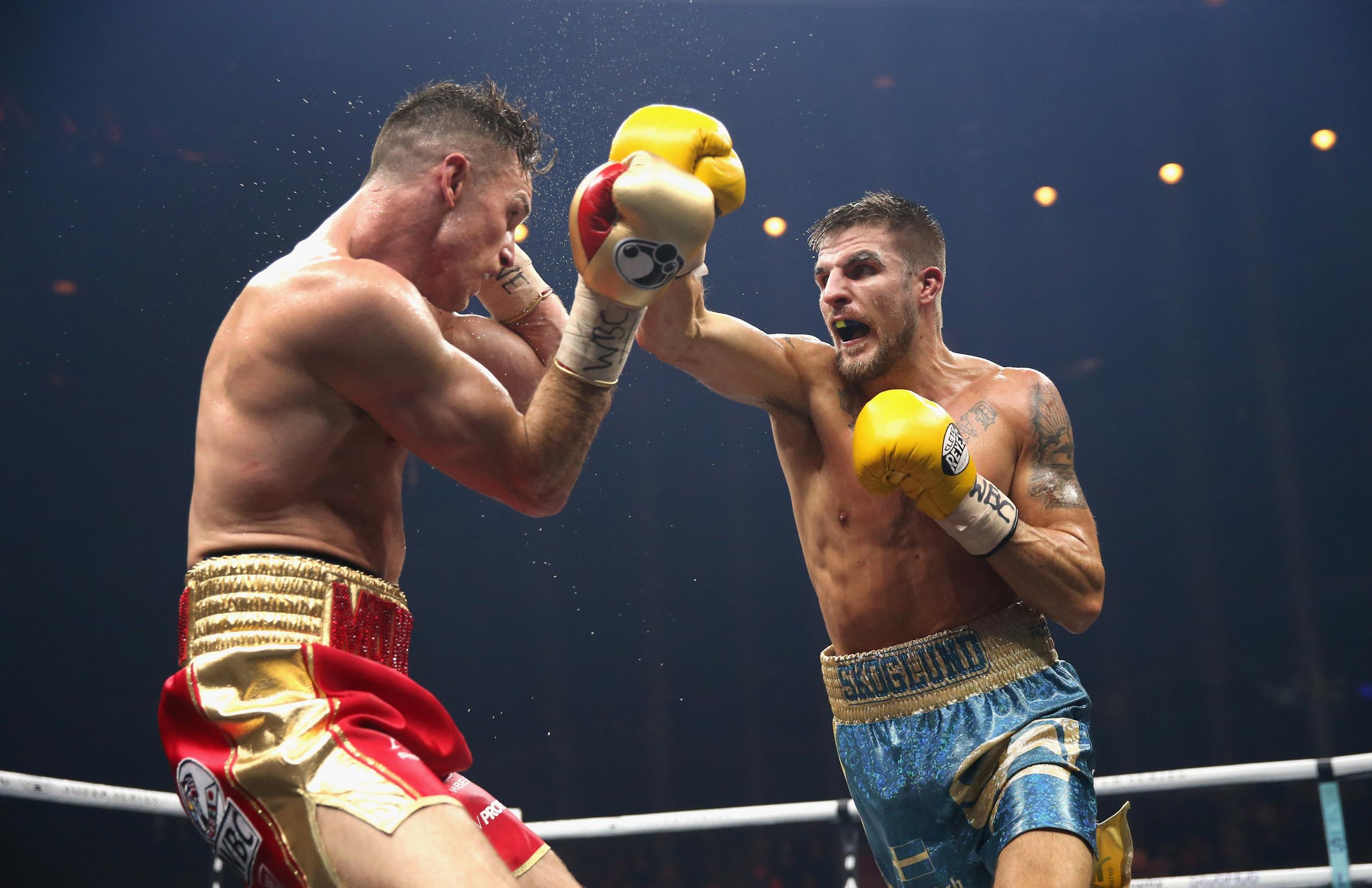 It was a winter morning in Nykoping, bright blue and bitterly cold like any other. Thick sheets of ice guarded the entrance to the boxing gym, from where the thud of punches ricocheted off the walls. Inside the ring, Erik Skoglund, Sweden's best boxer, ignored his intuition, bit down on his gumshield, and absorbed blow after blow.
Two months earlier, he had suffered the first loss of his professional career, a narrow points decision to home favourite Callum Smith in Liverpool. With another bout in England fast approaching, this time he felt he had no option but to train his body and mind for a knockout; "a battle".
The sparring sessions had been brutal. Contenders were flown in from across the world on a weekly basis and ordered to throw caution to the wind. Skoglund could feel the wear and tear, but was convinced the pain sacrificed then would immunise him later. So, within a small space the size of two snooker tables, he doggedly fought back. "It's not enough to stick and move," he told his brother and girlfriend, who watched from the ring apron. "We need to take one punch to land two."
"I took a lot of beating during that period. The sessions were much harder than they used to be."
He had only planned to box six rounds that Friday morning. Midway through the session, as he lowered his gloves and pressed forwards, the dizziness began. At first, his adrenaline quietened any doubts. But, by the final round, the light in Skoglund's eyes had fogged over. After returning to the corner, the ring canvas wobbled beneath him and a wave of nausea caused his knees to buckle. "Something's not right," he said in a panic as his brother cut away the laces from his gloves. Suddenly, Skoglund collapsed.
For almost half-an-hour, Marcus Skoglund held his brother's head in his arms. By the time the ambulance arrived, he was certain Erik was dead.
"It was lights out."
***
Erik Skoglund always knew the danger boxing possessed. In Sweden, the sport was banned in 1970 after a study concluded that it involved life-threatening injuries, brutalised audiences, and was governed by dubious or even criminal interests. Badou Jack – the country's first superstar to emerge after the ban was partially lifted in 2006 – once said that "being a boxer in Sweden is like playing ice hockey in Africa", and chose to represent The Gambia at the 2008 Olympic Games before relocating to the US.
Yet, from the age of 11, Skoglund became almost religiously devoted to the sport. "When I first went to the gym, people were telling my brother and dad that I was weak, that I wouldn't last long and would quit after a few weeks," he says. "I proved them wrong. And I proved myself many times after that."
Boxing became a passion and escape; a singular, long-term vision that gave structure and purpose to his entire future. Together with his father, Skoglund plotted an extensive blueprint that encompassed his entire career, spanning from amateur tournaments to becoming the world's best boxer. In 2007, aged 15, he won the Swedish junior national championships and lost to Jack – eight years his senior – in the final of the men's version.
A menacing presence inside the ring, standing 6'1" and filling out to almost 190lbs, he won 26 consecutive fights after skipping the Olympics to turn professional in 2010. But away from the ring, Skoglund could be polite to a point of confusion. Where notorious stereotypes paint aggression and temper, he was known for his grounded and unassuming nature, devoid of any excess showmanship. Each fight, he entered the arena to Bob Marley's Three Little Birds. In the words of former British world champion George Groves, he was one of boxing's nice guys.
***
The first thing Skoglund recognised was the white robe. When he awoke, his eyes still felt blurry, his head ringing like the metal of a church bell. Slowly, he managed to make out the approaching doctor.
"Can you stretch out your arms straight in front of you?"
Skoglund looked confusedly towards his family in the corner of the sterile white hospital room. He wondered why his gloves weren't on his hands; in what arena the dressing room was located. In his mind, he was undergoing a final medical check before walking out for another fight.
In the end, one hour was all that had saved his life. After being taken to hospital in Stockholm, doctors discovered a bleed on the brain and performed emergency surgery. The next day, when nurses tried to rouse Skoglund from his coma, he didn't wake. Further examination found another haemorrhage requiring a second operation. "They told my family I would wake up," he says. "But they didn't know if I would ever move again, talk again, or remember who my family were. They were prepared for the worst."
At first, only his eyes responded, jolting frantically from side-to-side. As his speech steadily returned, he'd repeatedly ask his family what was happening. But after around 30 minutes, his brain would effectively hot-wire, eradicating all the memories that had come before as the anxiety took hold again. Only when Skoglund caught a glimpse of his reflection in the glass overhead, did the stark reality of his situation finally stick. "I had lost 15 kilograms. I was sitting in a wheelchair. I saw my left arm moving in circles; the right arm not moving at all. I just thought, 'poor b******, this is not a fight'."
"I was really confused. Why is this happening to me? My body isn't working. My mind isn't working. I either accept that this is it, and I give up, and then I stop living, I'm dying right now."
Skoglund's father calls it a miracle. In the early hours of Christmas Eve, almost three weeks after the accident, the feeling abruptly returned to Skoglund's right side. Throughout the entire night, he writhed uncontrollably as though he were sprinting in his sleep.
"I decided to create my own destiny."
***
Three boxers died in the space of four months in 2019 due to traumatic brain injuries. Maxim Dadashev, 28, Hugo Santillan, 23, and Patrick Day, 27, were all rushed to hospital immediately after being knocked out in their sanctioned bouts. In many other instances, lax regulations or legal loopholes continue to allow fighters to enter the ring without undergoing extensive medical checks – including regular brain scans – to ensure their safety as best as possible.
However, even with all the necessary medical assurances, fighters have few illusions over the risk they are taking. After Day's passing in October, Skoglund wrote: "Sometimes I hate myself for loving this sport." The tragedy and death are indefensible, but ultimately he resents the criticisms of boxing and repeats the mantra that it "saves many more lives than it takes".
Therein lies an addictive but disturbing paradox. It's been over two and a half years since Skoglund last fought professionally. He still trains eight to 10 times a week and recently began light-contact sparring for the first time with friends who he can trust to tread wisely - "It doesn't feel as good as it would have before," he admits. "But I still feel hope that it will one day be the same, or even better."
His recovery has been remarkable, but the truth dictates that he's unlikely to ever fight professionally at any distinguished level again. It's a reality he finds impossible to reckon with; a sense of meaning stripped away that is impossible to replace. It's a sad tale of love and tragedy, obsession, bad luck and, perhaps, denial. "I know the risk as well," he says. "And I'm willing to take it."
"I want to be 110% so I can make a decision about picking up my career and keep fighting or not. Today I'm focusing and fighting so it can be my decision.
"Everyone has an opinion about this. I'll never think that's okay. They say stuff like: 'You can't do it again'. Or that they won't let me. Who won't let me? There's always somewhere you can fight. I don't believe that there's some kind of weakness in my head that will never disappear. I don't want anyone to tell me about what's impossible. Life is a risk. It almost certainly includes death at some point.
"I put it this way: I've got a second chance of living, and it would be rude of me to not take it, and do all the things that I dream of, that I love to do. I'm truly and deeply in love with boxing. There's far on the road to go, but I'm trying my best. I will keep trying forever."
Skoglund's parents will never be able to reconcile themselves with the idea of their son fighting again. His brother is still involved in his training but admits he finds it difficult at times. His girlfriend understands that without boxing, he can barely recognise himself at all.
"I'd rather live my life as a boxer and do what I love than give it up," he says. "I didn't die that December night. I recovered."
Join our commenting forum
Join thought-provoking conversations, follow other Independent readers and see their replies