Floyd Mayweather vs Manny Pacquiao: Super-fight could finally happen twice in 2015
Pacquaio's promoter Bob Arum 'optimistic' two fights will happen next year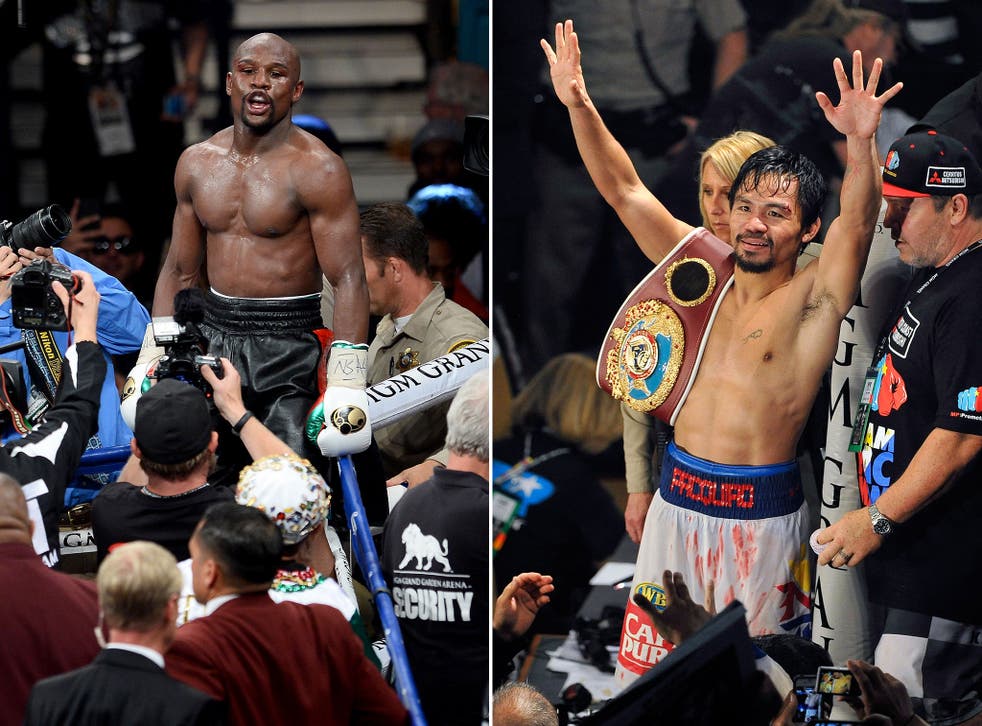 Boxing promoter Bob Arum has said that a super fight between the Manny Pacquiao and Floyd Mayweather will finally happen in 2015 – and boxing fans may even see it twice in a year.
Two of the best pound-for-pound fighters ever, the super-fight has been the biggest non-event in boxing for almost 10 years, with both parties accused of ducking the other at various stages. In 2010 the fight almost went ahead only for the two parties to disagree on terms during negotiations.
But Arum, who promotes Pacquiao, now believes a fight, expected to be the richest in boxing history with a $300million purnse, could happen around May next year. Arum even has a trump card to get the fight to go ahead - the possibility of a double-your-money rematch in September.
The US TV pay-per-view rivals HBO (Pacquiao) and Showtime (Mayweather) are believed to be willing to share the massive pot with a joint-broadcast, while the departure of Richard Schaefer from Golden Boy promotions, who organise Mayweather's promotions, has seen a long-running feud cool with Arum's Top Rank.
"There's one guy who everybody would agree is a mega-fight. And his initials are F.M.," said Arum.
"I'm hopeful in the near term that that fight can be made — way more than before.
"Because it appears to me that both networks, Showtime and HBO, both want to do the fight. They want the fight to happen. So that attitude will permeate both fighters."
Boxing fans may have become disillusioned and the endless discussion that never seems to materialise, but Arum said he is "more optimistic now than I have been in years for that fight to happen."
Both boxers may now be past their primes, with Mayweather now 37 and Pacquiao 35, but despite the protracted feud, the long history would make this a fight of great intrigue.
Arum added: "As far as Pacquiao is concerend, we're 100 percent in."
Both have fights in the interim, with Mayweather facing Marcos Maidana in a rematch in September and Pacquiao fighting American challenger Chris Algieri in China.
Both of those are title fights in the welterweight division but, like in the past, the question of which weight the two will fight at could be problematic, should they both win as expected.
Mayweather would likely prefer to fight at a lower weight, where Pacquiao's superior power would be slightly blunted. In previous negotiations Pacquiao agreed to various other terms such as Olympic-standard drugs testing and Mayweather having a bigger slice of the purse.
But the Filipino fighter, who didn't mention Mayweather by name, told Yahoo Sports that he'd be willing to fight at whatever weight was necessary for him to secure a big fight.
"I could make either weight, 135 or 140, easily," Pacquiao said. "It would be easy for me. I am at 147 because that's where the action is in terms of the opponent, but it wouldn't be hard."
Pacquiao's trainer Freddie Roach had a more direct message for the undefeated Mayweather.
"We'll [Pacquiao] fight Mayweather at whatever weight he wants to fight at," Roach told Fightnews.
"He's [Mayweather] shot. He's done. His legs are gone based on his last two fights. He says he doesn't move in order to make it more exciting for the fans. Bull s***."
Join our new commenting forum
Join thought-provoking conversations, follow other Independent readers and see their replies