Frank Warren column: Dealing with Chris Eubank was a nightmare but we've finally got Billy Joe Saunders vs Eubank Jr signed
In his first exclusive column for i, Warren writes that he was ready to walk away after trying to negotiate with Chris over his son's fight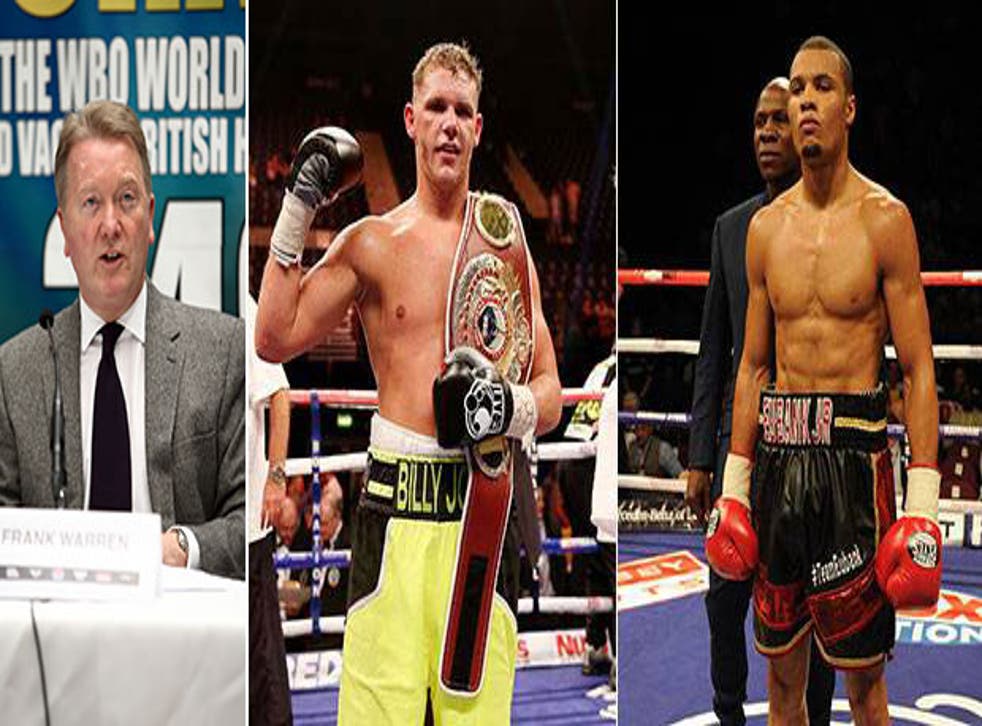 If there is one fight I wanted to promote more than a return between Arsène Wenger and Jose Mourinho it's the potentially sizzling scrap between two of the best youngsters in the business – Billy Joe Saunders and Chris Eubank Jnr, both unbeaten and threatening to knock bits off each other.
They'll meet for Billy Joe's European and British middleweight titles but it's been a real pain in the backside getting this one together, mainly because dealing with Chris Snr, who acts as his eldest son's manager, mentor and minder, has been a nightmare. But we've finally got it signed for the ExCel in London on 29 November when heavyweights Dereck Chisora and Tyson Fury will also be spilling a bit of bad blood.
It's a real blockbuster bill to celebrate the third anniversary of our exclusive channel BoxNation.
Fathers and sons rarely work successfully in boxing because dads tend to be over-protective. Chris Snr makes his presence felt when it comes to supervising his son's career. The hours spent arguing with him and his legal team were among the most exasperating I have known in over 30 years in boxing.
I always admired him as a boxer. Some of his fights for me were among his best, including those he lost to Steve Collins, Joe Calzaghe and one of the best domestic bust-ups with Carl Thompson.
He was difficult to deal with as a boxer – and he's hard work as a boss. Negotiating with him can drive you bonkers. It was never about money, it was the nitpicking stuff that went with it, like how and when to best publicise a fight that sells itself. Some of it was unbelievably trivial.
At one stage I was ready to walk away and so was Billy Joe. But I am glad we persevered because this could end up as the fight of the year.
A lot of people fancy Eubank Jnr. But I believe my fighter Billy Joe will beat him because he's come up the hard way, steadily progressing after the 2008 Olympics. He's one of those who rises to the occasion and I've never seen him look sharper.
He really wanted this fight – as do the fans – which is why I was so determined to get it. He's now the No 1 contender for the WBO world title and we would have made a fight for the vacant crown if the Eubanks had kept messing us around. Billy Joe was as angry I was and said: "I'm the champion, why am I p****** around waiting for this fellah?"
Eubank Jnr may be unbeaten in 17 bouts but he hasn't fought a 10-rounder and we've yet to see how he reacts when he gets hit on the chin.
I'm told he looked good sparring with Carl Froch, James DeGale and George Groves. But this is a real fight. His last five bouts have been on my shows but I would have liked them to be against stiffer opposition. As usual, though, his dad always had the final say on that. Now we'll see if father really does know best.
Islamophobia shouldn't taint Amir's career
The word from America is that the current anti-Islamic backlash because of the ghastly atrocities that are happening in the Middle East threatens Amir Khan's prospects of a mega fight against Floyd Mayweather Jnr next.
I know at least one major promoter who thinks Khan, as a Muslim, would be too risky a sell to the US public in the circumstances. Personally, I doubt this is the case, though it has to be a worry, especially as he is due to fight again there in December.
Career in pictures: Floyd Mayweather

Show all 12
It would be very unfair if Amir's career is tainted by Islamophobia. He has never worn his religion on his sleeve, unlike another former British world champion, Naseem Hamed, who even had a chanting mullah leading his ring walk at the MGM Grand in Las Vegas when he fought Marco Antonio Barrera back in 2001.
The atmosphere then was pretty hostile so imagine what it would be like now.
Actually, Khan is quite popular over there and has always strongly condemned Islamic extremism, as has Muhammad Ali.
Some think Khan would have a reasonable chance against Mayweather as his hand speed is the one thing that the ageing American would have difficulty in countering. One thing for sure – other than Manny Pacquiao, it's the biggest fight out there for the Money Man.
Bundrage's last roll of the dice
Coming up on BoxNation tomorrow night is the exciting IBF World Light-Middleweight showdown between the reigning Champion Carlos Molina against former Champion Cornelius Bundrage. For Bundrage, at 41, this is his likely to be his last roll of the dice at a world title and be something of a Cinderella story for the Detroit fighter to reclaim his belt. He's well-known to fights fans after appearing on ESPN America reality TV series "The Contender" and also fought in the UK back in 2007 when he fought on my UK v USA Contenders show in Newcastle.
To subscribe to BoxNation, visit boxnation.com
Join our new commenting forum
Join thought-provoking conversations, follow other Independent readers and see their replies