Predictable, weary and no killer instinct - is Gennady Golovkin's reign at the top of boxing finally nearing its end?
Golovkin's odd performance against Danny Jacobs could be a sign that the boxer is getting old and his rivals will now believe that he has lost the look of total invincibility that has protected him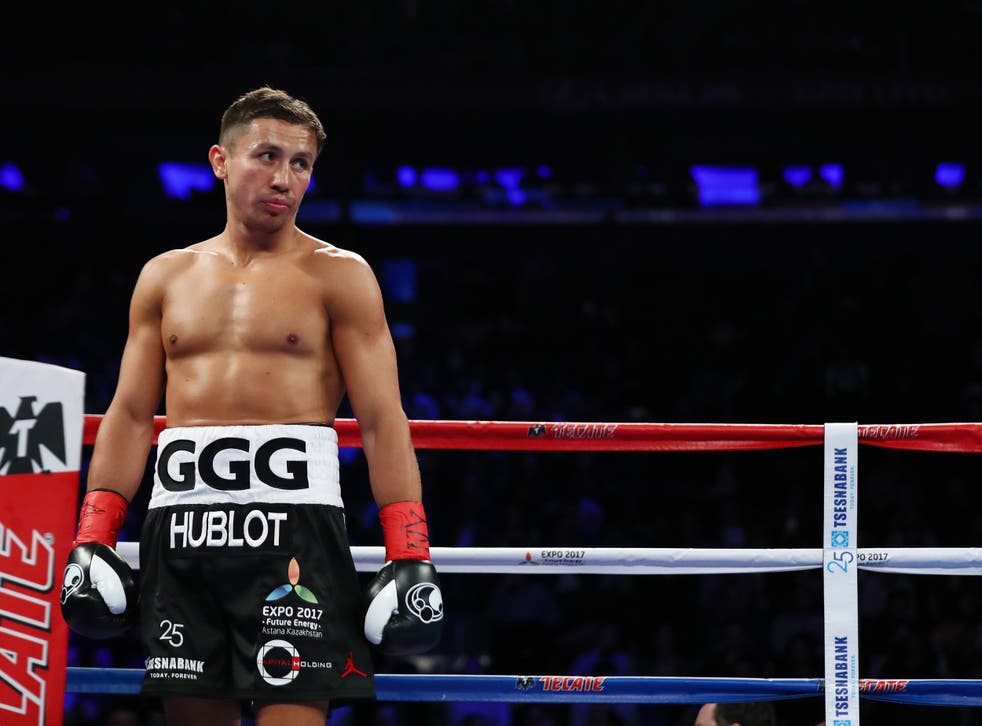 It is far too simple to dismiss the odd performance of Gennady Golovkin on Saturday night in the Madison Square Garden ring as the start of the end for the fighting maestro but that is exactly what it looked like at times. It can happen to any fighter at some point in their long careers, there is not always a slow erosion of their brilliance.
Golovkin looked weary, lacked precision, was too predictable and after nearly 400 amateur fights and 36 in the paid ranks he might just be, at 34 and after a life devoted to boxing, getting old.
His backers will argue he remains unbeaten now in 37 fights, holds several world middleweight belts and is still an attraction. He might also have simply underestimated Danny Jacobs and that, in boxing terms, is as terminal a mistake as a quality fighter can make. Golovkin has fought without respect before and won easily.
Jacobs certainly never underestimated Golovkin and started as a wide underdog in his home city, and has had to smile through three months of people patting him on the back, wishing him luck and then shaking their heads in anticipation of his battering.
Jacobs had lost just once before the fight and yet was not expected to last more than a few rounds, the latest name on Golovkin's list of crushed fighters. He deserved far more respect and in defeat that is exactly what he got.
Golovkin vs Jacobs: The story of the fight

Show all 17
However, Jacobs was not the only reason for Golovkin's muted performance, which might seem a tough assessment of the Brooklyn fighter's best performance, but it is true. Jacobs often fought like surviving twelve rounds - the first man to do so with Golovkin - and not getting knocked out - the first boxer in 24 fights to last the distance - was the end of his very real ambitions.
Jacobs could have so easily won this fight and there were many seasoned fight observers who believe he did enough on Saturday night. I thought Golovkin just nicked the fight, something I was not convinced I would ever write. If the decision had gone to Jacobs I would not have been surprised.
Golovkin followed Jacobs in narrow straight lines, lacked his usual edge and seemed frustrated at times. Jacobs was dropped early in the fourth, caught by a classic double right from Golovkin's ancient arsenal of punches and he looked equally dazed, angry and confused when he got up; Golovkin was expected to finish the fight then, provide his "big drama show" and end the night for Jacobs.
There was no urgency in Golovkin's work in the minutes after the knockdown when Jacobs was clearly vulnerable, ready to be removed from the neon stage and it looked like there was a crisis in his own confidence as he moved away behind high hands, a look of dread on his face.
There was no Golovkin finish and that was odd for a man that has ruined so many fighters and has never allowed a hurt fighter the time to survive.
It might seem harsh to be critical of Golovkin for not finishing Jacobs's then and there, but the Kazakh hero has been saturated in praise, draped in the same gown that fit so majestically across the broad shoulders of greats like Carlos Monzon and Marvin Hagler, the sport's finest middleweights.
This fight was about the realisation of hefty expectation and with Jacobs down and hurt it should have been over.
Jacobs was busy with long jabs, switched to southpaw, which amazingly confused Golovkin, and certainly started to win rounds after the knockdown. More importantly Jacobs never panicked, never showed fear. In Golovkin's corner Abel Sanchez remained calm until the final bell, his assuring words a simple compliment to Golovkin's impassive flat face; the pair seemed immune to the reality of the difficult fight, perhaps confident that the triple G brand was safe even on a bad night.
There was a look of utter weariness about Jacobs in the last few rounds, he moved along the ropes, his jaw open, his eyes wide and yet, for some strange reason, Golovkin never finished him off. Jacobs looked ready for the end, a punch or two from a stoppage at any point from about round nine; amazingly he won rounds ten and eleven to make the fight very close going into the last.
At the end two scores of 115-112 and one of 114-113 all in favour of Golovkin left Jacobs bemused and Golovkin in a humble, shoulder-shrugging mood. "I want give big drama show, but Daniel is very good opponent," said the Kazakh idol. There was talk of a rematch, talk of fighting WBO middleweight champion Billy Joe Saunders at a petroleum fair in Kazakhstan in June and talk once again of a fight with Mexican idol Saul Canelo Alvarez. All three are massive and difficult fights.
After a life of sacrifice in the boxing business, a life that can take an impossibly hard invisible toll, it is clear Golovkin has reached a junction. He is still unbeaten, still holds the belts and is still a major attraction. However, he did lose something in the old ring inside boxing's sacred house, he lost that look of total invincibility that has protected him.
Golovkin is a terrific fighter but that elusive iconic gown is back on the hanger and back in the wardrobe, which is probably somewhere in the basement under the faded The Garden. Golovkin will now have to go and try to find it on another night.
Join our new commenting forum
Join thought-provoking conversations, follow other Independent readers and see their replies