George Groves accuses Chris Eubank Jr of 'lacking the pedigree' to test him in super-middleweight showdown
The two super-middleweight world champions will meet at the Manchester Arena on February 17, fighting for a place in the inaugural World Boxing Super Series final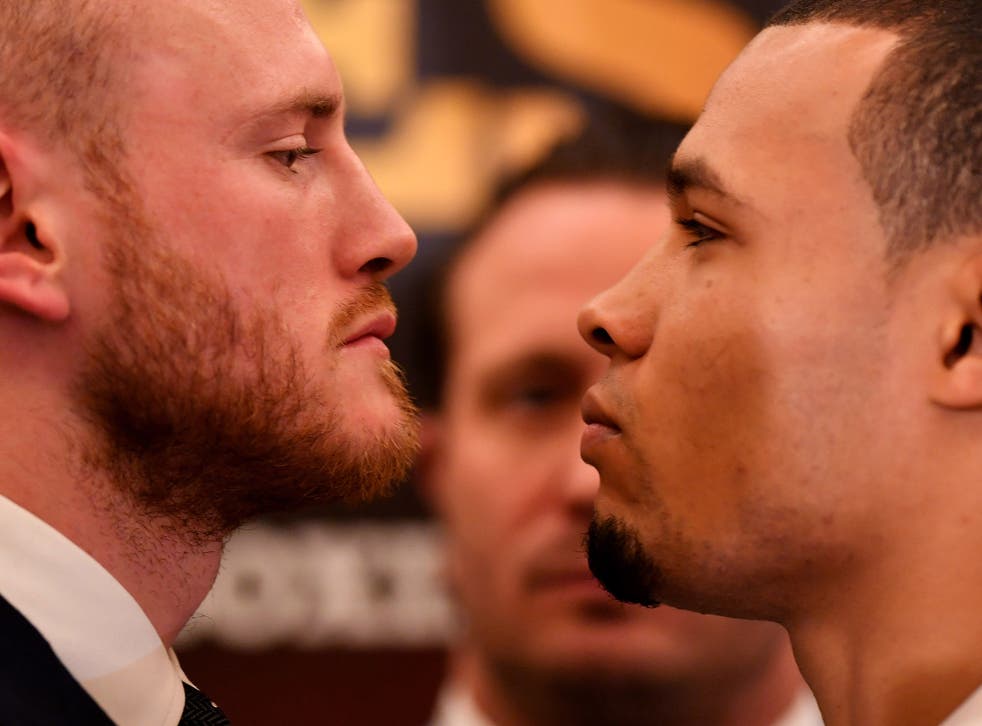 George Groves has promised he has many different ways to beat World Boxing Super Series (WBSS) semi-final opponent Chris Eubank Jr, who hit back by insisting the 29-year-old is "on a downward curve" at a heated press conference in London on Tuesday.
The two super-middleweight world champions will meet at the Manchester Arena on February 17, fighting for a place in the inaugural WBSS final with both Groves' WBA belt and Eubank's IBO title on the line.
Groves won his world title at the fourth attempt, after two losses to Carl Froch and a split decision defeat to Sweden's Badou Jack at the MGM Grand in Las Vegas. But following that defeat in 2015 he put together a run of four victories before stopping the Russian Fedor Chudinov in May to claim the WBA crown.
Eubank actually won his IBO title before that, in February, and has gone on to make successful defences against the German veteran Arthur Abraham and the previously unbeaten Avni Yildirim. But he is yet to fight in a bout of this pedigree at super-middleweight – something Groves was quick to point out.
"I have come full circle in this game and I understand now that it's not always about how well you prepare or what goes in your favour – there are just some people that you cannot beat," he said at Tuesday's press conference.
"And he is just not good enough. He doesn't have the ability or the pedigree. We always knew that this fight was coming and it is what I wanted and what I intended. I have been in real fights and have experience to rival any current fighter and ultimately this is nothing more than a stepping stone for me.
"I already know what he does well and what he doesn't do well and I can box many different ways to beat him. He won't hear the final bell; he won't go twelve rounds."
Britain's current boxing world champions

Show all 8
Eubank also pledged that he would finish the fight inside the distance, but instead chose to focus his verbal barbs on Groves' previous defeats at this level. Eubank – who unlike Groves has never lost a fight via knockout – also pledged to release old footage of the pair in sparring, claiming that he dominated their previous encounters, much to his opponent's amusement.
"George is hung up on what I am going to do for this fight and how I am going to change, but he needs to worry about himself," Eubank said.
"He is on a downward curve even though he has won his last two fights and is a world champion. But this is my time. I'm a different animal compared to two years ago but George is exactly the same guy. I know what has happened in the past and I have felt what he has as a fighter and a man. I know his weaknesses and his strengths.
"He simply won't be able to withstand the fire and the heat that I will bring down upon him."
Perhaps the most animated part of the conference came when Groves claimed the fight would be "a pivotal point in Eubank's relationship with his dad" – something his opponent angrily refuted.
"It's pivotal because so far his dad has done him a massive favour by being addicted to all of the attention," Groves said over Eubank's protestations. "The dad is constantly talking about himself. And people have bought into it because everybody seems to think Eubank the son is legit. But has he really outgrown his father? That's what I want to know."
Eubank Snr, sat alongside Jnr and long-term trainer Ronnie Davis, was characteristically forthcoming with his opinion and revealed that he didn't feel the need to coach his son, comparing him to a "stallion that needed harnessing".
And, after dismissively referring to Groves' trainer Shane McGuigan as a "PE teacher", he claimed that his son's high fight IQ would see him win the February contest.
"My son hasn't been trained by PE teachers and that is what most trainers are. He cannot be trained in fact, he needs to be left alone. He has an internal navigation system and all I can do is harness him when he is doing too much. He is a stallion and I am trying to harness him because, for me, he is the most dangerous fighter on the planet."
Register for free to continue reading
Registration is a free and easy way to support our truly independent journalism
By registering, you will also enjoy limited access to Premium articles, exclusive newsletters, commenting, and virtual events with our leading journalists
Already have an account? sign in
Register for free to continue reading
Registration is a free and easy way to support our truly independent journalism
By registering, you will also enjoy limited access to Premium articles, exclusive newsletters, commenting, and virtual events with our leading journalists
Already have an account? sign in
Join our new commenting forum
Join thought-provoking conversations, follow other Independent readers and see their replies