Gervonta Davis could well be the next Floyd Mayweather - for Liam Walsh the future now looks a lot less bright
Walsh was not right on the night - he lost for the first time in 22 fights and the hollow look in his eyes at the end suggests it will be a difficult circuit back to the ring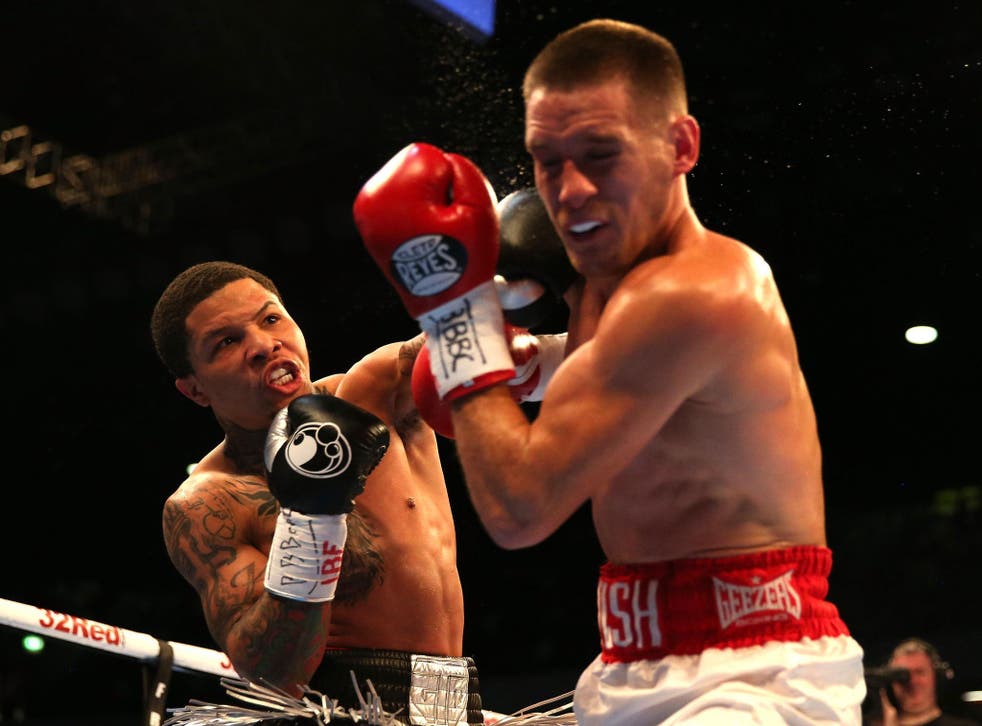 At ringside Floyd Mayweather threw every every punch as his tiny protege Gervonta Tank Davis viciously dismantled Liam Walsh in three pitiless rounds at the Copperbox, in London's east end on Saturday night.
Mayweather is ready right now to fight and agree terms for his massacre of Conor McGregor, the UFC fighter with the most basic of boxing tools. "That fight will happen, sure, and Tank will be on the bill."
Mayweather seems as bemused as most of us in the fight game that this ludicrous, lucrative and unmissable boxing carnival will actually take place; It will, so get ready for the richest fight in boxing history draped in a lot of laugh-out loud lunacy.
On Saturday night there were few laughs once the first bell sounded for Walsh, part of an inspiring triangle of fighting brothers, and it was over before any of his plans had started, over before he had offered anything from his life unbeaten as a professional; Davis was cold, telling his corner at the end of the opener that Walsh was "scared" and finishing it without a smile in the third.
Walsh was wobbled, dropped, desperate to continue and then caught again before the referee's arm finally halted the slaughter. Walsh complained, but the stoppage was right and I'm still confused at how easy Davis made it look.
Walsh was not right on the night. Walsh is 31, he lost for the first time in 22 fights and the hollow look in his eyes at the end suggests it will be a difficult circuit back to the ring; boxers on long unbeaten runs are often broken when their perfect records are obliterated by a loss they struggle to comprehend. Ricky Hatton sunk low, stunned, confused and looking for answers after losing to Mayweather a decade ago. Walsh will need to confront the same type of bitter questions, find comfort somewhere before fighting again.
Walsh will also need his brothers Ryan and Michael more than ever in the next few months when he tries to make sense of the loss. His twin, Ryan, retained his British featherweight title an hour or so earlier, his glory also ruined by the man facing his beloved brother. The trio fight as one, pool their rewards from the ring and live side-by-side.
Davis is still only 22, a solemn survivor of an atrocious early life in Baltimore and Walsh was his 18th victim in the ring; it was his first defence of the IBF super-featherweight title and he took a large leap closer to the boldest of claims that Mayweather has been making. "Tank is the future of boxing; he's me from a few years ago - same burning ambition," insisted Mayweather, who was dressed like he had come straight from an auction of Michael Jackson's glittering clobber.
In 1998 Mayweather won the super-featherweight world title and then gained 20 pounds slowly over nine years accumulating various glittering belts at lightweight, light-welterweight and welterweight before winning at light-middleweight in 2007. Davis is two inches - a good two inches, by the way - shorter than Mayweather and that will surely limit his plans to just a couple of higher weights at the very best. However, right now the boxer without a childhood is a real threat to any of the super-feather and lightweight champions.
Walsh will sit with his loved ones and consider his future, find the mistake, look at a possible move to lightweight and at some point more will be known about Saturday night's performance. Davis is special, but Walsh is so much better and hopefully there will be a reason for his failure.
Join our new commenting forum
Join thought-provoking conversations, follow other Independent readers and see their replies