Josh Taylor blitzes Apinun Khongsong in 161 seconds to stand on brink of undisputed legacy fight
Scottish world champion now hopes to face Jose Ramirez for all four light-welterweight titles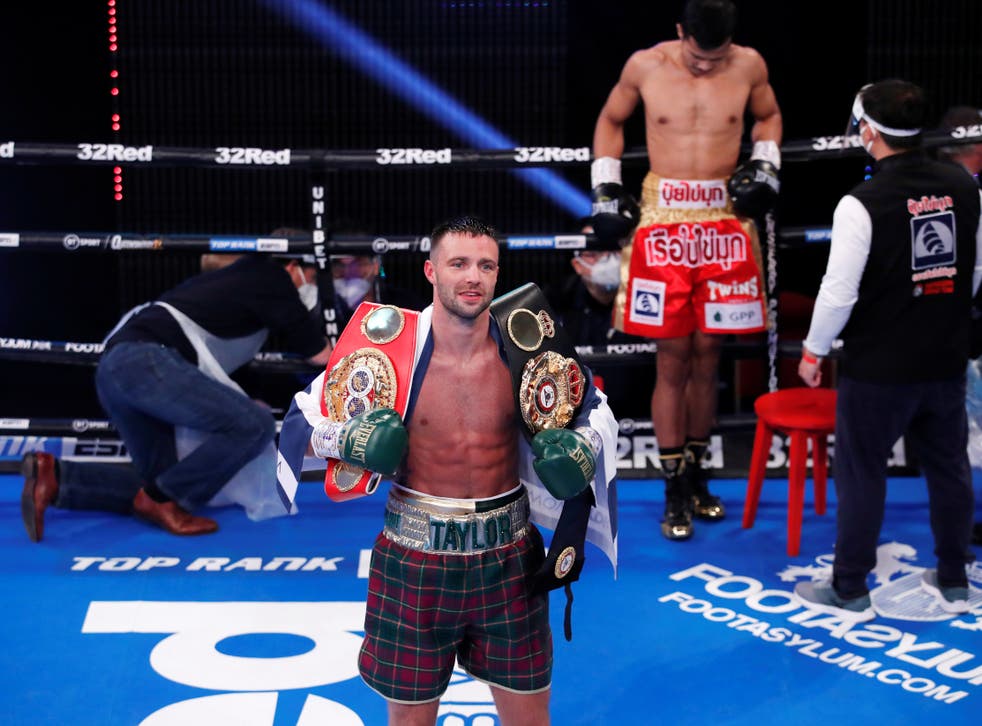 It took Josh Taylor just 161 seconds to end his forced exile from the ring and retain his two world titles in front of about sixty television workers, medical staff and other boxing insiders at York Hall in London's East End late on Saturday night.
Taylor is recognised as the world's finest fighter at light-welterweight, possibly the best British boxer at any weight right now, but Saturday's fight was just his 17th in a short career of excellence. The Edinburgh man is not big on hype, not big on publicity, not big on the endless promises that help create so many modern boxers.
In round one Taylor connected cleanly, sweetly and ease with a short left to the bottom of Apinun Khongsong's rib cage and after a half-second delay the Thai boxer, who was Taylor's mandatory challenger, collapsed to the canvas. On the canvas, Khongsong tried to ease the sickening pain by pulling his legs high, searching like a child for a position of comfort and gasping to breathe. There was no way he was going to beat the count.
Ten minutes after the fight's final punch, Khongsong still could not talk or breathe or walk and was placed on a gurney to ease the pain in his cracked ribs. His eyes were in shock as he was wheeled away, trying a small smile as Taylor tenderly touched his shoulder with the same glove that had ended his night.
"It went all the way in," explained Taylor. "I felt it, I knew straight away: There was no coming back from that." There certainly was no coming back from that. Sadly, like all finishes from a single body shot, especially early ones, there was a lively debate about just how good the punch had been. "It was very good, very good," Taylor added, surprised that there was any doubt.
It is, however, a pity that the fight ended so quickly because it really was shaping up to be interesting.
Khongsong was unbeaten in 16 fights, had some truly ugly knockout wins on his record and had changed drastically overnight; the thin man of 139 pounds, with the Thirties Hollywood moustache, from the weigh-in on Friday had, apparently, transformed into a lean, towering fighter of about 160 pounds. At York Hall there was a growing sense of dread as reports from Khongsong's dressing room talked of his size, his power and his focus. So often pre-fight rumours like that are true.
"He was enormous, that's for sure," admitted Taylor. The Thai seemed to have not only bulked up, but also to have grown a couple of inches in height.
Inside the fight's opening ten seconds a right hand clipped Taylor's chin, just shy of full impact, partially blocked by the edge of a glove - It was a clear warning, a very early sign of intent. "I was not hurt, but that was some power he had," added Taylor. "I had to think then, had to move - I knew there was a gap under his right hand, he lifted it too high. I waited, I knew I would get the chance."
He did, most missed the final punch in real time, but slow motion reveals the impact of a punch that is travelling right through the target. There is never a way back from a punch like that.
Taylor now wants to meet a man called Jose Carlos Ramirez, who holds the two other recognised world title belts, at Edinburgh Castle in his hometown next summer. "That fight deserves a crowd - that is a fight that boxing needs," Taylor said. It is still rare in this industry of lunacy for all four of the recognised belts - the baubles made from leather, cheap jewels and hope - from the often pathetic sanctioning bodies to be owned by one fighter; any and every attempt to make it happen more often should be boxing's clarion call.
However, stumbling blocks, trickery and often outright larceny often prevent the sensible from happening in a sport of organised chaos. Taylor has to overcome the WBO's ruling that Californian Ramirez was given 120 days (perhaps 90 days are left) to negotiate terms for a fight with Chorley's Jack Catterall, who has been his mandatory challenger for over a year. Catterall can really fight, make no mistake and him against Taylor might one day be enormous.
"I understand where Jack is coming from, he's been waiting a long time," said Taylor. "I just think I deserve the fight, I know that's selfish. Perhaps a deal can be done." I hope a deal can be done and that Ramirez, who looked poor in an August defence, is not stripped of his WBO title.
Meanwhile, Bob Arum, who promotes Taylor, insists that his boxer will fight Ramirez for all the belts in January or February. Catterall will, no doubt, be offered a sum of cash to "step-aside", but he knows, with the WBO's backing, that he will get his world title opportunity sooner rather than later.
On Saturday for 161 seconds the politics vanished and Taylor, in the first world title fight on British soil this year involving a British man, was very impressive. Now the fight fixers in London, San Juan, Dubai and Las Vegas will start the flesh trading - it's a behind-closed-doors business where the body blows can be as potent as the one Taylor delivered.
Join our new commenting forum
Join thought-provoking conversations, follow other Independent readers and see their replies