Amir Khan told Floyd Mayweather 'is ready for him' for the American's final fight
Bolton fighter desperate to cash in on 'Money'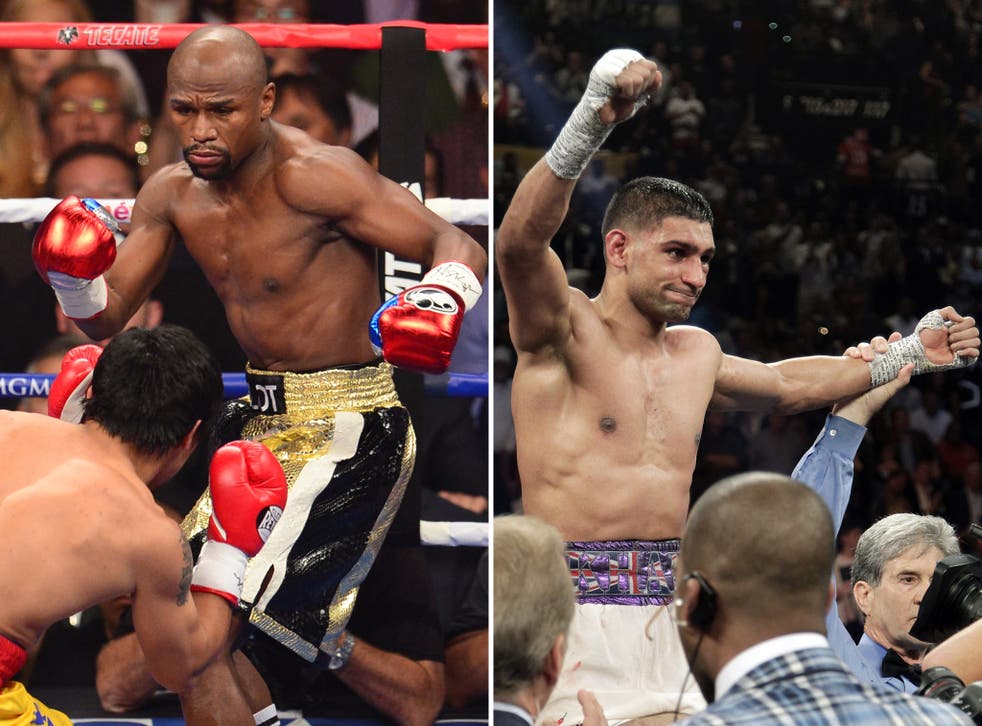 If you take him at his word, Floyd Mayweather Jnr has just one more fight in him. Having seen off the challenge of Manny Pacquiao with imperious ease, Mayweather is targeting the pipe and slippers, claiming his 49th fight in September at the age of 38 will be his final engagement.
"I would like to give other fighters chances," Mayweather said. "I got the WBC and WBA super welterweight and WBA, WBC, WBO welterweight titles. It's time for other fighters to fight for those titles.
Floyd Mayweather vs Manny Pacquiao - in pictures

Show all 12
While he has one more fight on his deal with Showtime, few expect him to maintain his post-match stance and finish on 49 bouts with the prospect of reaching 50 unbeaten and thus eclipsing the great Rocky Marciano in the boxing pantheon.
If there is only one more bout, Amir Khan believes he is the man to fill the slot. "I think the fight is there," Khan, who is 10 years Mayweather's junior, told BBC Radio 5 Live's Sportsweek. "I spoke to Len Ellerbe, his manager.I saw him in the media room and he came over to say, 'Hi...he's ready when you are'.
"I think it would be an amazing fight, one that boxing fans all around are talking about because I really believe size is a big factor between me and him and the speed and the power as well. I really believe I have his number.
"Financially they know it'll be a big fight and it'll be an exciting fight. I think a lot of people thought this fight between Manny and Mayweather would be very exciting, but it seemed to be a one-paced fight.
"They need someone young to fight, like myself, to come on board and maybe push Mayweather and stick him in the trenches and to also not show that respect, and I think my size would be the biggest factor."
Speaking on behalf of his fighter, Matchroom promoter Barry Hearn said Sheffield's IBF welterweight champion Kell Brook would step up without hesitation. Since he has the only welterweight belt that Mayweather does not own, there is obvious appeal. What Brook lacks is the kind of box office quality that gets the big numbers rolling in Las Vegas.
A rematch with Pacquiao cannot be discounted – after all, Mayweather found the first engagement easy enough. Mayweather remains the greatest matchmaker in the game, taking opponents on his terms at a point in the cycle when they are past their best or not quite gold standard.
He was complimentary enough about Pacquiao to suggest an accommodation might be reached, should there be any takers for Pacquiao's injured shoulder theory.
"I had a brilliant game plan and remarkable team," Mayweather said. "Manny Pacquiao is still a champion. He still has a lot left. I was the better man tonight, countering and basically using the jab. I am blessed, Manny is blessed. He's a hell of a fighter."
Join our new commenting forum
Join thought-provoking conversations, follow other Independent readers and see their replies