Kevin Johnson lingers on as a true craftsman among today's journeymen
Johnson is the last of the great American heavyweight survivors, once a species in demand and plentiful, but 25 years of decline has taken its toll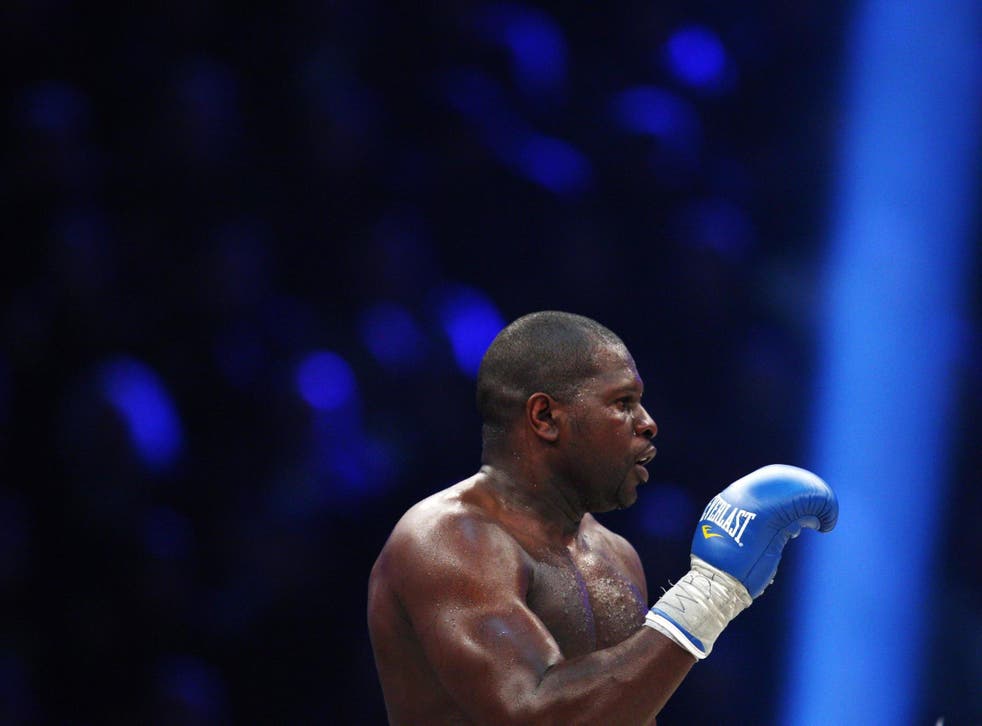 Kevin Johnson brings his long forgotten and neglected trade back to Leicester on Saturday night after testing fighters in a dozen countries of a boxing life spent dodging the hurt.
Johnson is the last of the great American heavyweight survivors, once a species in demand and plentiful, but 25 years of decline has taken its toll and Johnson, now 39, is the only old beast left from a once respected profession. In the Sixties, Seventies and Eighties the best British heavyweights biffed away, often hitting nothing more substantial than arms and air, at skilled American boxers in the rings at the Royal Albert Hall and Wembley.
On Saturday night, Johnson meets unbeaten Nathan Gorman over ten rounds; he will lose all ten rounds and he will then leave the ring, collect his few belongings, head for the bar at another inner-city hotel and then leave for an early morning flight back to America. "It ain't no big thing," said Johnson. "It's just another unbeaten fighter needs to learn and that's what I do: I teach." Johnson was unbeaten in his first 23 fights, but has lost 12 of his last 24. He is the custodian of the ancient art of journeyman boxing, the ghost of the great men that taught the finest heavyweights in history how to be real boxers. It is a transition that can only be made in the ring.
Johnson turned professional after just 16 amateur fights, 18 months in prison and a rough education in the boxing gyms of Baltimore. He had no backing, no logos on his shorts and no real future at the start of his career; in his fourth fight he was thrown in to lose, but drew with unbeaten Uzbekistan Olympian, Timur Ibragimov, a fighter with all connections and understandable dreams Johnson lacked. "I had some issues back then, some battles to win - I never really thought that much of myself," admits Johnson. Others disagreed and Manny Steward declared Johnson's jab "the fastest since Larry Holmes."
In fight 24, with just the draw as the blemish, Johnson went to Switzerland in 2009 to fight Vitali Klitschko for the WBC heavyweight title. Klitschko had stopped, bludgeoned, broken and knocked out ten men in his last ten wins. Johnson took Klitschko the full twelve rounds. "You see, I had no fear of Vitali and he knew it," said Johnson.
February top 10 pound-for-pound boxers in the world

Show all 16
The hard fights continued, the losses increased and Johnson slowly became the last real journeyman standing; a fighter with more skills than the men beating him and with enough skills to change a fight if one of the unbeaten boxers in the opposite corner ran out of ideas or stamina. His only legitimate stoppage loss was a strange affair back in 2015 when Anthony Joshua subdued him in just two rounds. It was a very good win. "Joshua can fight, but (Tyson) Fury is better," said Johnson. In 2012 Johnson went the full twelve with Fury, losing widely. Johnson has also gone the distance and lost to Dereck Chisora, Manuel Charr, Kubrat Pulev, Daniel Dubois, Andy Ruiz and Filip Hrgovic. That is a good list, a list of men who generally stop their opponents.
Sure, Johnson can be negative, but he is there for ten or twelve rounds and there is always the lingering threat that he might let his fists fly. Gorman will be in good company if he wins and a stoppage or retirement would be a sensational result. "I know what my role is, but I'm not here to lose - I never come to lose. I have to push these guys, make them work, make them think," said Johnson.
There remains some confusion about the over used term 'journeyman'. A journeyman is certainly not a fighter with three or four wins in 60 fights, few real skills but a good chin and brave manager. This weekend in British rings, men like Victor Edagha, with one win in 55 fights, will mistakenly get called a 'journeyman'. A fighter like Edagha just loses a lot, offers nothing more on his visits to Britain than a comforting place for a prospect's fists to rest their anger and superiority.
A journeyman was once a fully-fledged, respected fighter, a man with a knowledge of the ring like a lasting article of trade in the boxing game. They were men with brilliant histories in the gym, educated by veterans and fed with skills handed-down in long-since abandoned boxing gyms. They were men shaped by an early realisation that the air at the very top was mighty rare, but that they could make life uncomfortable for any genuine passengers making their way to the summit. They were men like Kevin Johnson. He might not always be easy on the eye, but look a little closer at what he does. That, my friend, is a craftsman, a true journeyman at work.
Register for free to continue reading
Registration is a free and easy way to support our truly independent journalism
By registering, you will also enjoy limited access to Premium articles, exclusive newsletters, commenting, and virtual events with our leading journalists
Already have an account? sign in
Register for free to continue reading
Registration is a free and easy way to support our truly independent journalism
By registering, you will also enjoy limited access to Premium articles, exclusive newsletters, commenting, and virtual events with our leading journalists
Already have an account? sign in
Join our new commenting forum
Join thought-provoking conversations, follow other Independent readers and see their replies