Victory over Klitschko has made world boxing champion Tyson Fury public property
...before, he was free to make his outrageous claims without being challenged 
Kevin Garside
Wednesday 09 December 2015 19:08 Comments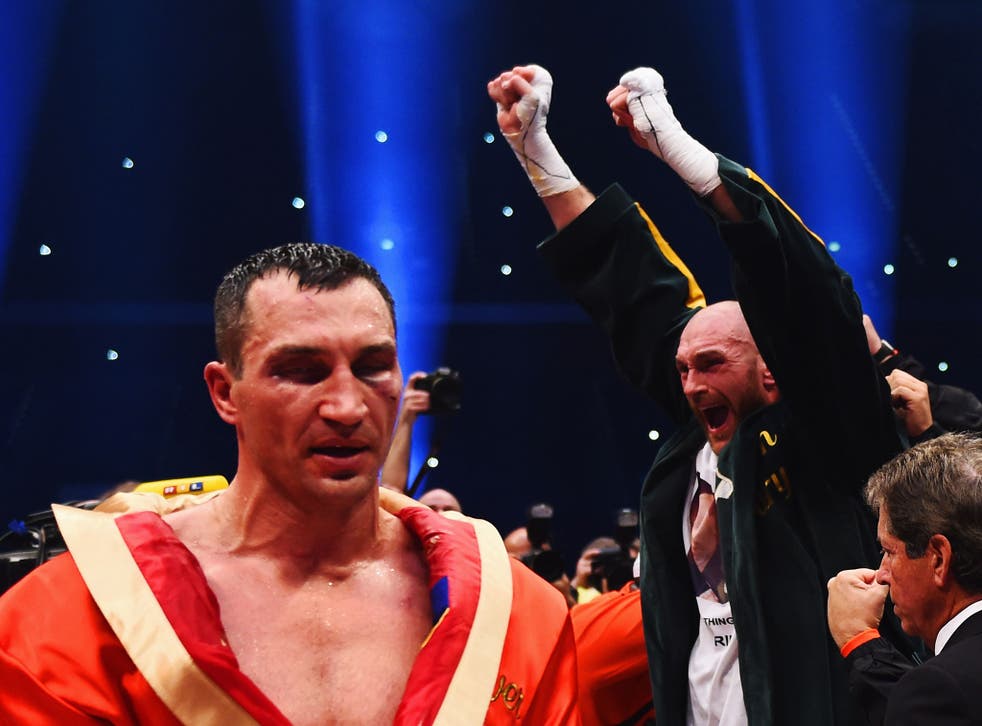 Tyson Fury said he would pray for me. They were his closing remarks following an interview on the ring apron of his Bolton gym. I wondered what the value of HIS prayer might be.
He struck me as a kind of Bernard Manning in boxing gloves, a powder keg of tragi-comic views given a platform by boxing, and utterly ignorant of the toxic quality of the opinions he held. It was late February, nine months before his victory over Wladimir Klitschko would amplify his voice, back when he was little more than a trade story addressing an audience familiar with his Dark Age ramblings.
The gym had emptied and the light was fading. The talk was no longer about boxing. In fact, very little of it was. He was, he said, not fit to lace the gloves of the greats who stared down from posters on the gym wall. "I'd get flattened by Muhammad Ali," was his candid view. In fact, he said he hated the sport, fell out of love with it years ago.
This was one of a many contradictions that beset him. He was only doing it for the dollar, yet he couldn't care less about money. He hated boxing but was engaged in a gruelling training regime that would not be possible without some enthusiasm for the task. The more you probe Fury, the deeper the paradox. What emerges is a conflicted character from another time and place, who wants it all ways.
He is at once a devout practitioner doing God's work, albeit with a shallow understanding acquired from a narrow interpretation of the Bible, and a nihilist without attachment to creed or morals, convinced that the world is about to end. He spoke of evil, of filthy sinners, the devil. He was, it appeared, engaged in a kind of inner battle to reconcile competing urges, a duel that it seemed to me left him miserable, on the edge of madness, even.
It was particularly disturbing to hear him talk of a frequent desire to throw himself under a bus when he wakes some mornings. This was supposed to be a piece for the sports pages ahead of a grudge fight with Dereck "Del Boy" Chisora. It morphed into an unscripted confessional that shifted ground depending on the trigger points ricocheting around his head.
He did not hit upon homophobia that day. Maybe that was contained within the "dirty sinners" bundle. Fury is not alone in his bigotry, of course. It is either shared or casually set aside by those who move in his circle. Fury exists in a crude bubble. He would not have anticipated the storm he has created, which has escalated following a complaint by a gay former police officer claiming his comments incite hatred of homosexuals.
Now he has the police on his back as well as the public in outcry at his inclusion on the shortlist for the BBC Sports Personality of the Year. He thought that the beating of Klitschko was the fulfilment of a dream. He had no idea that with that victory would come scrutiny and the nightmare of responsibility.
Back in February he was a still a cannon on the loose, free to make his outrageous claims without fear of contradiction or accountability. There is no challenge in his gym environment to the view that women are best suited to the kitchen and on their backs. It is just Tyson being Tyson.
Not anymore. Fury is public property now whether he likes it or not and must deal with the consequences. He should consider himself lucky he is not presiding over his own case. Were he to employ the same frame of reference that guides him, rooted somewhere in the middle 17th century, he might be forced to attach himself to the dunking stool and take the ordeal by water.
Whether a floater or a sinker he be, Fury is clearly a man out of his depth on the world stage and out of step with modern mores. The corrective will at some point come in the ring in the shape of an even bigger right hand than his own. At least that is a world he understands and a justice system he recognises.
Read the original interview here.
Register for free to continue reading
Registration is a free and easy way to support our truly independent journalism
By registering, you will also enjoy limited access to Premium articles, exclusive newsletters, commenting, and virtual events with our leading journalists
Already have an account? sign in
Join our new commenting forum
Join thought-provoking conversations, follow other Independent readers and see their replies