A fearless journeyman who gave his all for boxing, Kristian Laight will be sorely missed
Laight, who has retired after 300 professional fights, is part of an endangered species in a sport he helped with sacrifice after sacrifice for so long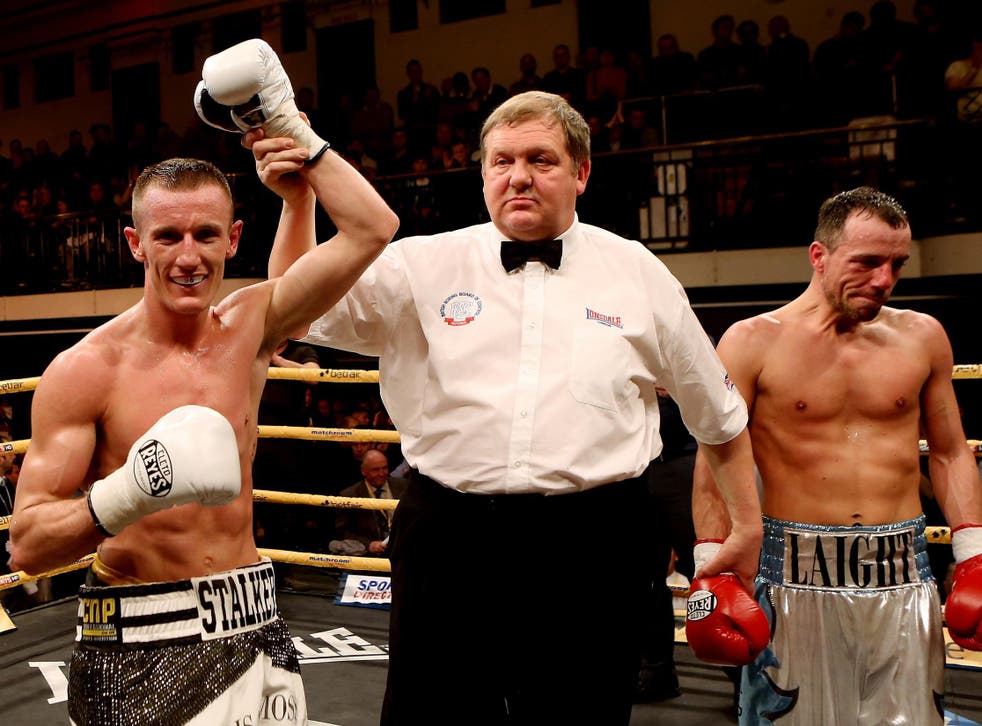 In many subtle ways Kristian Laight was an exceptional boxer, the best fighter you have never heard of. And after exactly 300 professional fights in forgotten arenas against the dreamers, wonder boys and genuine contenders, he has decided to walk away from the sport.
Laight never won a title, never grasped a bauble to pose after victory and managed just 12 wins during his 16-years of scuffling away against absurd odds; Laight met about a hundred genuine contenders, men that won world, British and European titles or fought for major belts after their brief dance with Laight.
In 279 defeats he was stopped just five times. He drew nine times on the road and that means he won nine times on the road, trust me. However, perhaps the most amazing statistic that Laight owns, and it is one that will never be taken from him, is this: he met 68 men making their debuts. He did, I can testify, teach every single one of them a few hard facts of the boxing life. His secret judgment on prospects was sought in private and he was seldom wrong; he knew if a touted kid could fight and that's priceless info in our business.
A week or so after the final fight, against a boxer called Luke Beasley at a leisure centre in Coventry in July, Laight was told he would need to consider his future and his health if he continued with his life in the ring. It was a serious time. Laight sat with various people, listened to what he was being said and also listened to what he was not being told; Laight got the message and at 38 he knew it was over.
On the night of his last fight a retired boxer called Peter Buckley, wearing a Team Laight t-shirt, walked with Laight to the ring. In 2008 Buckley quit the ring after 300 fights, his record: won 32, lost 256 and drew 12. Buckley and Laight shared the same type of opponents, a philosophy of survival and would stand and talk whenever they had to get ready for a fight in the same dressing room. The pair were often packed in one stinking room assigned to the night's designated losers, a place without much hope where somebody from Hungary was the translator for the Estonian and Polish sacrifices.
Jon Pegg started working with Laight after 90 fights, taking on a man with a losing mentality and having to adjust the boxer's thinking. "In 210 fights with me, he's only been stopped once and that was because the fight was too easy, he got sloppy, got caught and got dropped," said Pegg. Laight did not accept fights to test his bravery.
Other boxers have lost a hundred or more fights and their records are darkened by repeat stoppage losses, but they are often the men that accept fights against bigger names, men with justifiable ambitions, on televised nights; they are fights the loser has no chance of winning or even sneaking a draw, and instead there is every chance of a hiding. It's a legal ploy, just not very satisfying and the role of the "slaughtered" boxer is increasingly being taken by inept foreign imports, travelling lonely and solo and using a generic Eastern-bloc translator.
"There is probably a grand more on offer for a television fight against a dangerous prospect, but it's not worth it," added Pegg. "A big promoter will call up and ask for Kristian. I will say no, offer a kid with five wins and two defeats and they will not fancy it. That's organised bullying. It's the business. Kristian never took those fights and that gave him extra years. I have no doubt about that." It should be pointed out that stoppage defeats in boxing lead to short bans and repeated quick losses lead very quickly to lengthy bans or having your precious licence taken away.
Laight has actually fought for nothing in fights near his home, in fights where he thought he might win and in fights where he never sold a ticket; part of the deal when Laight and Pegg arrive at a distant venue is that they have not had to sell a single ticket. He is the visitor, the away fighter, the loser and nobody has embraced that role with such skill, artistry and dedication as Laight. He knew how to lose, not get hurt and not expose the man in the opposite corner, the one with his girlfriend in a frenzy as she watched through her fingers at ringside.
Laight never really took risks or liberties – both can be a hazard to future employment. It's not good business to travel across the country and make a kid having his debut look like a fool, break his mother's heart and upset 250 drunk friends of the boy you have just exposed. Win, lose or draw on the road and Laight is getting paid, but now the boxing is over he will need a full-time job, something more than the occasional bit of labouring in the Nuneaton area. He will probably be back soon in the boxing game, working with Pegg.
"It's funny," continued Pegg. "Kristian has beaten more previously unbeaten boxers than (Amir) Khan and (Ricky) Hatton combined. That's a mad stat." I tell him that it is and then check it: Laight beat seven previously undefeated men, Hatton and Khan combined managed just six. Fearless Laight is part of an endangered species in a sport he helped with sacrifice after sacrifice for so long. He will be missed.
Join our new commenting forum
Join thought-provoking conversations, follow other Independent readers and see their replies