Why Lee Selby vs Josh Warrington is a featherweight domestic dust-up that has been years in the making
This is a very intriguing bout between a world champion who has waited his entire career for a fight of this magnitude, and a hugely popular challenger who deserves this shot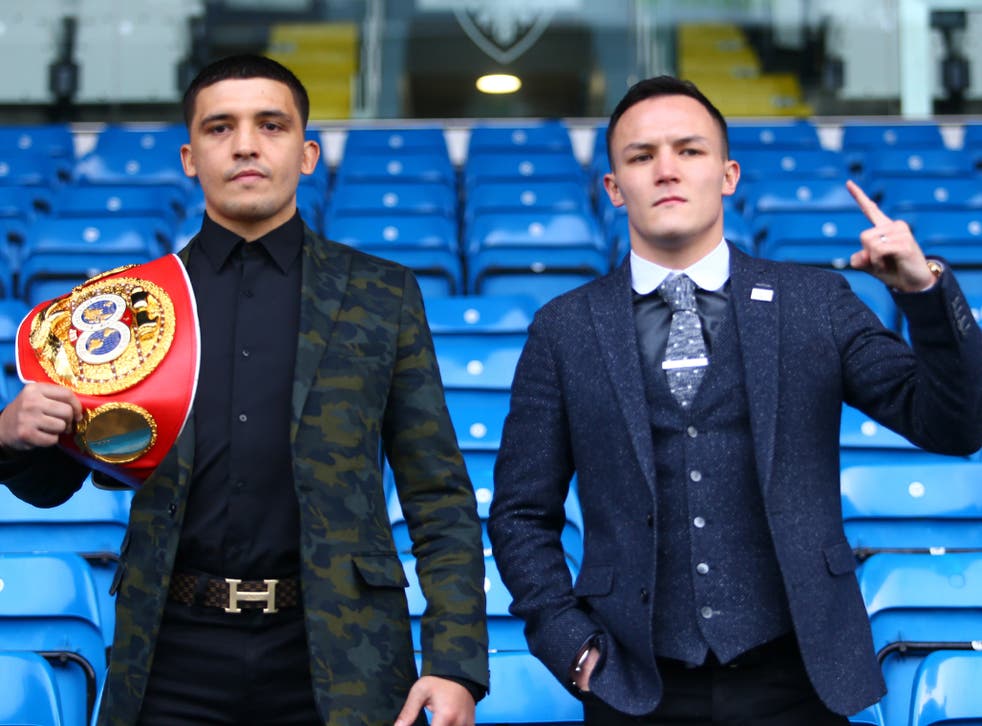 One of the biggest crowds in British boxing history will congregate tonight at Elland Road, as IBF featherweight champion Lee Selby defends his title against Leeds' own Josh Warrington. While the audience in Yorkshire will be vast, the fight has fallen under the radar of general sports fans, as a busy day of cup finals and weddings battles for attention in the public consciousness.
It's a shame, as this is a very intriguing bout between a world champion who has waited his entire career for a fight of this magnitude, and a hugely popular challenger who will by the most popular man in the stadium by some distance. Featherweight is hardly a glamour division, but this is a domestic dust-up that has been years in the making and should be one to remember.
At 31. Welsh star Selby is approaching the prime of his career, and has been IBF champion since May 2015. While his style is not always fan-friendly, he is one of the most difficult fighters in the world, with a unique style that allows him to control fights from the outset.
Selby rarely looks troubled or harassed while boxing, which has led to criticisms of a languid nature, but the reality is, he's just a very good all-round fighter with a skillset that often looks impenetrable. Since his first – and only – loss in his fifth fight back in 2009, Selby has dispatched good domestic opponents including Stephen Smith and Ryan Walsh, plus world level contenders too.
Britain's current boxing world champions

Show all 8
Inactivity has been an issue for the champion however, with just five fights since October 2015. The calibre of his opposition has been questionable too, with many of the most highly rated featherweights choosing different options. Warrington has answered the challenge however, and the 26-0 undefeated former Commonwealth champion is confident of his chances.
"This will be a fairytale ending, slash the start of a new chapter," he told BBC Sport.
"When I was working as a dental technician and they announced Leeds would have an arena I used to picture myself fighting there.
"A few years later I was headlining it. Anytime I've gone to Elland Road people have said 'imagine fighting here,' for a split second I have pictured it and I kind of feel like I have been there already."
Warrington's confidence comes as a result of a flawless professional career, which started slowly, but became spectacular in November 2013 when he became the first man to defeat Samir Mouneimne, who is the only man to ever beat Lee Selby. Warrington followed up that success with sizeable wins over Joel Brunker and Kiko Martinez, and most recently outclassed Dennis Ceylan last October.
The build-up has been fraught with tension, as both fighters genuinely believe they are the better fighter. Talk has erupted over social media and at press conferences, and words will become punches tonight in front of over 20,000 fans.
There are many ways the result can go but expecting a firefight may be the most unrealistic option. Selby has only stopped two of his last eight opponents, while Warrington has just six stoppage wins. Both have underrated power, but in a fight of this magnitude, tactics will be more important than hard shots.
That's because it's not just a world title at stake in this fight, but a future mega fight with Carl Frampton, who is completely sure that he would beat the winner. The money that fight will generate would be life changing for either Selby or Warrington, which raises the stakes of tonight considerably.
Selby has the physical advantages being the taller man with the longer reach, but Warrington has a dogged and awkward style which verges on the sublime at time. He's not spectacular at one specific skill, but instead is annoyingly good at the fundamentals which can make life difficult for anybody.
Whether you believe that Warrington and the Leeds fans will be marching on together, or that Selby will successfully defend his title for the sixth time, concentrating on this has to be better than some of the other embarrassing pastimes that are being defined as entertainment today.
Register for free to continue reading
Registration is a free and easy way to support our truly independent journalism
By registering, you will also enjoy limited access to Premium articles, exclusive newsletters, commenting, and virtual events with our leading journalists
Already have an account? sign in
Register for free to continue reading
Registration is a free and easy way to support our truly independent journalism
By registering, you will also enjoy limited access to Premium articles, exclusive newsletters, commenting, and virtual events with our leading journalists
Already have an account? sign in
Join our new commenting forum
Join thought-provoking conversations, follow other Independent readers and see their replies