Manny Pacquiao blames shoulder injury for defeat to Floyd Mayweather in Las Vegas
The Filipino boxer was not at his best for all 12 rounds after the boxing commission went back on its decision to allow his injection
Alexander Ward Comments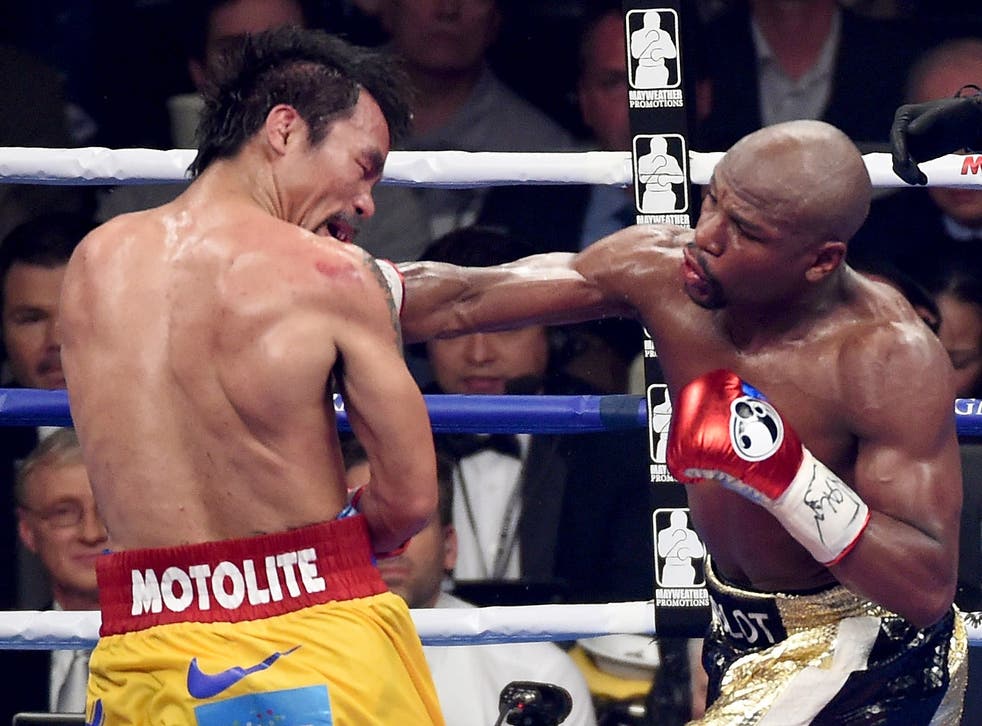 Manny Pacquiao has cited a shoulder injury as the reason for his defeat to Floyd Mayweather Jr. in Saturday night's Las Vegas fight after Nevada's boxing commission prevented him taking painkilling injections before the bout.
Pacquiao, 36, managed to throw a total of 429 punches over the 12 rounds, although only managed to land 81 on his American opponent, Mayweather, 38. The fight at the MGM Grand was awarded to Mayweather in a unanimous decision. According to Pacquiao's camp, his shoulder injury flared up in the third round.
Many spectators agreed with the decision to award Mayweather the victory. A breakdown of the punches thrown showed that of the jabs each man landed on his opponent, Pacquiao only scored 18, compared to Mayweather's 67.
Bob Arum, Pacquiao's promoter, said that the boxer had previously arranged to have the shot for his injured shoulder before the fight, but this was later denied. Mr Aum said that he thought Pacquiao would be allowed to have an anti-inflammatory shot because he had similar treatment during training.
The Nevada Athletic Commission said that the Pacquiao team had not disclosed the injury until Saturday night, so permission to take the shot was denied.
Both Mr Arum and Pacquiao's trainer, Freddie Roach, were vague about the details of the injury, but said that they had considered postponing the bout weeks ago, saying only that it was "the same as the one Kobe Bryant had".
Floyd Mayweather vs Manny Pacquiao - in pictures

Show all 12
The Los Angeles Lakers player, Bryant, tore his rotator cuff in January although Arum did not clarify whether that was the injury he was referring to.
After the fight, Mr Arum said: "I thought he fought a courageous fight under all the circumstances, and I'm very proud of what he accomplished tonight."
"We felt that the work that was done on the shoulder during training would give him [Pacquiao] the opportunity to use the right hand.
"We were disappointed when in the third round the injury kicked up again, but this is always the case with sports," Mr Arum added.
"You get guys injured in training. He then deals with the injury, he thinks he's conquered it, and then he gets re-injured in the game. It happens in football. It happens in any sport."
Register for free to continue reading
Registration is a free and easy way to support our truly independent journalism
By registering, you will also enjoy limited access to Premium articles, exclusive newsletters, commenting, and virtual events with our leading journalists
Already have an account? sign in
Join our new commenting forum
Join thought-provoking conversations, follow other Independent readers and see their replies