Floyd Mayweather vs Manny Pacquiao: Is the welterweight challenger a heavyweight contender to the President of the Philippines?
That next week's 'biggest fight in boxing history' features a would-be president of the Philippines only adds to its lustre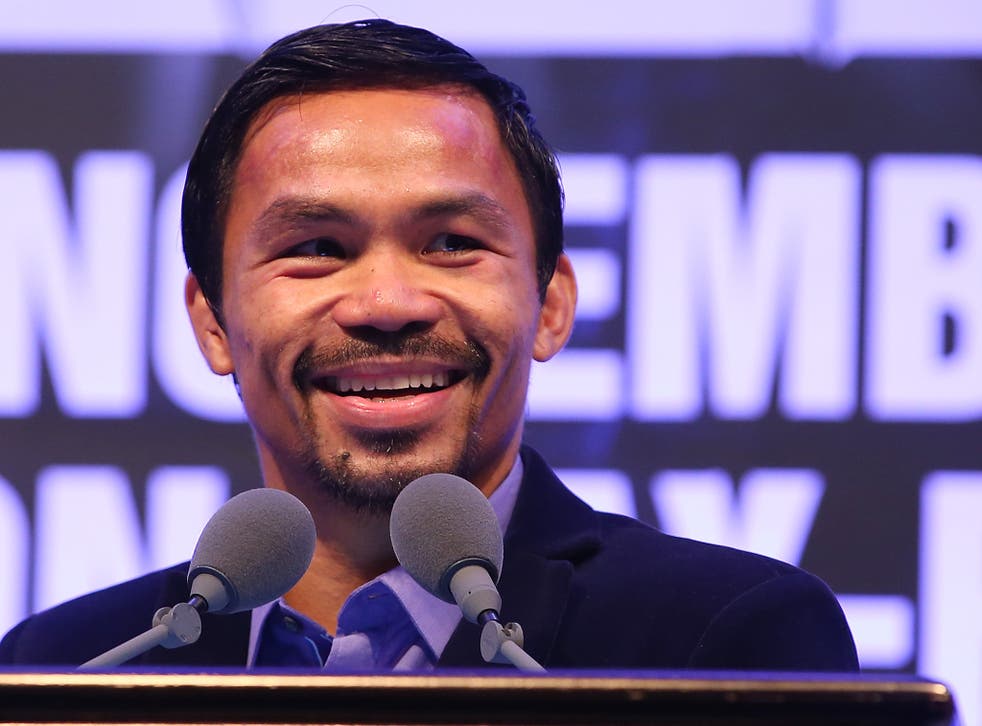 Manila's traffic-choked streets will be almost deserted next Saturday. Across the violence-racked Philippines, the crime rate will plummet.
And on Manny Pacquiao's home island of Mindanao, separatist rebels will come down from the hills and just for one day join with their enemies to cheer on the nation's favourite son – boxer supreme and political hero.
With a starting price of $1,500 (£1,000), tickets for the long-awaited clash between Pacquiao and the unbeaten American Floyd Mayweather at the MCM Arena in Las Vegas – billed as the biggest fight in boxing history – were well beyond the reach of most ordinary Filipinos. No matter: hearts will swell as tens of millions of people flock to stadiums and crowd around giant screens in town squares to watch Pacquiao – the only person ever to win world titles in eight weight divisions – battle Mayweather for the unofficial accolade of world's best boxer.
But it is not just Pacquiao's awesome talents in the ring, or the national pride which they engender, that make him adored and revered to a degree unmatched by any other sporting figure, celebrity or political leader in the Philippines. Born into poverty, and forced to live on his wits on the streets of Manila at the age of 14, the man whom his compatriots call the National Fist and the People's Champion has never forgotten his roots.
Next week's match – for which tickets sold out in minutes, then appeared on websites with asking prices of up to $141,000 (£94,000) – will not just be a thrilling duel between the two outstanding pound-for-pound boxers of their generation. It will also be a study in contrasts.
Unbeaten in 47 bouts and with world titles in five divisions, Mayweather is brash and mouthy. He flaunts his wealth and owns his own hip-hop label, Philthy Rich Records. The 38-year-old considers himself the greatest boxer ever to don gloves, putting even Muhammad Ali in the shade. While Ali was "a legend", Mayweather said recently, he "fought in [only] one weight class... He called himself 'The Greatest' and I call myself 'TBE' – The Best Ever".
The soft-spoken Pacquiao does not exactly disdain money. Rated last year by Forbes as the world's 14th highest earning sportsperson, he loves expensive cars and lives in an opulent mansion in General Santos City, on Mindanao, in the southern Philippines. He and his wife, Jinkee, own several homes, as well as a hotel, fashion boutiques and a petrol station.
But while the 36-year-old will, like his opponent, take home more than $100m from the Las Vegas clash, Pac-Man – as he is often called in the United States, where most of his big fights are staged – is keenly aware that many Filipinos live in grinding poverty.
Great boxing rivalries

Show all 10
Pacquiao donates vast amounts – by conservative estimates, $1m a year – to worthy causes. No one among the crowds of people who turn up regularly outside his home, seeking money or food, is turned away empty-handed. He is genuinely humble and devoutly religious. He has a fine line in self-deprecating humour.
And boxing is only of one of his vocations. Since 2007, he has represented the impoverished district of Sarangani, where he lived as a small boy, in the Philippines Congress. He does not disguise his presidential ambitions, and says he wants to eliminate poverty in his country. In an interview with Newsweek in 2011, he said: "I [didn't] need to enter politics. I have all the money I need. I could just be enjoying myself. But I have a duty to the people." He has also said that "being famous means one of your responsibilities is to give".
Born in 1978 in Kibawe, on the outskirts of General Santos City, Emmanuel "Manny" Dapidran Pacquiao left school in his early teens to help his mother, Dionisia, a roadside trader, support the family. His father, Rosalio, a farmhand, had left in search of work and never came back. Before departing, according to Pacquiao, Rosalio killed a stray dog which the boy had brought home, then cooked it and ate it in front of him.
In Manila, Pacquiao did odd jobs, including selling doughnuts and working on construction sites. And he boxed, just as he had done since the age of eight, when he wrapped towels around his fists and challenged local boys to a bout. After training in a gym and competing in illegal street fights, he turned professional at the age of 17, sparring on a televised weekly boxing show called Blow by Blow. He earned only $2 a fight, which he sent home to his mother.
Just before his 20th birthday, in 1998, Pacquiao won his first world championship, wresting the WBC flyweight title from the defending champion, Chatchai Sasakul. Three years later, he burst on to the American boxing scene when he defeated South African Lehlohonolo Ledwaba in the IBF super-bantamweight title fight in Las Vegas. And in 2003, moving up weight class again, he beat Mexico's Marco Antonio Barrera for the featherweight title, a victory which pushed him to international attention.
Standing just 5ft 6in tall, Pacquiao – who has also dabbled in acting and coached a basketball team – doesn't look like a boxer. But he packs enormous strength and has lightning feet and fists. According to one boxing writer, he is "like an untethered chainsaw in the ring... He sets on his opponent in a flash, inducing panic, before his left hand – almost always it is his lethal left – slashes through".
Success and wealth did turn his head. He became a drinker, and gambled heavily in Las Vegas casinos and on cockfights back home. He had numerous affairs. That all ended when Pacquiao, brought up a strict Roman Catholic, became a born-again Christian.
In Filipinos' eyes, he can do little wrong. "I feel what they are feeling, because I've been there," Pacquiao said in one interview. "I slept in the streets. I ate once a day. Sometimes I just drank water, no food. That was my life before. So hard. I understand the needs of people who need help."
His promoter, Bob Arum, says: "The Philippines has the best welfare system in the world, and it's called Manny Pacquiao. Whether it be hundreds of academic scholarships and hospital beds or simply cash in the hands of folk in the streets, he gives a tremendous percentage of his earnings to the poor."
Pacquiao's status as a national treasure is even enshrined in law, with the army required to go to his aid if his family is in danger. His presidential ambitions could yet be realised. He appeals both to the masses and the monied elites. The Philippines has already had a former film star, Joseph Estrada, as president. And Pacquiao is the only person who "has succeeded in holding the entire nation spellbound", as one boxing journalist wrote earlier this month.
Next weekend, the nation will grind to a halt again, for a clash keenly anticipated by boxing fans for the past five years. Although Pacquiao will enter the ring as underdog, he has been picked to win by no less an authority than former world heavyweight champion George Foreman. Oh, and by about 100 million Filipinos.
A life in brief
Born: 27 December 1978, Kibawe, Philippines
Family: Father Rosalio was a farmhand. Mother Dionesia worked as a roadside trader. Married Maria Jamora in 2000, with whom he has five children.
Education: Dropped out of school at 14 to support family.
Career: WBO welterweight champion and only eight-division world champion. Voted this century's first "Fighter of the Decade". Elected to the Philippine House of Congress in 2007.
Register for free to continue reading
Registration is a free and easy way to support our truly independent journalism
By registering, you will also enjoy limited access to Premium articles, exclusive newsletters, commenting, and virtual events with our leading journalists
Already have an account? sign in
Register for free to continue reading
Registration is a free and easy way to support our truly independent journalism
By registering, you will also enjoy limited access to Premium articles, exclusive newsletters, commenting, and virtual events with our leading journalists
Already have an account? sign in
Join our new commenting forum
Join thought-provoking conversations, follow other Independent readers and see their replies