Manny Pacquiao's defeat by Jeff Horn provoked the hysterical, darker side to boxing
The result prompted an outpouring of lunacy, hate and stupidity which has not been seen since Lennox Lewis and Evander Holyfield's first fight in New York in 1999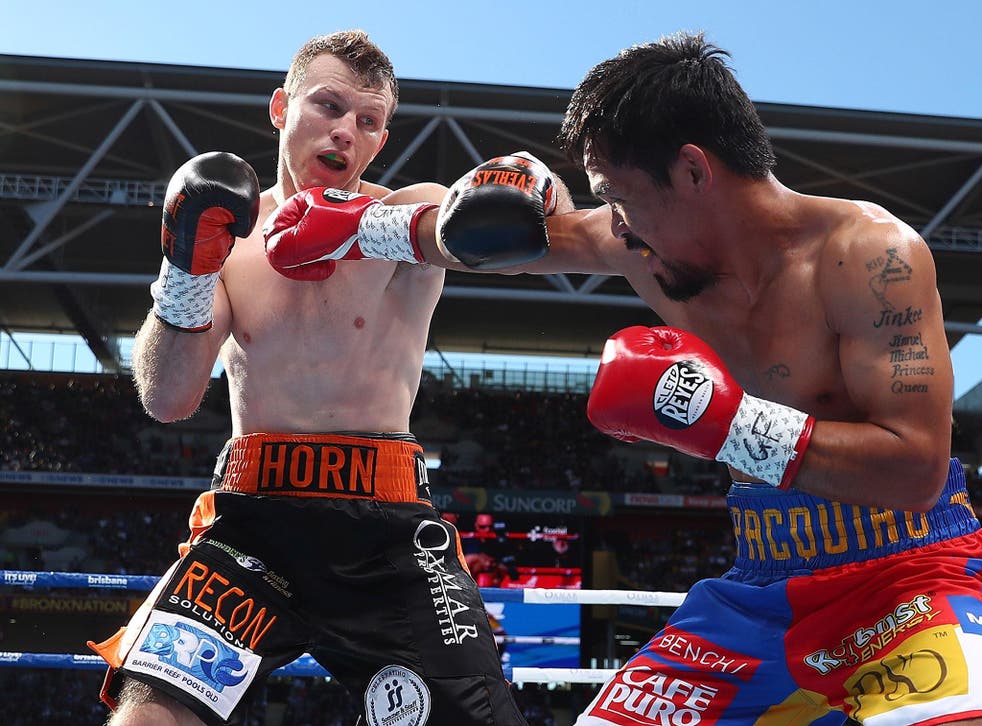 It is perhaps convenient to forget the dismal performance by Manny Pacquiao in the ring and concentrate on the outrage at the decision in Sunday's brawl in Brisbane.
Pacquiao is now 38 and against Jeff Horn in the unforgiving Brisbane ring the tiny fighting idol from the Philippines looked every hour of his age. He fought like an old man with glittering memories that he could not use, nodding at his young opponent each time he was bundled or butted or hit during the old-fashioned fight. It looked like he was saying to himself: "I used to do that."
At the end Pacquiao stood in centre ring waiting his fate, a veteran of 68 fights during one of modern boxing's most remarkable careers, and as the blood from two nasty cuts under his hairline leaked down both sides of his face he knew he had lost. It was unanimous, far too wide on one of the three scores but perfect and identical on the other two. I was in a studio in London presenting the fight on BoxNation at 5am and agreed with the result.
However, there was a hysterical reaction from American boxing writers and ringside commentators and screams of fix, disgrace and robbery. Pacquiao, a gentleman and senator in the Filipino government, thought he had done enough and has silently benefited from the outbursts of his fans and backers online. However, in the fight's nasty aftermath Bob Arum, Pacquiao's promoter and the greatest promoter in boxing history, delivered a calm assessment with all the casual authority of a lawyer that once worked for Robert Kennedy in the US Department of Justice: "It was close but fair and it could have gone either way."
A lot of the confusion, which led to the often ridiculous online assaults, appeared to revolve around the so-called punch stats, which are supplied by a company that sits at ringside and tries to record the punches landed. It is an impossible task to record every type of punch in real time; the two operators for the company ringside in Brisbane each held game consoles with different buttons, presumably colour coded, and they then push the buttons as they watch the fight, hitting a different button for a "power" punch.
I have dismissed this foolery since it started in the Eighties, but some people adore it, quoting numbers like facts, which they are not. "Manny doubled him in power connects," one man told me before wishing me "brain cancer". It is hard to comprehend.
There has not been an outpouring of such lunacy, hate and stupidity at a boxing result since Lennox Lewis and Evander Holyfield's first fight in New York in 1999. After the drawn verdict in that fight there were calls for boxing to be banned, the errant judges to serve prison time and the result to be declared a no contest. Two of the three judges received death threats before sense and financial necessity took over and the pair met again a few months later in Las Vegas and Lewis got the nod.
The reaction to Horn's win is similarly shocking, with the Australian and his wife receiving death threats among other disgraceful messages.
Arum is not sure Pacquiao will want a rematch but Horn most certainly does. On Sunday he was guaranteed 500,000 dollars, Pacquiao was paid a minimum of 10 million and in a second fight the Australian nice guy and part-time teacher would deservedly receive a substantial improvement. Horn won for the 17th time and showed tremendous guts to survive after the referee walked to his corner and threatened to call it off at the end of the ninth, the only round Pacquiao dominated.
"I'm here to protect you, show me something in this round," the referee, Mark Nelson, said. Horn went out and won the tenth but Nelson went back to his corner at the end of the round again. "Strewth, ref, he's just won the bloody round - leave him alone," barked Horn's trainer Glenn Rushton. It was packed with drama, blood and comedy.
Pacquiao is likely to fight again, agree to a Horn rematch and possibly adapt slightly to fight with a bit more brain. Horn was considered the softest of soft touches, a fighter that would make Pacquiao look good and more than 51,000 paid to sit in the fading sun as witnesses. It always felt like part of a Pacquiao tour and not a dangerous world title fight; incidentally, Horn won Pacquiao's WBO welterweight title.
Join our new commenting forum
Join thought-provoking conversations, follow other Independent readers and see their replies