Manny Pacquiao vs Amir Khan fight reports are 'total and complete bulls***', says promoter Bob Arum
Khan was selected by Pacquiao's Twiitter followers as his next opponent but Arum claims negotiations for him to fight Australian Jeff Horn remain ongoing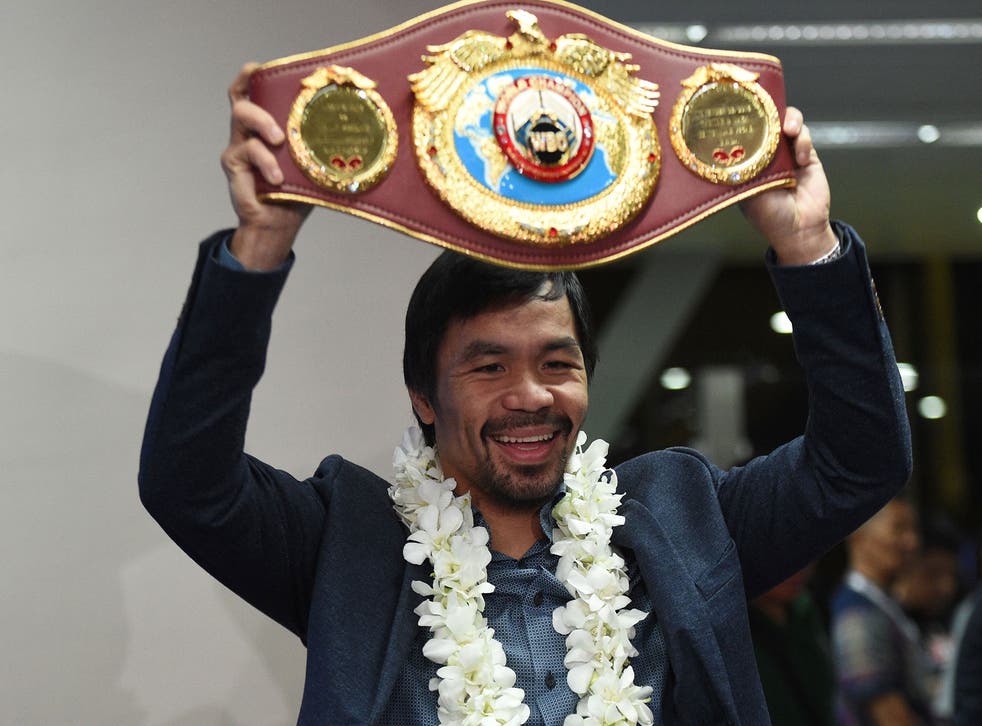 Manny Pacquiao's promoter, Bob Arum, has dismissed reports of an agreement for the Filipino to fight Britain's Amir Khan as "total and complete bulls***".
Reports emerged late on Monday night in the British press that claimed a deal had been reached that would see Bolton-born Khan take on 'Pacman', who had originally been close to a bout with Australian boxer Jeff Horn.
The suggestions of a done deal were put to Pacquiao's long-time promoter, Arum, who reacted angrily and dismissed such an agreement, with the American telling The Courier Mail that such claims were "total and complete bulls***".
"The Amir Khan story has come out of nowhere," Arum added. "What's happening is that Manny is talking to these people in Dubai who have offered him an insane amount of money,.
"Whether (the offer) is real or not real — he is determined to explore it to see if it has any validity. That's all I can say."
Arum has been negotiating the deal for 38-year-old Pacquiao to fight Brisbane-born Horn at the Suncorp Stadium, with the Queensland government and Brisbane City Council reaching an agreement to backroll the fight that would generate Pacquiao's expected $7m purse.
However, when Pacquiao asked his 113,000 Twitter followers who he should fight next between Khan, Horn, American Terence Crawford and Britain's Kell Brook, nearly half of the 44,815 that voted chose Khan with Brook receiving 24%, Crawford 21% and Australian Horn just 7%.
That led Pacquiao's adviser, Michael Koncz, to enter talks about potentially staging the Filipino's next fight away from Australia, with Al Afaq tourism CEO Diaa Al Khatib attempting to negotiate a deal for the bout to be staged in the United Arab Emirates.
Koncz also hit out at Arum for presuming his talks to stage the fight against Horn in Australia would be finalised without Pacquiao's input.
"I was aware that Bob was talking in Australia about hosting the fight there but it is fine with us,'' Koncz told Gulf News.
"When Bob said it will happen there I asked him what you are talking about? A promoter works for the boxer but the boxer doesn't work for the promoter.
"We have had a successful bond with him but Manny is the boss."
Koncz also apologised to the "Australian government and the fans there" for the "last-minute change in plans".
Khan has not fought since undergoing an operation on his left hand to repair damage he suffered after being knocked out by Mexican middleweight boxer Saul 'Canelo' Alvarez in May 2016, while Pacquiao's 68th professional fight came in the welterweight victory over American Jessie Vargas last November.
Join our new commenting forum
Join thought-provoking conversations, follow other Independent readers and see their replies