Mia St John's sordid attempts to drag down the sport of boxing succeed only in shaming herself
St John was never very good, but we politely reported her wooden efforts, applauded her guts when under pressure and now we can pack her off forever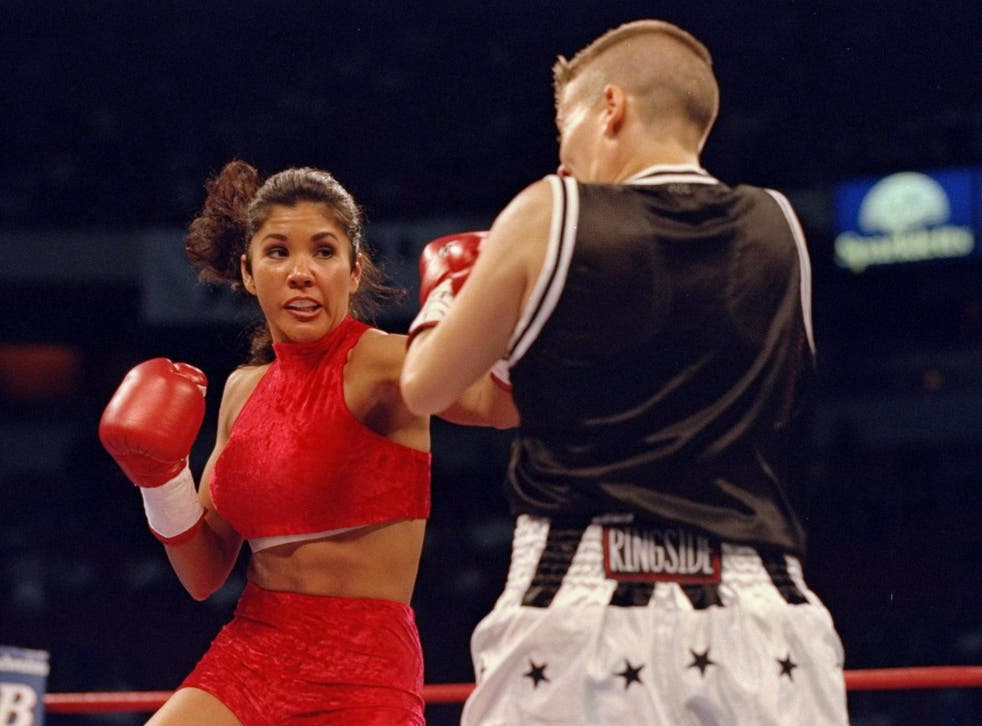 Mia St John once weighed-in for a fight wearing nothing but body paint, she fought with her face covered in hefty make-up, she slugged her way through 65 fights and now we know she used steroids on twenty or more occasions.
St John was a Playboy cover girl in 1999, she fought at the Playboy Mansion in 2000 and when she turned professional in 1997 nine of her first ten opponents had never won a fight. Those are the raw and some of the relevant facts of a boxer who now claims that everybody in the boxing business is using steroids.
From ringside I can remember some of the nicknames she liked and disliked from a time when I sat and watched her often comical appearances on the undercards of big Las Vegas fights. She liked being called The Knockout, was less keen on being dubbed the Bunny Boxer and the Queen of the Four Rounders. Now, I guess, she can be called Steroid Queen of the Ring.
She was brave, I will give her that, and was not afraid to have a fight and perhaps now we know why she survived some of the beatings; she was stopped or rescued by the referee in five of her defeats. She met some of the sport's finest female boxers, sharing the ring with Christy Martin, Holly Holm and Cecilia Breakhus. St John has refused to give specific details of when she fought dirty, but trading punches and often going the distance with much better fighters is a good indicator.
Her medicine cabinet of lethal steroids reads like a long forgotten list of "supplements" from a confiscated bag of medical supplies for East German women in the Seventies. She was a big strong girl, make no mistake and please don't be fooled by the 11-page spread in Playboy or the Dynasty-inspired hair: Mia St John was a sickening, cynical cheat and claimed she was compelled to use because everybody else was juicing. No, that was the right time to step forward.
In her confession last week she did her very best to drag down the entire sport, claiming she used masking agents, knew drug testing protocol and even had catheters of other people's urine ready for testing purposes. She went full-throttle Lance, sneering at the hypocrites she left behind.
"She would never fight me," said Jane Couch, the first British woman to get a proper boxing licence. "(Bob) Arum wouldn't let her anywhere near me and I don't blame him. She was an Arum poster girl and even on steroids she couldn't fight. I was drug tested every fight I had in the USA, this is bullshit." Couch is the forgotten woman of British boxing, the crucial link between the darkest of days and the glittering excesses of the women fighting now.
St John finished her boxing career in 2016 and won 49 fights in total, lost 14 and drew two; she also fought for no less than eleven titles at four different weights. She had two hard fights with Martin, the real pioneer of the sport for women in America, and won the second meeting. However, Martin had been battered, stabbed three times, shot near the heart and left for dead by her husband a couple of years before the St John rematch. Martin never fought again.
The Bunny Boxer was 44 when she met Martin for the second time and she just seemed to keep on going, winning and losing and always looking fabulous. St John last fought in April 2016 when she stopped a woman called Lisa Lewis, who was having her first fight, in Auckland, New Zealand. Lewis, by the way, never fought again: Was St John juicing against a woman having her debut?
That awful mismatch, and the revelations about steroid use, should be enough to place St John on her own banned list and make sure she is never again a happy, smiling and welcomed guest at any future boxing event. She was never very good, but we politely reported her wooden efforts, applauded her guts when under pressure and now we can pack her off forever.
Join our new commenting forum
Join thought-provoking conversations, follow other Independent readers and see their replies