From Tucker and Tyson to Joshua and Parker: the potted history of heavyweight boxing is a unique one
Mike Tyson saved the sport and helped kickstart the revival when he met Tony Tucker in a unique fight, one which Anthony Joshua and Joseph Parker will repeat if they can agree a deal for a fight
Steve Bunce
Monday 08 January 2018 17:32 Comments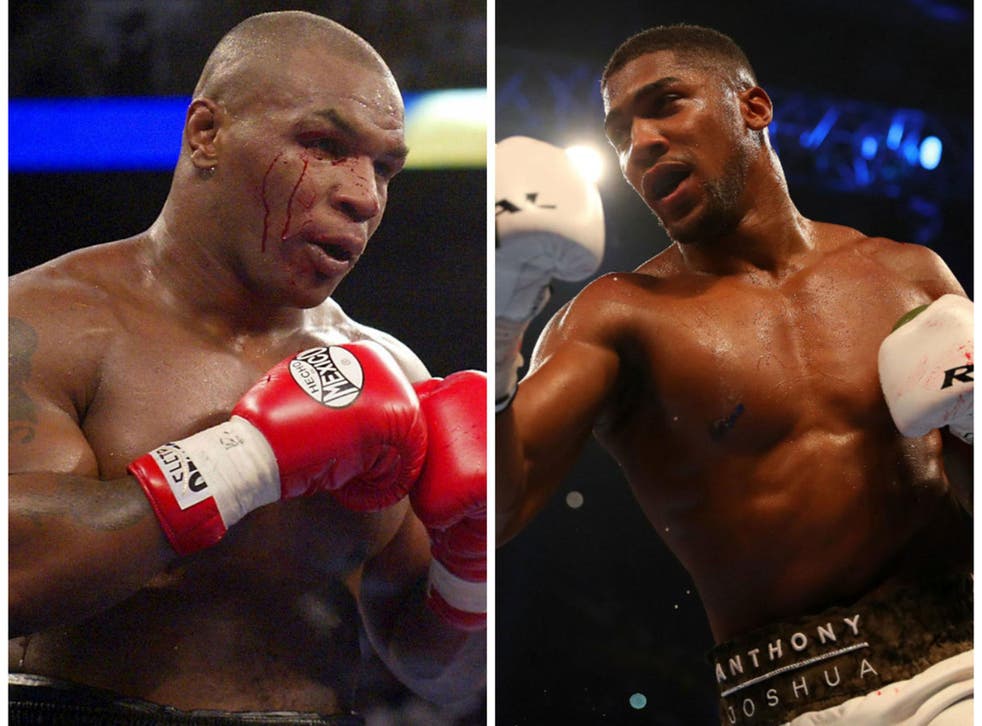 In 1987 the heavyweight championship of the world was still an American obsession, a faded crown confined to the seemingly endless stream of boxers produced in rotten city gyms by men skilled at moulding champions from anything above six-foot.
Eddie Futch and Angelo Dundee were often the men you sent your heavyweight dreamer to and they in turn worked on creating something close to a championship boxer from the raw potential that arrived at their doors. The great heavyweights from the Seventies had all won Olympic gold medals in the Sixties but there would be no more Muhammad Ali, Joe Frazier and George Foreman heroes in vests; in the Seventies the medals vanished when the Cubans converted their big lads into fighters. Futch and Dundee had their work cut out finding a future at a time when Rocky was starting to look more like a wistful documentary than a comic book adaptation.
When the finery at the Hilton in Las Vegas was illuminated by the ring walks of Mike Tyson and Tony Tucker in the summer of 1987, the division was on the very edge of commercial success once again and firmly an American possession. It lacked the magic of 'The Rumble in the Jungle' while other Muhammad Ali spectaculars were a distant memory at that time, but Tyson, a protégé of Cus D'Amato, a man even older in years and ways than Futch or Dundee, was from ancient and pure boxing stock.
Tyson saved the heavyweight sport and in many ways the revival started when he met Tucker in a unique fight, one which Anthony Joshua and Joseph Parker – a Londoner and a Kiwi – will repeat if they can agree a deal for a fight. Tucker was unbeaten and the IBF champion that night and Tyson was also unbeaten, the WBA and WBC champion; it was the first time two unbeaten heavyweights had entered the ring, each draped in a belt from a sanctioning body. It is, considering the lunacy of the sport, truly odd that it has not happened more often. Joshua and Parker are both unbeaten, Parker is the WBO champion and Joshua has the WBA and IBF belts – their fight is big.
On the night at the Hilton, a hotel stranded far from the neon lights in the city, Tucker survived the distance, nicked a few rounds and was instantly forgotten once the bell sounded; Tyson performed his bored routine of bouncing from one foot to the other and answering questions with a word or two. He was a devastating fighter, clearly troubled during his first years in boxing before his incarceration and in many ways he had nothing but menace to endear him to a public still waiting for Ali's successor.
Tucker lost for the first time in 35 fights and Tyson moved to 31 and zero, with 27 ending early. Tyson also owned all the available belts as the WBO, at that time, was just a cunning plan in the minds of a few disillusioned officials. The WBO, incidentally, had their first heavyweight champion in 1989 when an Italian beat a South African one night in Sicily and that was the start of the carnage we now have nearly thirty years later. A quick scroll through the recent archive reveals a list of dreadful world heavyweight challengers from exotic boxing locations, sadly not in exotic locations, that is truly dreadful.
On the night Tyson beat Tucker it had been nearly thirty years since a European had briefly held the world heavyweight title when a smiling Swede put on a savage smash-and-grab raid one night in 1959 at New York's Yankee Stadium. However, sweet Ingemar Johansson was knocked out cold in the rematch the following year.
Tyson was a real champion for a few years and he was followed by Lennox Lewis, Riddick Bowe and Evander Holyfield. They came close to all fighting each other. Bowe twice beat Holyfield, who twice beat Tyson and Lewis beat Holyfield and Tyson as professionals and stopped Bowe in the 1988 Olympic final. Lewis also ended his career by stopping Vitali Klitschko in a bloodbath in Los Angeles in 2003.
The Klitschko brothers followed the quartet and Wladimir and Vitali reigned, with a few brutal mishaps, for over a decade; in 2015 Tyson Fury beat Wlad, then vanished and in 2016 Joshua won a belt stripped from Fury and in the same year Parker won another of the belts taken from the absent Fury, the self-styled Gypsy King. That's the potted history from Tucker and Tyson to, hopefully, Parker and Joshua, which should be confirmed for early April, once Joshua has ended his prolonged vacation in Dubai. Parker and Joshua is a good fight for the age.
Register for free to continue reading
Registration is a free and easy way to support our truly independent journalism
By registering, you will also enjoy limited access to Premium articles, exclusive newsletters, commenting, and virtual events with our leading journalists
Already have an account? sign in
Join our new commenting forum
Join thought-provoking conversations, follow other Independent readers and see their replies