Mitch 'Blood' Green, the life-long rival of Mike Tyson with the notorious history to make Conor McGregor look civilised
Green was a prizefighter and gang leader whose fight with Tyson makes part-time McGregor's bus attack look like handbags
Steve Bunce
Monday 09 April 2018 17:54 Comments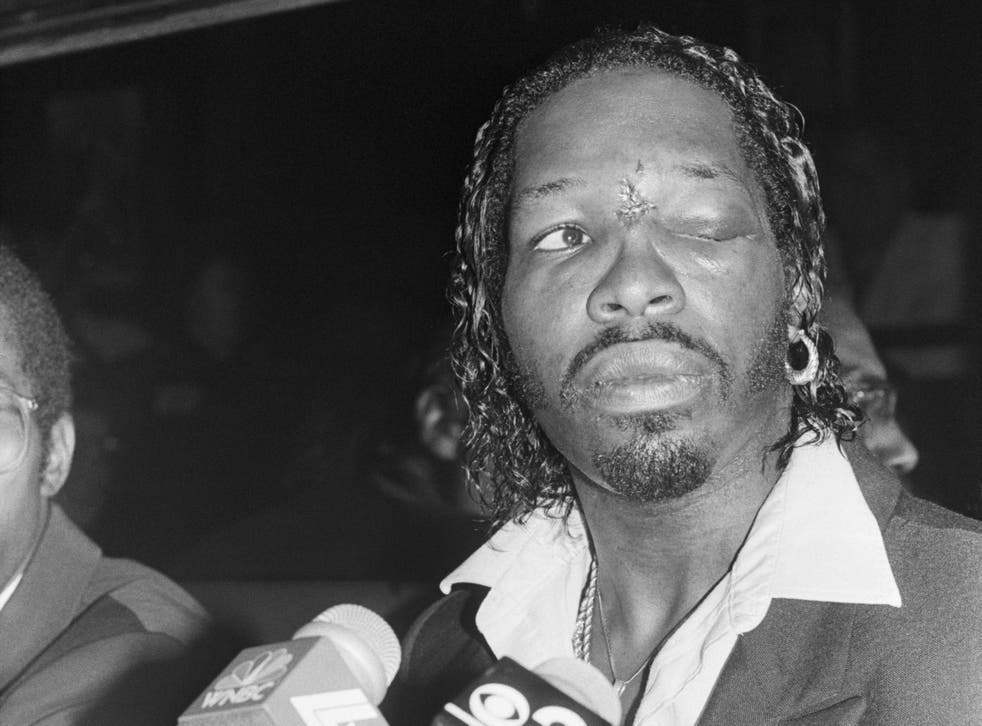 It was before dawn outside an all-night clothing store one day in August 1988 when a man called Blood, a billionaire called Donald Trump, Frank Bruno and Mike Tyson all became messily involved in a comic brawl.
Blood was Mitch Green, a prizefighter, gang leader and sworn life-long deadly rival of Tyson, who just happened to be the undisputed, undefeated heavyweight champion of the world at the time. They had fought 10 rounds two years earlier and Green wanted a rematch; Tyson had no reason to give him a rematch and that made Green even angrier. Green was a volatile man with a bloody and notorious history as a leader of an infamous street gang.
When Green, who kept late hours on the streets of his beloved Harlem, was told that Tyson and a tiny retinue had wandered up into the area to collect a jacket from Dapper Dan, he was naturally curious. Dapper Dan ran his store through the night, catering to New York's subterranean fixers, dandies and rich restless souls. Dapper was a busy man. Tyson was at Dapper's place to take possession of a white leather jacket, cost $850, with the words 'Don't Believe The Hype' stitched across the back.
At about the same time, Mickey Duff, the British promoter of Bruno, was sleeping in his West End flat and Trump was probably doing the same at one of his New York homes. A few hours later Bruno would get up, go for a run and continue his preparation for a fight with Tyson, probably in London, in the next two months. However, outside Dapper Dan's place a large car pulled to the side of the road and out got Blood, the Prince of Harlem; the plans of many sleeping men were about to be ruined.
There is, as you can imagine, a few versions of what happened that early morning inside and then outside the Dapper Dan clothing store. Green maintains that Tyson threw the first punch, Tyson insists he was just trying to leave. "He told me we could go again," said Green. "He started to turn his rings and then he sucker-punched me. He hit me with a cheap shot and then he ran away. The heavyweight champion of the world ran away." Green went to his car to get a jack from the boot and then chased Tyson's car through the dark streets of Harlem kicking and cursing his bad luck.
It was not even 5am when the police responded and found Green, one of their regular clients, cut above the nose, bruised and screaming for Tyson's head. "I'm like a politician in Harlem, everybody knows me," said Green. It is reported that he has had his driving licence suspended 54 times. The police certainly knew him, but he looked like a victim this time.
Tyson blamed Green for the fight, later telling the police that Green was clearly agitated, and that he only threw punches in defence. His punches put five stitches in Green's face and closed his old opponent's left eye. Green was a mess that morning. They both ended up in hospital and that is when Duff and Bruno received the bad news: Tyson had a hairline fracture of the right hand. The 1988 fight with Bruno was off and that is how Trump, working as Tyson's adviser, gets involved. It was Trump's job eventually to negotiate a new date for the fight with Duff. The pair met the following year in Las Vegas, Tyson won on home soil. It was a good deal that Donald did.
Green sued Tyson for $25m and in 1997, over nine years after the Dapper Dan scuffle, Green was awarded $45,000 in a New York court. It never covered his legal bills and Green remains permanently short of cash. However, for a fistful of dollars Mitch will spin a few tales if you can track him down and some might even be true. He will tell you he knew Trump, he dined with Mafioso John Gotti, he has a movie in development. There are other stories, all loosely based on truth and an audience with Mitch is never a waste.
New footage emerges of Conor McGregor's attack on Khabib's bus
In 1991 at Madison Square Garden I saw Mitch stand up on his ringside seat, whip his shirt off and beat his chest at the Sugar Ray Leonard and Terry Norris fight. Green was sitting next to Gotti - the modern Godfather leading the applause for the fighter.
Last week in New York there was a tiny skirmish involving expert publicity-seeker Conor McGregor, a part-time boxer from Dublin. A window was smashed, the police arrived and it all looked so civilised as McGregor was led away without a hair out of place. Mitch Blood Green, Tyson and a right hand or two at dawn in Harlem at Dapper Dan was a proper skirmish. What did it say on the back of Tyson's jacket again?
Register for free to continue reading
Registration is a free and easy way to support our truly independent journalism
By registering, you will also enjoy limited access to Premium articles, exclusive newsletters, commenting, and virtual events with our leading journalists
Already have an account? sign in
Join our new commenting forum
Join thought-provoking conversations, follow other Independent readers and see their replies