Muhammad Ali's daughter Rasheda Ali on her father's life, death and last words to her
'My dad always told us whether it's a terrorist attack or something else, the world would have misconceptions about Muslims and that true Muslims aren't terrorists'
Fiaz Rafiq Comments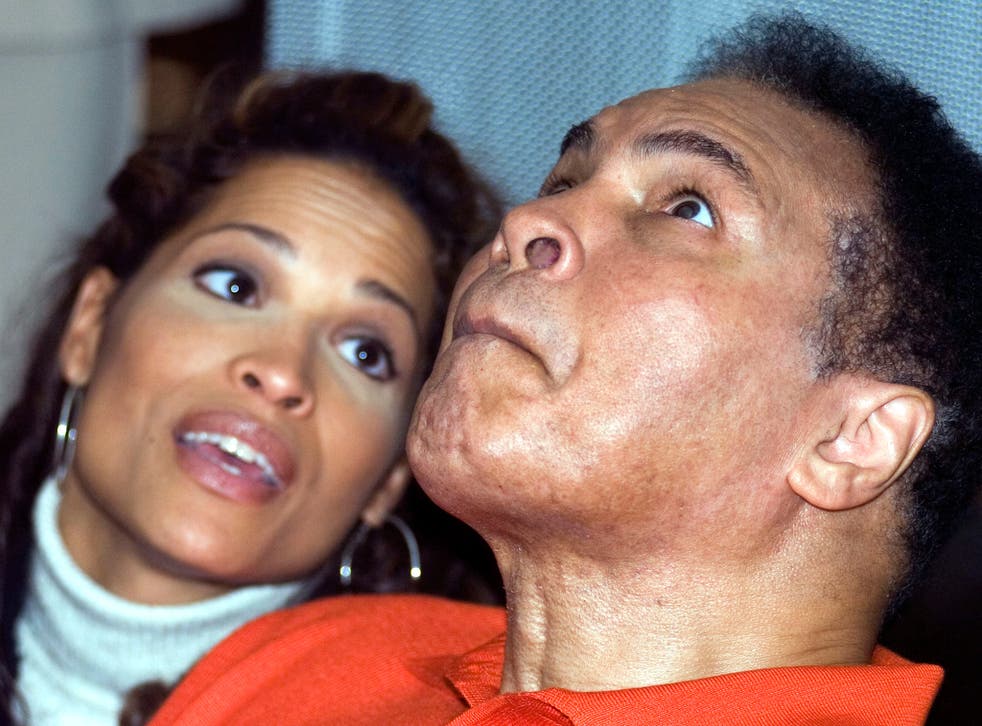 Muhammad Ali's death in June of last year marked the passing of a sporting icon, a pop culture monolith and one of the 20th century's greatest figures.
Ali was also a father, though. He left nine children, seven daughters and two sons, who have had to overcome the loss of a much-loved parent first and foremost.
Here, Rasheda Ali talks about her father's life, death and his last words to her.
Is there anything you regret not asking your dad during his life time?
I regret not asking my dad, "How did you believe in yourself against all odds?" As challenging as our lives are today, my dad faced more drastic challenges. It was clearly more difficult to believe in yourself as an African American living in a racially divided country.
You're a large family. Do you regret that he never got to spend much time with you - the kids - because he was on the road a lot?
At a young age I knew that we had to share my dad with the world, and so we knew that some of this sharing was a sacrifice. A lot of my dad's travels took up our family time, which is understandable because at the time, in the 1970s, my dad was still fighting and still creating his brand and working.
We understood that he had to work for us and that he wasn't just ours but the world's. Fortunately, as we got older and dad had more time and we were out of college, we were able to spend more time with him. We would travel with him and do things that we were not able to do when we were a lot younger and in school.
Muhammad Ali: A life in pictures

Show all 20
Your father was the heavyweight champion, but many people seem to have taken advantage of him. Do you feel he was too 'soft' on the inside, which led to certain individuals to take advantage?
My dad was very kind to people and very forgiving to others who took advantage of him. He didn't have greed of money or malicious intentions. He knew his life had a purpose and he tried to do as much good in this life as possible in order to get to heaven. I believe he accomplished that goal.
What is the best advice he gave you as a father?
Stay humble. He was the perfect example of someone who had reached the top of the mountain and still stayed true to who he was. My dad loved being Muhammad Ali and he loved caring for others and giving to people. And I think the best advice he could give us was to stay humble and be kind to others.
What is one of your best memories?
I have so many great ones. One of the greatest memories with my dad is when my dad used to live in Los Angeles. He loved driving his favourite car, which was a Rolls Royce.
We would visit him in the summer and get in the back and have the top down on the convertible and we'd drive down Wilshire Boulevard, and to see peoples' reaction with Muhammad Ali with his kids in the back of the car was one of the most magnificent memories I've ever had of my father. As other drivers looked around on the road, lots of pedestrians took notice and stopped in amazement. My dad always had a way with stopping traffic and people in their tracks and he loved every minute of it.
Your worst memory?
I think in 1981 when he fought. That was the only actual fight I was physically able to witness in the arena when he fought against Trevor Berbick. It's a fight that shouldn't have happened. I honestly have to say that my dad was a lot older than Trevor and he was out of his prime.
My dad loved boxing but he was out of shape and didn't want to say no to the fight. And of course he lost. All of us kids were like, "No, don't do it Daddy, don't box." But it was hard to see him get beat up. He didn't want to say no to boxing, so boxing said no to him.
What can you tell me about Muhammad Ali the family man?
My dad was a very humble, generous, caring, sweet and a sensitive family man. He loved his kids. A lot of people know Muhammad Ali the boxer who loved his craft. He was extremely confident and losing was not an option. Most people know that part of Muhammad Ali. He was driven and dedicated, but as a family man, he loved his kids and he loved his religion; when we were together we'd read the Quran together.
He had pictures of us kids and he used to cry looking at them. Nobody knows that my dad was very sensitive. When we were little and our grandparents Mama Bird and my grandfather Papa Cash were around, we shared stories of family and life. He always stressed how important family was. Whenever we'd speak on the phone, he would record us. He said it was important to keep these memories. He wanted to cherish those. He valued that family connection profoundly.
How would you want the legacy of Muhammad Ali to live on?
I think we have a big responsibility. My dad would say, "I'm bigger than boxing," and he was. He transcended the sport but became a civil rights activist, leader and an ambassador of peace. He built an incredible legacy, I can't think of many personalities who are on his level.
Is there anything in your own life that you would have wanted him to be there for?
That's very simple. I wanted him to be there for my son Nico's fight. Daddy was actually in Arizona for my son Nico's first fight, but he was ill so he couldn't attend. So he gave Nico some advice afterwards and said, "OK, we'll make it to the next fight." But of course he couldn't make it. I really would have loved for Daddy to have seen Nico's first victory. That was one of my dreams. He was able to see my son play football briefly, but I really wanted him to there for Nico when he stepped into the ring.
What were yours and your dad's last words when you saw him?
My siblings and I kind of shared and reflected and laughed and cried together. We talked for hours and hours and we prayed together. Some of the last words I told him were that we would try our best, as Muslims, to carry on his legacy the best way possible. And I told him that on the other side, "You're going to be young, handsome, fast and pretty."
The word 'Islam' and 'Muslim' have lately been thrown around a lot. What were your dad's thoughts of the current situation reflecting that Muslims seem to be associated with terrorism?
Of course it's never been popular in America to be a Muslim. But I think it's just one of our trials. My dad always told us whether it's a terrorist attack or something else, the world would have misconceptions about Muslims and that true Muslims aren't terrorists. Our religion is a religion of peace – that's what it means, peace. He never stopped propagating that fact and telling people. Some people who are intelligent know that our religion is about peace, but there's a small percentage of people - who just like any other religion- take whatever facts they read and distort them, be it Christianity, Judaism or Islam.
But every religion has a bad apple. Unfortunately, in our religion of Islam we have some bad apples and the whole world is showcasing our religion as a bad one. So it's our job to do the best we can to be great representations of true Islam. Also, to inform people that if you are intelligent and read about it, you will see it's a religion of peace. Most people really don't want to believe that, or may not have done their research. They rely on the internet and they'll believe the media. So I think those people need to take time and learn about not just Islam but other religions they may not be familiar with. My dad loved everyone regardless of their race, creed or religion and he taught us that too, to love everyone regardless of their affiliation or group. I think he's an example. He wasn't perfect, but I think for the most part he was sincere and he did showcase the great values our Muslim religion teaches.
We are living in critical times right now. My mom and brother were recently stopped by TSA officers as they were returning home to Deerfield Beach, Florida from attending a Black History Month event in Jamaica. The officers interrogated my mom and brother separately for nearly two hours asking questions like, "Where did you get your name? Are you Muslim?" All while their passports were in order and verified. No passport questions or other documentation questions were even asked. I feel that our new appointed U.S. leader has taken us back nearly 100 years.
I believe that if Dad were here today, as difficult as it was for him to speak, he would go on national television to let people know what's happening to us is horrible and our religion is one of peace. He was quick to inform the public of the misconceptions of our religion and he constantly spoke against bigotry and racism in this country.
Register for free to continue reading
Registration is a free and easy way to support our truly independent journalism
By registering, you will also enjoy limited access to Premium articles, exclusive newsletters, commenting, and virtual events with our leading journalists
Already have an account? sign in
Join our new commenting forum
Join thought-provoking conversations, follow other Independent readers and see their replies