Nick Blackwell 'very unlikely to box again', says neurosurgeon who operated on Michael Watson
Blackwell remains in a medically-induced coma after suffering a bleed on the brain in his defeat by Chris Eubank Jnr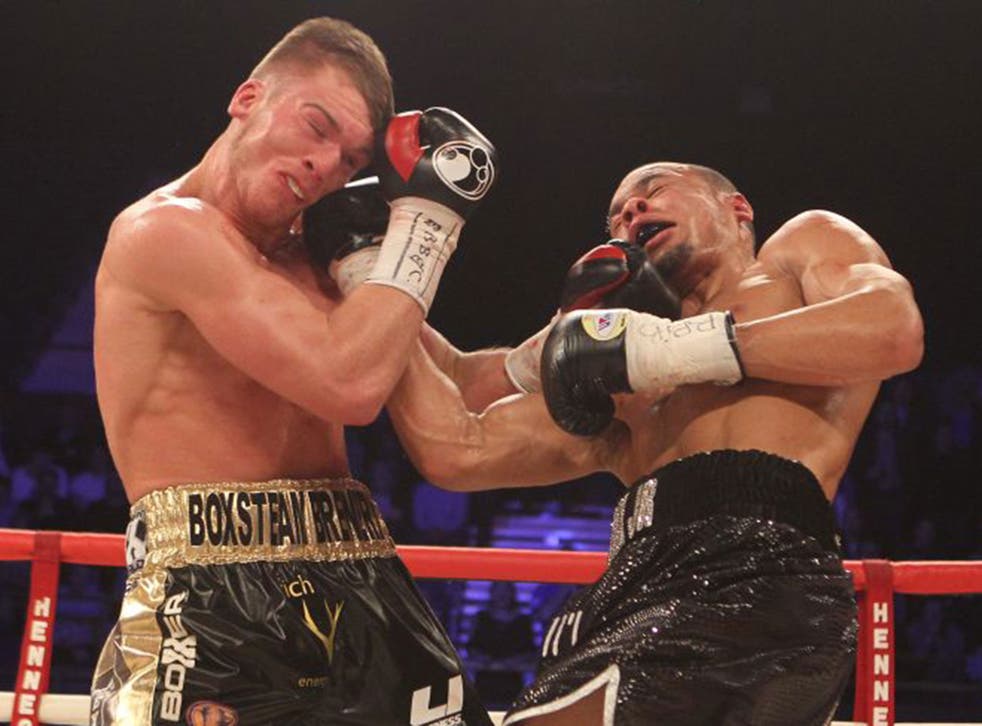 A leading neurosurgeon has warned that Nick Blackwell may never box again should he recover fully from the serious head injury he suffered in his loss to Chris Eubank Jnr at the weekend.
The former British middleweight champion suffered a small bleed on the brain that led to him leaving Wembley Arena on Saturday on a stretcher, before being placed in a medically-induced coma at St Mary's Hospital.
Initial responses surrounding Blackwell's condition have been positive with his family confirming that his condition is "not deteriorating" amid hopes he could be brought out of the coma on Tuesday, while fellow boxer and close friend, Billy Joe Saunders, added "he will be back to us in no time".
However, should Blackwell make a full recovery as is hoped, the neurosurgeon who operated on former boxer Michael Watson has warned that fans should not expect to see 25-year-old Blackwell back in the ring.
"Hopefully because Mr Blackwell did not have hypoxia in addition to the brain injury, the swelling won't be too bad, and over the forthcoming days the pressure in his brain will normalise, they will be able to lighten the anaesthetic and, hopefully, he will emerge with very little damage," Peter Hamlyn told The Telegraph.
"But it is very unlikely that he will box again," Hamlyn added.
Hamlyn helped treat Watson following the serious injuries he suffered in a fight with Chris Eubank Snr in 1991, which required Watson to undergo six brain operations in order to save his life – although Watson's injuries proved to be life-changing and left him partially paralysed.
He admitted that the events that arose from Watson's injuries led to two main lessons to learn from, yet argued that one of those still isn't being taken on board when it comes to refereeing fights nearly 15 years later.
"There were two things we learnt from the case of Michael Watson 25 years ago. One was followed, one was not," said Hamlyn.
"The procedure in medical care was followed carefully and precisely and Mr Blackwell did not suffer hypoxia [oxygen starvation to the brain] and was medically induced into a coma. But the fight was not stopped when it should have been."
Suggestions that the fight should have been stopped sooner have been dismissed by the British Board of Boxing Control, who have confirmed that they are satisfied with how referee Victor Loughlin handled the bout despite questions being asked of whether it could have been stopped sooner.
The former middleweight and super middleweight world champion, Eubank Snr, was heard telling his son not to target Blackwell's head any more from the start of the eighth round due to the damage that the Trowbridge-born boxer had suffered, with the fight eventually stopped because Blackwell could not see out of his left eye.
Eubank Snr said at the end of round seven: "If the referee doesn't stop it, then I don't know what to tell you, but I will tell you this: one, if he doesn't stop it and we keep on beating him like this, he is getting hurt; two, if it goes to a decision, why didn't the referee stop the fight? I don't get why.
"So maybe you shouldn't leave it to the referee. So you're not going to take him out to the face – you're going to take him out to the body."
Eubank Jr also questioned the referees timing of the stoppage, with the 26-year-old admitting afterwards: "I hit him with some big shots. Maybe the referee should have stopped the fight earlier."
Join our new commenting forum
Join thought-provoking conversations, follow other Independent readers and see their replies