Remembering one crazy night when 'Jenny from Jacksonville' made Larry Holmes fly
INSIDE BOXING: Is it a bird? Is it a plane? Steve Bunce tells the story of two former world heavyweight champions fighting out on the street
Steve Bunce
Thursday 21 January 2016 18:10 Comments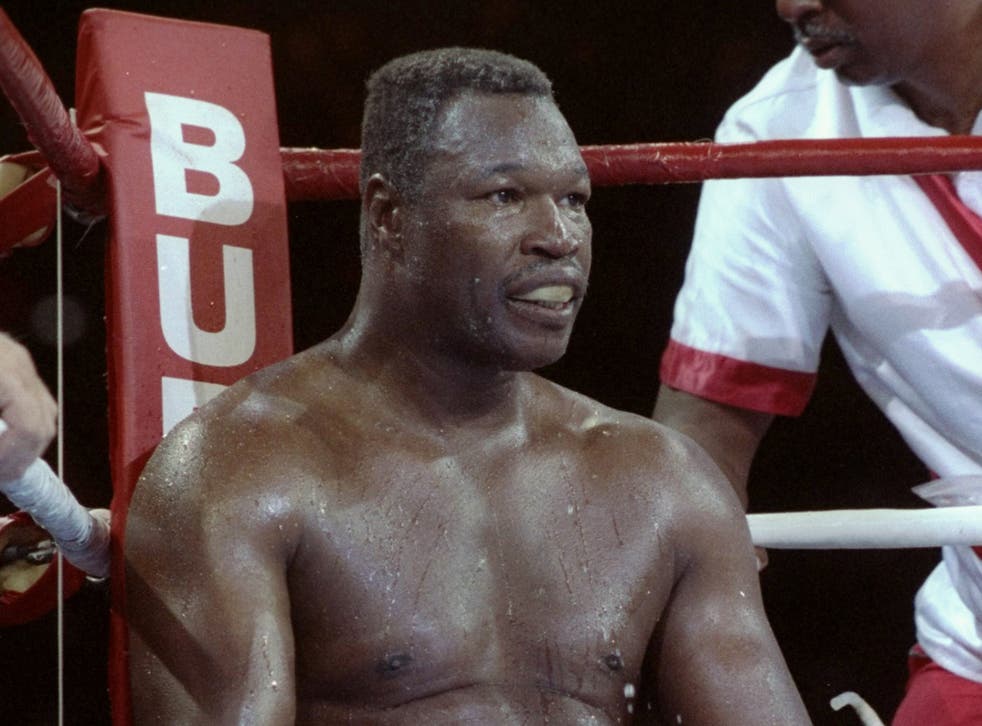 There was a woman called Jenny from Jacksonville, a fighter who would shoot dead his manager, another who would be bludgeoned to death by his nephew and one of the greatest-ever heavyweights acting like Superman.
In April 1991 Larry Holmes ended a short exile with a one-round win over the infamous Tim Doc Anderson at the Diplomat Resort and Country Club in Hollywood, Florida. Anderson, a serial loser, played his role beautifully and was willing to quit once Holmes flashed something slightly more lethal than a smile.
After the fight, as Holmes was talking to the press, somebody noticed the former world heavyweight champion Trevor Berbick, who was down on his uppers at the time, at the back of the room. Holmes was asked would he fight Berbick and dismissed the question with a smile. "No, that is not going to happen. I beat him once, won every round and I don't like his attitude," said Holmes before retiring to his suite. He had defended his world title against Berbick over 15 rounds in 1981.
Berbick, trying to look smart in a suit and tie, started talking once Holmes had left. He told a story about a woman called "Jenny from Jacksonville", where Holmes had a vacation home, and her part in the breakdown of his marriage. "I can prove it," Berbick ranted. "She is his sweetheart, nothing more than a street whore. I got the tapes. She ruined it all for me [his marriage] and that was because of him."
The previous year Berbick and his wife had split, he had been charged with the alleged rape of the family babysitter and then arrested for kidnapping his daughter. At the back of the post-fight conference that night he was blaming it all on Holmes, whose wife happened to hear it on the way to the elevator to return to their suite.
She told Larry what Berbick was saying, he left the room and went to find Berbick, and a scuffle followed, in the hotel's lobby, which was broken up by two policemen. Nobody was arrested, no guns were drawn.
A few minutes later Berbick, who by now was looking rattled and dishevelled, was outside the hotel with a burly policeman either side of him. "You all saw Holmes hit me, he attacked me. Everybody saw that," Berbick was shouting, as news crews filmed the fighter and jostled to get closer. This was a good news story – two former world champions, one in trouble with the police, fighting on the street.
And then there is one of those truly unforgettable moments, a single second or two where time does slow to allow every glorious, tiny, delicious detail to be enjoyed. As Berbick is appealing for witnesses the cameras follow a distant buzz, they swing away from Berbick, point high and capture the moment Holmes comes into view running at full speed on the roof of a black stretch limousine.
At the far end of the limo there is Berbick, bewildered and still babbling incoherently; old Trev is unaware that coming at him from five feet off the ground is 17 stone of a flying Holmes in fury.
Holmes reaches the back of the limo, he's still running hard and then he takes off in a heavy jump that instantly starts a losing struggle with gravity. Holmes lands heavily on Berbick, the police and a journalist or two, and they are skittled, rolling in a mess of punches, curses and howls of outrage. Big Larry is still throwing punches, make no mistake. What an end to a fight night – Tyson Fury and Deontay Wilder last Saturday was a peace offering.
The postscript: Holmes never did fight Berbick again, but he did fight for, and lose, the world heavyweight title twice more, finally quitting in 2002 after beating a freak called Butterbean, who weighed about 25 stone. Incidentally, an hour after the limo madness Holmes was singing with his band, Marmalade, at the other post-fight party, applauded by the police he knocked over.
Anderson had five more fights, winning a couple that he was meant to lose and that led to conflict with his manager, Rick "Elvis" Parker, a foul-mouthed south Florida chancer. He was a big man in cowboy boots with crazy dreams, a wondrous ginger pompadour, always in shades and at the centre of deals for crooked fights.
They were inseparable, desperate and doomed: in 1995 Anderson killed Parker, firing so many bullets that he had to reload his pistol. Parker never got a chance to draw his Glock, which was attached to his fat leg, and now Anderson is in prison for life without the possibility for parole.
Berbick was given a police escort home after that night of mayhem at the Diplomat, but that cosy relationship abruptly ended when he did eventually serve 15 months for the sexual assault.
He continued to fight when he was released and preached minor miracles at tiny chapels in a late effort to save lost souls. He finally quit in 2000 after winning the Canadian heavyweight title and allegedly failing a brain scan. He was 45 then, and 52 when he was beaten to death with an iron pipe by his nephew, Harold Berbick.
Meanwhile, Jenny from Jacksonville remains at large.
Register for free to continue reading
Registration is a free and easy way to support our truly independent journalism
By registering, you will also enjoy limited access to Premium articles, exclusive newsletters, commenting, and virtual events with our leading journalists
Already have an account? sign in
Join our new commenting forum
Join thought-provoking conversations, follow other Independent readers and see their replies