Rio Ferdinand's new experiment is a real danger and has the boxing world fearful of what is next for the sport
Former British and European champion Cathy Brown tells Jack de Menezes why 39 is too old to begin a professional boxing career and how these cross-over experiments are hurting the sport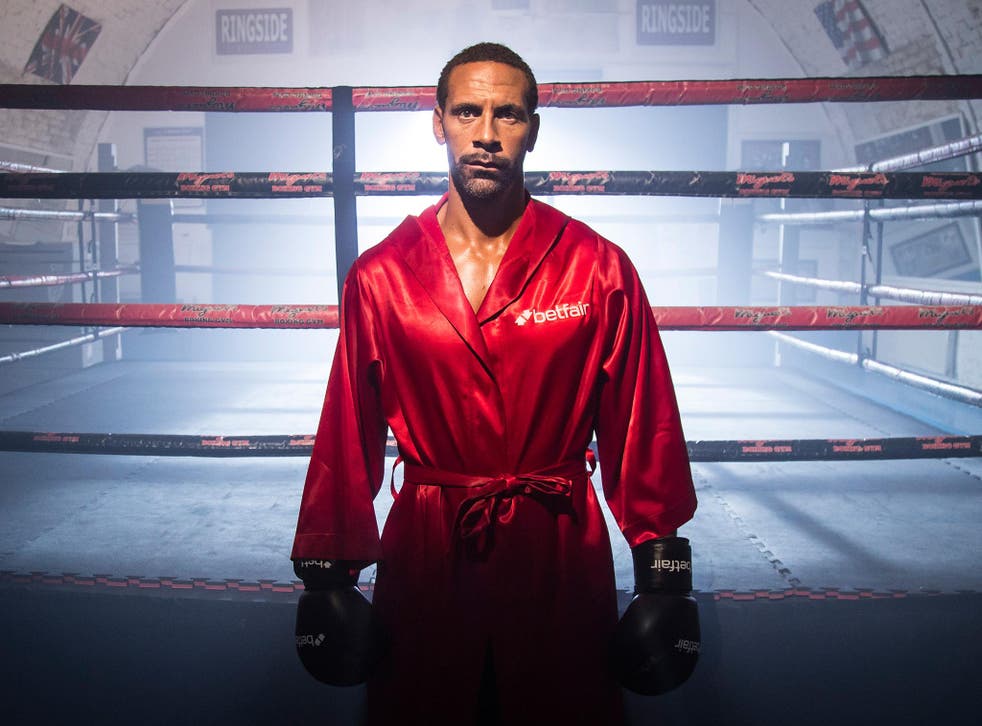 There is not one bit of Rio Ferdinand's move into boxing that should sit right with any fight fan. From its backing by a big-brand bookmaker to his statement that he was approached to put on the gloves and even his admission that boxing has helped him deal with the grief of losing his wife, everything about this venture does not add up.
For starters, one line from Ferdinand's "major announcement" said all you need to know about his new career. The statement issued on Tuesday morning started with the following line: "When Betfair approached me about the Defender to Contender challenge, the chance to prove myself in a new sport was a real draw." Already, alarm bells are ringing. Boxing is a sport powered on passion more than most, with the gruelling moments where fighters are forced to dig deep a true test of an individual's will to go to extreme lengths in the quest of their ultimate goal.
By Ferdinand's own admission, he doesn't have this. He evidently did on the football pitch given his glittering professional record, but that's because he grew up on the streets of London wanting to be a footballer, not a boxer.
Britain's current boxing world champions

Show all 8
Part of his early defence against the critics has been that he has already started training with ex-rugby union player Mel Deane and has lined up former WBC super-middleweight champion and Team GB trainer, Richie Woodhall, to show him the ropes. But Ferdinand turns 39 in November and will almost certainly not head into the squared circle before then. Boxers are capable of fighting well into their forties, but not those who started their careers at 39, and Ferdinand's claim that he is taking this seriously sadly falls on deaf ears. If he was taking this seriously, he wouldn't be doing it at all.
Sections of the boxing world agree. Cathy Brown knows what it takes to forge a successful career in the sport, both as a fighter herself and as a coach in the role that she now fulfils. The female boxing pioneer won the World Boxing Foundation European flyweight title and the English bantamweight title, along with reaching No 3 in the world rankings, before retiring in 2007, but she has serious reservations about seeing Ferdinand step through the ropes.
"It is too old to start a boxing career, especially that he hasn't had any experience," Brown tells The Independent. "You could do the boxing training and have a one off unlicensed fight if you want to use it as a drive and vessel for strengthening mental health. But, don't bastardise the honour and value of a professional licence. It takes years to master the art of boxing and people shouldn't underestimate that."
Rio Ferdinand: Defender To Contender
There's no doubt that sparring with Deane has helped Ferdinand following the death of wife Rebecca in 2015, which was followed by his retirement from professional football. He filmed a revealing documentary for the BBC earlier this year to reveal his struggles since being widowed along with looking after the couple's three children. The family have been through a traumatic ordeal over the last few years, but Ferdinand must be helped to see through the pain and realise that he is putting himself in danger with this ill-advised venture.
"It's safe to say it is dangerous to become a professional boxer without any previous fighting experience, no matter how old you are," Brown adds. "But, even more so if you're 39. As we get older it takes longer to recover from injuries, head trauma and training, plus our reflexes and reactions are slower.
"If he was in his 20's or early 30's, it would be ok as he would have time to build his career. But, if Joe Bloggs wanted to turn pro at 39 without any fighting experience, it wouldn't be allowed. It's only because he has celebrity status."
This is something that has crept into boxing more and more over the last few years. Andrew Flintoff was perhaps the highest profiled sportsman that decided to try his hand at boxing once his cricket career reached its conclusion. It was a flop, to say the least, and while one TV channel was able to capitalise on his one-fight career with a television show following the build-up to the bout, the England cricket captain will not be remembered for his time in the ring.
Former footballers Leon McKenzie and Curtis Woodhouse hung up the boots to start professional boxing careers. However, they crucially started at an earlier age than Ferdinand, as McKenzie made the switch at 35 and Woodhouse – who went on to achieve his dream of winning a title with the British light-welterweight belt – at 26.
Then there's the Conor McGregor factor. The truth is that boxing is not in the best of shapes after the last few weeks. McGregor's first ever professional fight against a true great in Floyd Mayweather ended in a predictably one-sided affair, while the sport's supposed saviour bout in Gennady Golovkin vs Saul 'Canelo' Alvarez was overshadowed by an abysmal scorecard from a judge that has since been stood down. This was exactly what boxing didn't need right now, and the problem is that the celebrity name is starting to become bigger than the fight itself.
"In my opinion, yes," adds Brown, "I think these cross overs devalue what a professional boxing licence represents. If you want to have a boxing match for fame and fortune then have an unlicensed fight. Don't ruin what a professional boxing licence means to the kids who have worked really hard through the amateurs, building experience and struggled to get their foot up onto the pro ladder.
"Boxing is a great vessel for guiding anger, anxiety, stress, depression and helping people strengthen mental health, I am a huge advocate of it, but don't devalue the professional licence."
All of this, in itself, could still be understandable if Ferdinand had decided to take the risk and proceed on his journey into unchartered waters. But there is a thick cloud above it all and it is the fact that every part of that journey will be sponsored by Betfair. The fact that when he was asked by one journalist how much Betfair were paying him to take part in their campaign he responded "do not give him the microphone again" says everything you need to know about this decision. It may be helping him mentally, but it is also just as much financially driven.
"It's a shame that it always comes down to money," says Brown, who also splits her time post-retirement as a life coach and personal trainer. "I know he uses boxing for help through hard times, which is great. If this is just a one off fight for the money, than that is even more upsetting in regards to him getting a pro licence for a short career, when so many people struggle to get a pro licence.
"If his drive is to become a genuine world champion then I wish him all the best and no harm, but it is a bit late in life to begin climbing the ladder, although I can imagine his opponents will be hand-picked." Betfair did something similar with Olympic gold medallist Victoria Pendleton last year, in which the former cyclist took to horse racing to compete at the Cheltenham Festival. Was this the start of a new career in a different saddle? No, that dream ended shortly after the 4:10 Foxhunter's Chase, and you wouldn't be surprised if Ferdinand's venture goes the same way, but as the saying goes, money talks.
Cathy Brown is contactable on Instagram, Twitter and on her personal website.
Register for free to continue reading
Registration is a free and easy way to support our truly independent journalism
By registering, you will also enjoy limited access to Premium articles, exclusive newsletters, commenting, and virtual events with our leading journalists
Already have an account? sign in
Register for free to continue reading
Registration is a free and easy way to support our truly independent journalism
By registering, you will also enjoy limited access to Premium articles, exclusive newsletters, commenting, and virtual events with our leading journalists
Already have an account? sign in
Join our new commenting forum
Join thought-provoking conversations, follow other Independent readers and see their replies