Steve Bunce: Chris Eubank Jr is a definite chip off the old block, reviving memories of his dad's epic battles with Nigel Benn
Eubank Jr vs Billy Joe Saunders will be announced this week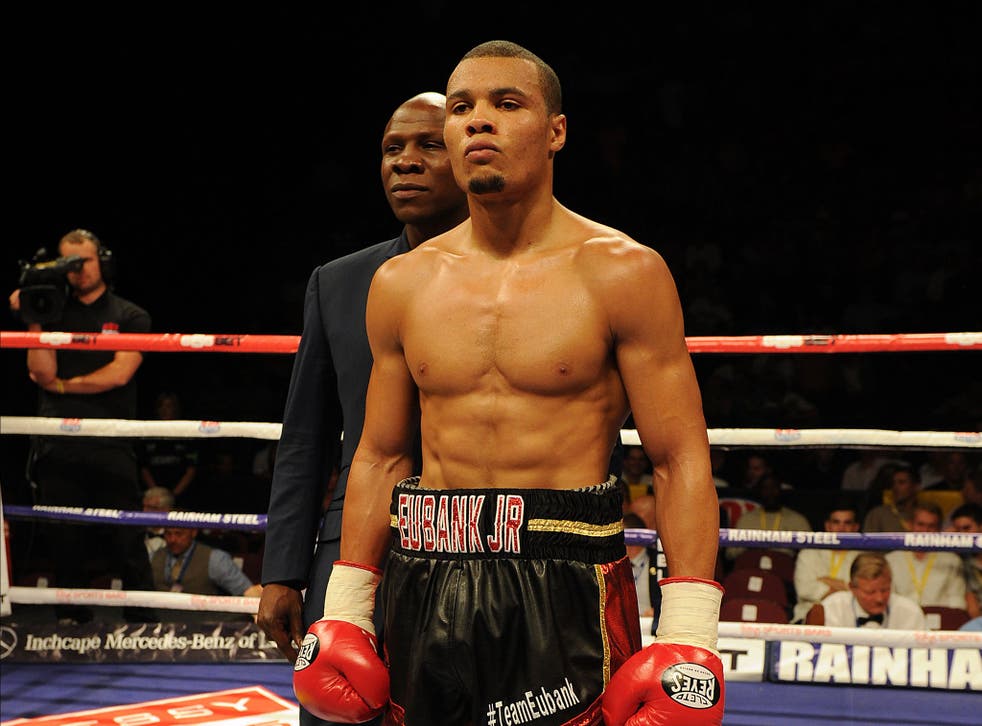 In 1990 a mismatch was made when Chris Eubank was given the chance to fight Nigel Benn for the WBO middleweight title in November of that year in Birmingham.
Eubank was just 24, unbeaten in 24 fights and had never been in a real test, never met a genuine world-class fighter, while it was thought at the time that his mouth had secured the fight and not his fists.
Meanwhile, Benn had salvaged a glittering career, one that had been played out in front of ITV's millions, by relocating to America after losing to Michael Watson one evening in May 1989 in a tent pitched for the occasion in London's Finsbury Park. In the Watson fight, as millions watched on terrestrial television, Benn, who had simply failed to prepare, was sent crashing in round six by a jab. He moved to America, had three warm-ups and then won and defended the fledgling WBO belt in style before his triumphant return to Britain.
In Benn's absence, Watson's career had faltered owing to ongoing litigation with his former manager, Mickey Duff, but Eubank, who had turned professional in New York, where he had been in protective exile from the streets of Peckham, had made an impression with his enigmatic style on both sides of the ropes. He was a breath of fresh air in a sport that was searching for a genuine star. "This business of boxing is a mug's game," uttered Eubank one afternoon in front of the press pack in London.
Benn had his flaws and was surrounded by people outside the jurisdiction of the sport's governing body, but inside the ropes he had fought and looked like a throwback. His first WBO defence in August 1990 in Las Vegas against the feared Iran Barkley was a spectacular, one-round foul-festival that left Barkley reeling. The Americans screamed that Benn was a dirty fighter, arguably the greatest compliment in the boxing lexicon, and off the back of that brutal win he finally returned home to take care of Eubank. "I hate him," Benn sneered, "and I don't even know him."
In September and October of 1990 the pair met in a volatile series of press conferences, which all helped to sell out the venue and create a massive television audience. The odds on Eubank getting slaughtered had gone out but Benn, who was clearly having difficulties inside his camp, remained a big favourite. I had picked Eubank and from ringside I had my selection confirmed that November night in Birmingham as Benn was stopped in the ninth round. Earlier, the dark arts of promotion had yanked off Eubank's trademark Tina Turner "Simply The Best" entrance music just a few seconds after it had started and he was forced to walk to the ring to a chorus of jeers.
This week Eubank's son, Christopher Jr, will officially be announced as the next opponent for one-time British, Commonwealth and European middleweight champion Billy Joe Saunders. The pair will meet for the European title at the ExCel, in London's Docklands, on 29 November and once again people inside the sport are predicting a mismatch and claiming that this Eubank has done even less with his fists to deserve the fight than his father did 24 years ago.
Saunders, like Eubank Jr, is 25 and unbeaten in 20 fights, which includes five of the last seven going the full 12 rounds. Saunders is an Olympic veteran, having competed in Beijing at the age of just 18, when he was the world's top-ranked under-19 boxer. Saunders might not have any of the savagery Benn possessed all those years ago but he is a much better boxer.
It is fair to say that part of Benn's downfall in the first Eubank fight – the pair would meet again in 1993 in front of 42,000 at Old Trafford and an ITV audience of 17 million – was his lack of preparation. It was claimed that Benn had to lose as much as 6lb the day before the fight and it was not a shock that he sacked his team afterwards and went on to become a great fighter. Benn, by the way, was guided to greatness by Jimmy Tibbs, the man who will this week move with Saunders to the MGM gym in Marbella for their two-month training camp.
However, Benn's main flaw before the first Eubank fight was pride and his refusal to consider the "monocled mutineer" a genuine threat, not just a marketable freak. Benn was in front on two of the scorecards when stopped on his feet in one of British boxing's best fights. In the 1993 rematch a debatable drawn verdict was returned. Benn, now a Christian preacher in Australia, remained bitter for too many years. Meanwhile, Eubank's pantomime role as a figure of hate has changed over the years and, after hours of grim struggle in the boxing ring, he remains a maverick but is now British sporting royalty. His son is equally enigmatic and just possibly as good, which is why November's fight has stirred so many memories.
A few months ago Eubank Jr easily beat somebody at York Hall and when asked about a fight with Saunders he shook his head and laughed. "I have no idea about Average Joe Saunders, no thoughts on him," he said. "I will knock out the man, no doubt." It was classic Eubank and part of the reason Saunders agreed to the contest – Benn, it needs to be said, did the same all those years ago.
Join our new commenting forum
Join thought-provoking conversations, follow other Independent readers and see their replies