Teofimo Lopez wins battle of minds against Vasyl Lomachenko as he turns the impossible into the routine
Risk was in the outrage of believing, correctly it turns out, that Lomachenko is mortal
Steve Bunce
Sunday 18 October 2020 15:58 Comments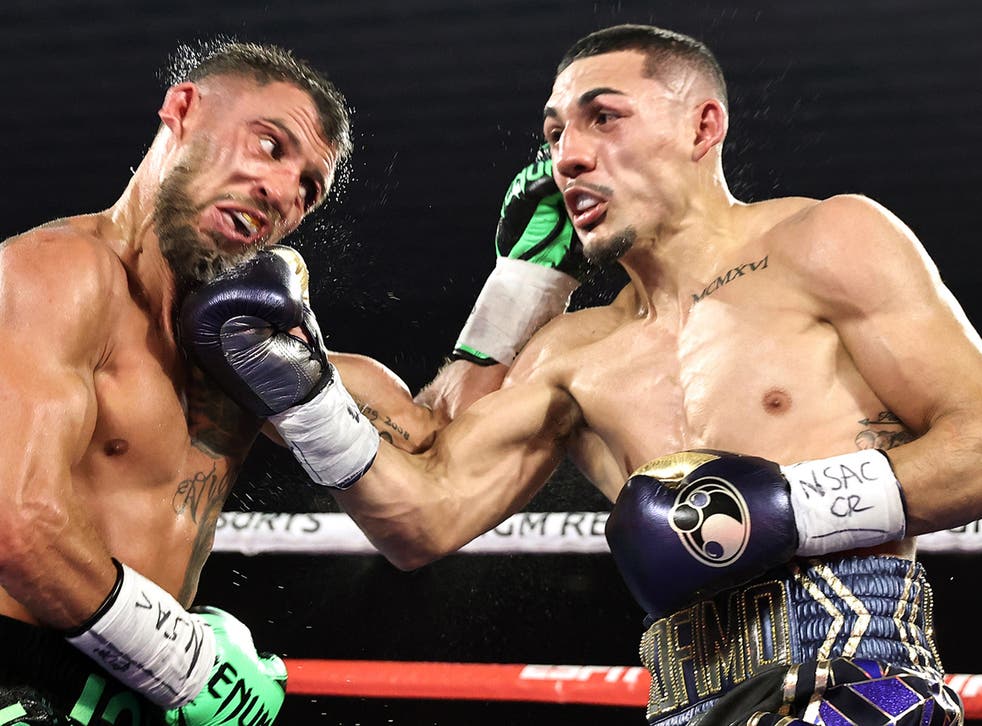 Teofimo Lopez should be first-name mentioned when people look back on the night Vasyl Lomachenko got so much wrong in a business he dominates. Sadly, Lopez will probably be relegated.
On Saturday evening at the familiar MGM in Las Vegas, a place now transformed to a live stage for facsimiles of fights, the strangest of anticipated bouts took place inside the latest boxing bubble; Lomachenko was, it seems, a stroll away from walking with giants, a man with a place in history secured in just fifteen fights. And then Lopez entered the fantasy.
In a silent and controlled display of boxing, a blend of the unexpected and the basic, Lopez seldom put a boot wrong and walked away with Lomachenko's three lightweight world title belts to add to the one he owns; he also took Lomachenko's scalp, his heart and a huge lump of the Ukrainian's reputation. The search will rage from Kiev to Las Vegas for the absent fighting soul of the toppled maestro. There will be a mighty inquest.
Lomachenko wasted so much of the fight threatening to do things we have seen him do for years. His feet were set, he moved, he dipped a shoulder, we waited and then Lopez's left fist dusted across Lomachenko's gloves and that was it. This was the pattern of a fight without sorcery, this was the pattern of a simple plan by Lopez: keep throwing, keep moving and don't get lost in the mystery.
The night belonged to what was visible and not what was missing, and that is why Lopez needs to be celebrated and not hunted like a man who stole a part of boxing's golden chalice. Lopez made the seemingly impossible look routine at times, easily winning the first seven or so rounds by moving, keeping his hands up and the pressure on. The risk was in the outrage of believing, correctly it turns out, that Lomachenko is mortal.
Lomachenko clearly, simply believed in the skills that have seen him win so often that in nearly 430 contests – amateur, something called the World Series of Boxing and the professional game. He had previously lost just twice. In fifteen professional fights he had won world titles at three weights. Lopez ignored the facts, ignored the genius of Lomachenko and just boxed his ears off for eight or nine of the twelve rounds. It was simple: slip, jab, faint, block, move, faint, right to the body, slip, move, jab and repeat.
Lomachenko never read the pattern, his boxing brain went missing and that will lead to awkward questions. Lopez, you see, won the boxing battle of minds, something nobody believed was possible. An alternative is that Lopez was too big, hit too hard and Lomachenko was too respectful. The brutal truth is that Lomachenko was predictable for too long, ineffective for too long and Lopez just kept zipping him with easy shots. There was, it seems, no alternative plan inside the Lomachenko machine.
At the end they stood for judgement. It was not close, forget the American commentary and the endless jargon of justification for what was an old-fashioned performance by Lopez. The scores were 116-112, 117-111 and 119-109; it means Lopez won by margins of four rounds, six rounds and on one scorecard he won eleven rounds, Lomachenko just one.
The scores were wide, delivered in the silence of the bubble chamber and not drowned by the roar of a crowd. In some ways the read was more powerful because of the quiet – the words as alien as the thought that any judge ever, on any planet of boxing would ever give 11 rounds against Lomachenko. It seems wide, sure, but I can see the thinking: Lomachenko was not busy enough, that is the inquest decider.
A rematch makes sense; give them a crowd, let Lopez play to the masses, make mistakes and get his own boxing lesson. And, Lomachenko, the man who has talked of walking away for over a year, now has to make a few hard decisions about his career, a career like no other. It was, truly, the strangest of great fights.
Register for free to continue reading
Registration is a free and easy way to support our truly independent journalism
By registering, you will also enjoy limited access to Premium articles, exclusive newsletters, commenting, and virtual events with our leading journalists
Already have an account? sign in
Join our new commenting forum
Join thought-provoking conversations, follow other Independent readers and see their replies