Terri Harper vs Natasha Jonas result: Attritional battle will make or break either boxer after split-decision draw
Both boxers were left bloodied and bruised on a demanding night in the Matchroom garden that will take its toll in the years to come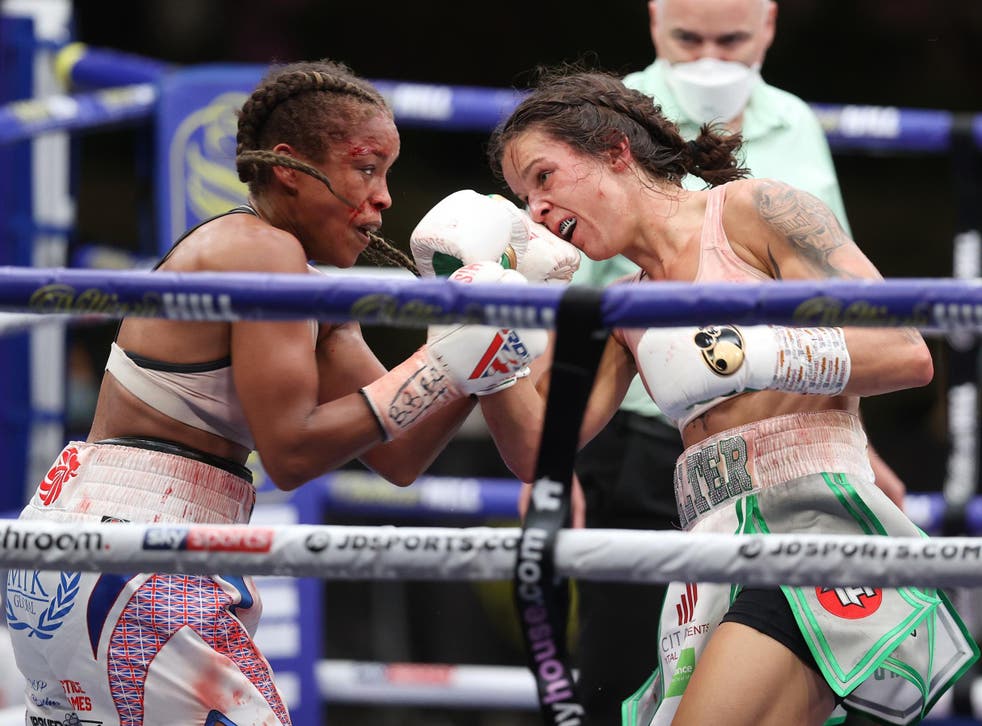 Terri Harper and Natasha Jonas were not pretty in pink at the end of ten gruelling rounds and that is because it was smeared blood. And lots of it.
Harper kept her WBC super-featherweight title with a split draw, which means one judge went for her, one for Jonas and the third could not separate the pair and returned a drawn scorecard. Harper looked like she had lost at the end, her face betrayed her and Jonas could have certainly got the nod. It was not a robbery, there was no larceny under the latest slither of an Essex moon late on Friday night.
The fight was a story of extremes, the type of fight that can easily make or break both the winner and the loser. It was the type of fight that takes a piece of any fighter and in the women's game attritional fights like it are rare. Jonas had a plan, a good plan and worked on taking away Harper's body, staying close, staying compact and Harper fought like being younger, fitter and stronger was a plan. It is not, those are physical advantages and now she needs to go away and find some serious boxing smarts. "I underestimated her," she admitted. I made a joke earlier in the week about Harper sprinting up the hills that surround her home in Denaby, carrying a live cow on her back for fun. All bad jokes aside, perhaps Harper left some of her legs on those relentless runs.
Jonas, meanwhile, knew she was expected to lose and that was part of her motivation – the other part was her years on the GB team fighting at the Olympics, the Commonwealth Games, the European and World Championships. Jonas so nearly "old-manned" Harper out of her title. At the end Harper, who is painfully honest, knew just how close she had come to losing.
The title was fought over the ten rounds of two minute duration, which is the current maximum for women, and it is hard to see how either of them could have possibly done twelve rounds of three minutes, the men's championship distance. The longer distance is what many advocates of the women's game want introduced. The top women face an ugly dilemma, the real wall stopping the sport growing, and it has nothing to do with any vestiges of chauvinism, is about competitive depth and the lack of it. In Britain there are eight female super-featherweights and there are currently 69 men; on a global scale there are 130 women at the weight and 1,613 men. That is the problem and not a couple of old farts bemoaning ladies having a punch up.
However, the women's game, where there are just so few active rivalries, can still produce instant stories and we adore a bit of narrative in the boxing business; Jonas, now 36 and a mother, walked away from the sport back in 2014 and Harper, just 23, was peeling potatoes in a chip shop last year. Ten years ago Harper was a teenage amateur and Jonas was her hero. It is all great stuff and in Eddie Hearn's latest garden spectacular the pair just decided to fight to a bloody standstill. And, yes, there will be a rematch.
They each took turns to win rounds, one each, two each, three, four and – by my card – it was 5-4 to Jonas going to the last. Harper won that round and that left it 5-5 on my card. Jonas was cut by the right eye in the second and that is what turned their white vests pink. They each ended with bruises, welts, swellings and overflowing with respect. They each vowed to return a better fighter and that is possible, but, as I said, long fights like this can take a toll and it would be a hidden toll that neither of them expected. They both went where they have never been before, the fight was that fierce and I'm not a lover of saying it was "good for a woman's fight" - no, this was just a good fight at any level and any sex.
It was Harper's 11th professional fight and she only had 16 as an amateur. But, she is the WBC champion and that inevitably puts her on a fast learning curve. She will be a transformed woman for the rematch; Jonas could make the weight easier next time, could work on her triumphs. Jonas will not be any younger, Harper will need to be better and that creates the unknowns.
They left it all in the ring on the night – the next time we might just see who left the most.
Register for free to continue reading
Registration is a free and easy way to support our truly independent journalism
By registering, you will also enjoy limited access to Premium articles, exclusive newsletters, commenting, and virtual events with our leading journalists
Already have an account? sign in
Register for free to continue reading
Registration is a free and easy way to support our truly independent journalism
By registering, you will also enjoy limited access to Premium articles, exclusive newsletters, commenting, and virtual events with our leading journalists
Already have an account? sign in
Join our new commenting forum
Join thought-provoking conversations, follow other Independent readers and see their replies