The unstoppable Anthony Joshua could have been a heavyweight giant of Muhammad Ali-like stature had he been born into a different era of boxing
Heavyweight was thoroughly impressive against Denis Bakhtov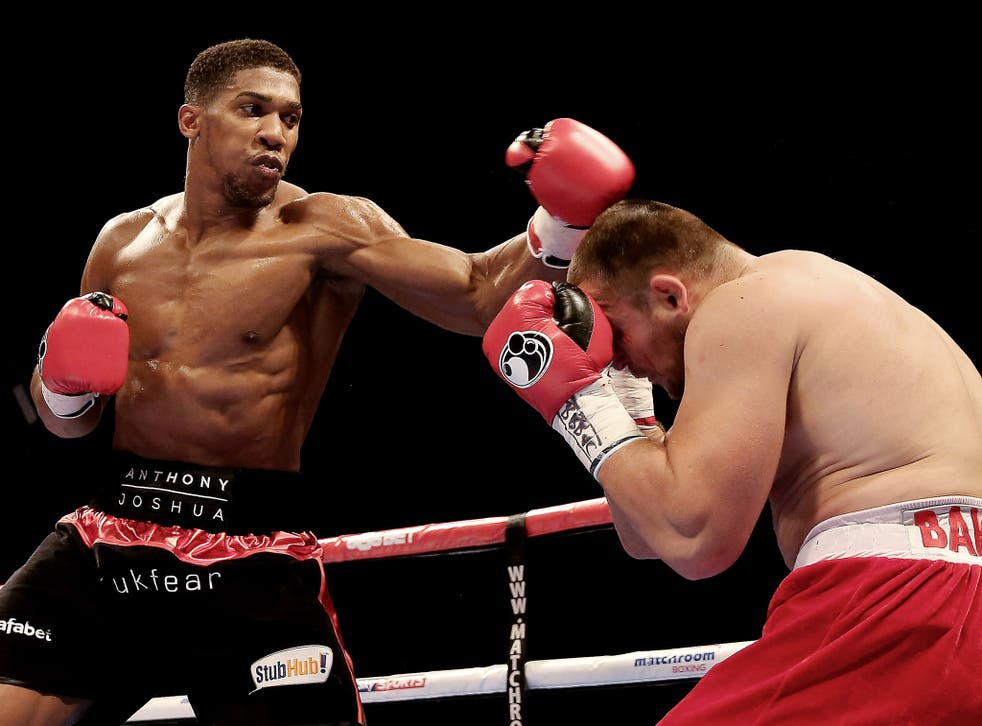 A great staple of the historic sporting canon threatens a return but are we ready to receive him? The heavyweight boxer, in his station as world champion, once occupied a central place in the imagination. Indeed, one such was voted the greatest athlete of the last century.
Muhammad Ali was an arresting sight in any company, an extraordinary athlete and quite brilliant exponent of the noble art, but what would that mean in today's currency? Without the cultural hinterland to support him, Ali might have moved among us as invisibly as today's ring warriors.
On Saturday night, the 2012 Olympic super-heavyweight champion Anthony Joshua smashed his way to the WBC International title in London, Denis Bakhtov going the same way as his previous eight victims, all of whom were overwhelmed inside two rounds.
Joshua's next opponent, the game Michael Sprott, awaits his fate a month hence. Joshua is being expertly steered in the conventional way towards a major championship belt and when that happens it will amount to an unveiling. The boxing priesthood knows all about Joshua, but the wider public have yet to make his acquaintance.
Following Chris Finnegan's middleweight triumph in 1968 Britain went more than 30 years without winning Olympic boxing gold. Joshua's victory in London was equally monumental but beyond the frenzy of that amazing fortnight gained little traction. And on he powers in relative obscurity, this incredible specimen making jelly of journeymen.
There is, of course, the issue of broadcast visibility. Ali was appropriated passively by a huge chunk of the watching demographic that had only three broadcast options when Harry Carpenter was calling his career via a BBC highlights package.
This was the era of the dominant dad. We watched what pops wanted, and if that was boxing the whole family gathered around the set and absorbed the violent beauty of an Ali special, or went to bed, and who could say no to staying up past the watershed?
It helped that Ali had evolved into a major political figure in a turbulent decade and therefore carried a narrative all his own into the ring with him. No athlete in the history of sport has challenged the attitudes of the most powerful nation on earth on matters of racial equality and foreign policy. The emancipation of the African American and protest at the Vietnam War were, alongside space travel, the talking points of the American age.
Engagement with boxing was further spread by radio and newspaper coverage. This was an epoch when television did not set the sporting agenda, as it does today, so that newspapers were often the first point of communion for a sporting audience.
In this cross-fertilized way we learned about and developed attachments to a galaxy of boxing personalities. It is impossible to imagine these days how a young boxer might acquire a following as an amateur. Alan Minter and Charlie Magri were household names fighting for ABA titles, never mind contesting the Commonwealth or Olympic Games.
Boxing reached its television zenith in the 1980s, Barry McGuigan's world featherweight title fight at Loftus Road against Eusebio Pedroza attracting a live audience of 19 million-plus. That was right up there with the Coronation Street Christmas special and the Queen's Speech.
With boxing such a key part of the sporting menu, it was an obvious target for satellite attention and the pay-per-view market. Its gradual disappearance from terrestrial television and the dramatic technological innovations that have transformed viewing habits have ultimately contained boxing within a specialist milieu.
That some engagements might catch fire and sell out a stadium the size of Wembley, Carl Froch versus George Groves being the most recent example, is not evidence of a return to the mainstream but of the sport's enduring appeal among its own kind.
When the time comes, Joshua will enter the light from the same sporting branch line, an audience of boxing converts will assemble in great number to gorge on the spectacle, but the episode will not have the universal reach or acceptance that his forebears enjoyed.
It may be in this enlightened age that boxing has gone the same way as smoking, Page 3, Spam, and re-runs of Benny Hill. All those delicacies are available to the consumer behind closed doors but are no longer a part of the nation's cultural diet.
Joshua would already have become a household name had he appeared 50 years ago, fed into an expectant audience ready to receive him. Today, the neutral does not know what he looks like or, worse still, what to look for.
Join our new commenting forum
Join thought-provoking conversations, follow other Independent readers and see their replies