Tony Bellew beats David Haye in stunning upset after former heavyweight champion suffers Achilles injury
Haye suffered an injury to his ankle in the sixth round and was pulled out of the fight in the 11th after being knocked through the ropes by Bellew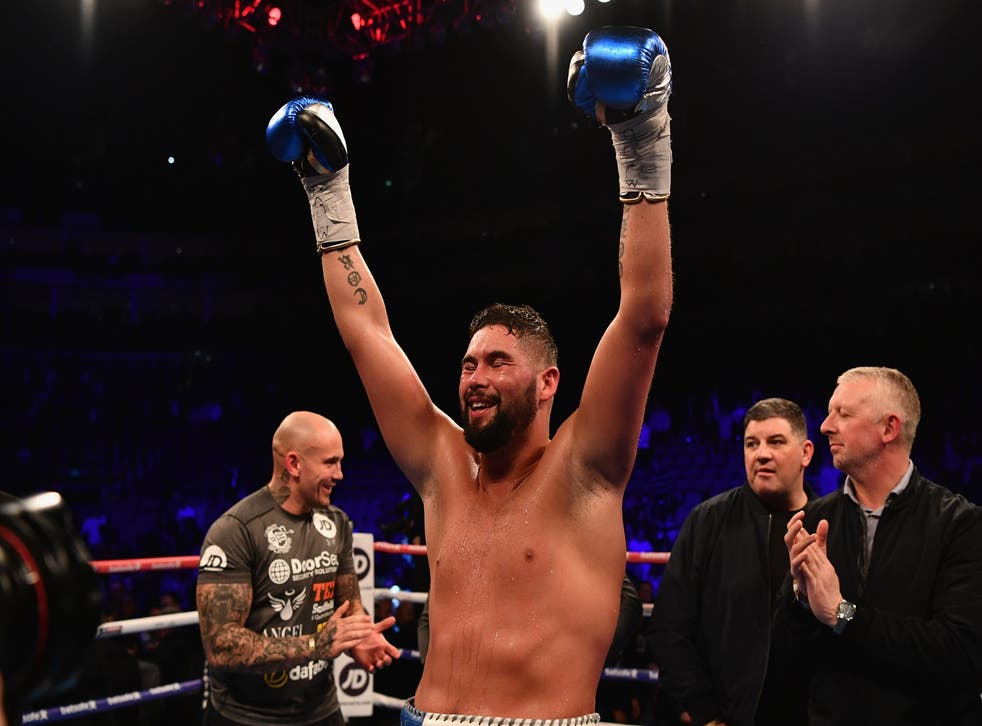 If not for its x-rated content, the five months of build-up that preceded this fight would have been worthy of pantomime. In the end, British boxing's grudge match of the moment came down to a few simple questions: is Tony Bellew a heavyweight? Is he competitive enough at this level to test a former world champion? Is he, ultimately, good enough to share a ring with David Haye? "Oh no he isn't," they said. Oh yes, he is.
And yet still, even after this eleventh-round victory for the unfancied Liverpudlian, people will rightly ask whether he won this fight or Haye lost it. There was no masterclass from either man here, far from it, and it all could have been quite different if, in the pivotal sixth, Haye had not suffered an apparent injury from which he did not physically or mentally recover. The tables turned with a twang of his Achilles tendon.
From there on, Haye was a walking cadaver, and yet Bellew still struggled to find enough power to put the heavier man out of his misery. He made five visits to the stool and back before finally ending what, by that point, had become something of a charade. A dead-eyed, vacant Haye was already stumbling to the canvas when he was hit by a final left to the head. Its impact sent his exhausted body through the ropes.
David Haye vs Tony Bellew - in pictures

Show all 15
Only the O2 Arena's numerous pockets of noisy Scousers would have considered such an outcome realistic at the start of the night. For Bellew to step up from cruiserweight and defeat a former world champion in the maximum category seemed, to everyone else at ringside, farfetched at best. The outsider's entrance did not inspire confidence either. There was a smile from Bellew as he walked in to the theme from Z Cars, but it was a noticeably nervous one, which compared poorly to Haye's cold, assured demeanour.
However, while Haye's entrance was composed, his start to the fight was the very opposite, and he burst out of his corner like he meant every threat that has left his mouth in the past few months. Haye spent much of the first swinging and missing, which allowed Bellew to stick to his game plan of dodging the heavy shots and picking his counters. In those initial stages, before fatigue got the better of both men, Bellew had the speed of foot too. Every time Haye tried to end things early, he evaded him.
The favourite cooled down in the second and started to gradually accumulate the rounds he would need for a comfortable victory on points. But Haye had no intention of taking this the distance. To be first in line for an Anthony Joshua fight he would need a quick and brutal finish, so he fought like he wanted blood, repeatedly overreaching in search of a devastating right down the pipe that would sweep his rival into the stands.
Two big shots in the fourth particularly tested Bellew, and Haye remained well in control until the sixth, at which point that Achilles went and the fight took a dramatic, decisive turn. Before the bell could sound again, Haye had hit the canvas three times, rising on each occasion but only doing so while writhing in pain. Suddenly, Bellew not only had a chance to win, but to end it. One monumental punch would do, and yet it did not come. Haye survived the round.
This was, essentially, the story for the remainder of the fight until the eleventh. Haye, his body broken, sat on the ropes and offered nothing but grapples in a bid to buy time. Bellew, exhausted himself, could not muster enough energy to end it. This inability to find a finisher on the Liverpudlian's part almost seemed to amuse Haye and, in one bizarre moment, he dropped his hands, flexed his pectorals and invited Bellew on to him in a show of hollow, stupid pride. A crowd which had started the night largely on his side turned and heckled in response.
That crowd did not, however, have to wait much longer for his fall. Haye just about made the count after crashing through the ropes, but his corner could not watch any more. In came the towel. Eddie Hearn followed it, throwing his arms around Bellew, but his fighter gave him short shrift, appearing to shake him off. Haye, meanwhile, tried to reconcile himself with a defeat which puts paid to those hopes of Joshua and one big final pay-out. A rematch, perhaps even a trilogy with Bellew is now far more likely. Next time, he will hope his Achilles can hold.
Register for free to continue reading
Registration is a free and easy way to support our truly independent journalism
By registering, you will also enjoy limited access to Premium articles, exclusive newsletters, commenting, and virtual events with our leading journalists
Already have an account? sign in
Register for free to continue reading
Registration is a free and easy way to support our truly independent journalism
By registering, you will also enjoy limited access to Premium articles, exclusive newsletters, commenting, and virtual events with our leading journalists
Already have an account? sign in
Join our new commenting forum
Join thought-provoking conversations, follow other Independent readers and see their replies