Tyson Fury defends views on homosexuality and sexism during appearance on BBC Radio 2 show
A petition has been started to have the heavyweight world champion removed from the short-list of nominees for the BBC Sports Personality of the Year award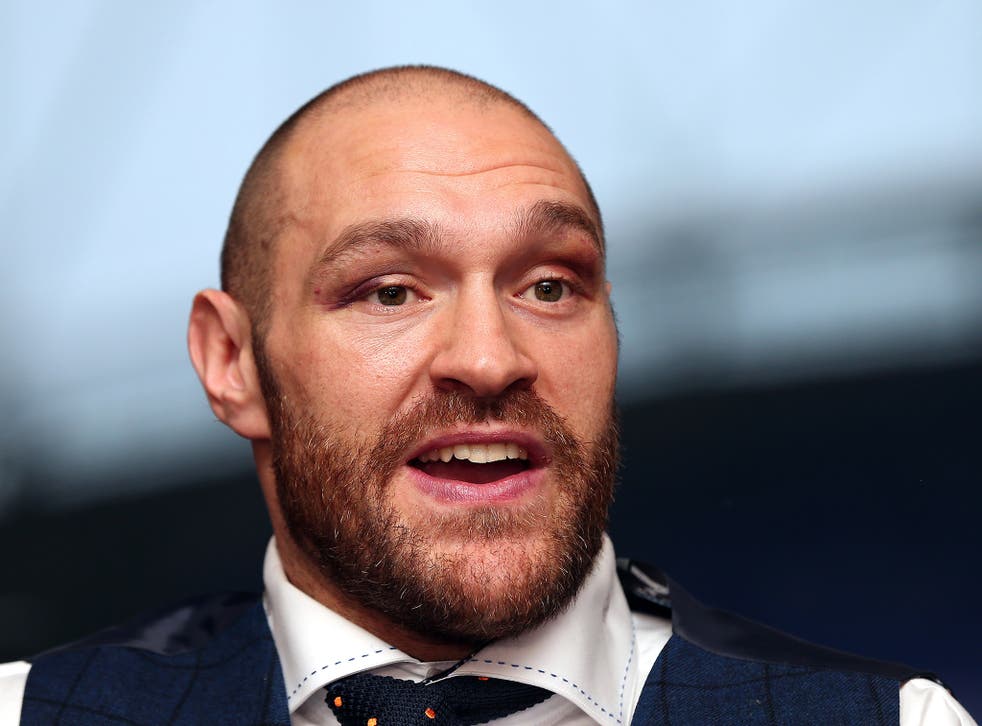 Tyson Fury has defended his controversial views on homosexuality and sexism during a live debate on BBC Radio 2.
The views of the recently crowned heavyweight world champion have sparked debate on whether the boxer should have been included among the 12 nominees for the BBC Sports Personality of the Year award. The Mancunian's beliefs on homosexuality, lewd comments about fellow nominee Jessica Ennis-Hill and comments about a woman's "place" have fuelled a petition calling on the BBC to remove Fury from among the contenders for the award.
"Listen, I believe I should be winning Sports Personality of the Year because if it's about sporting achievement, and personality, then I'm a winner hands down," Fury said after phoning in to the Jeremy Vine show. "I have split opinions and views, so if that's going to hamper my performance and winning, then it's clearly not a fair contest is it.
"I would say, and a lot of people would agree, that I'm the biggest sports personality in this country. I've been to Germany in his [Wladimir Klitschko's] own back garden, disowned him, representing Great Britain and Northern Ireland. That will never be done again."
Fury insisted he only had "love for the world" as he attempted to make clear the views he has expressed on homosexuality.
"Homosexuality, abortion, and paedophilia, them three things need to be accomplished before the world finishes," Fury said. "Whether it takes a thousand years, ten thousand years, two days. That ain't my opinion, that's what the Bible taught me.
"I didn't say I hate homosexuals. Let's make this clear. My Lord and my saviour is Jesus Christ. All he teaches is love. He didn't come here to persecute homosexuals, myself and everybody else. Let's not try to make me out to be an evil person, because I don't hate anybody. Tyson Fury only has love for the world.
"I don't think gay people are like paedophiles. Two adults consenting to love each other is a different matter to someone messing with a child. There's lots of sins in this life. We're all sinners. If you don't believe in God and you don't believe in the scriptures then we are on a different page."
A video of Fury filmed prior to his victory over Klitschko showed him saying Ennis-Hill "looks good in a dress". Addressing those comments today, he said: "She looks good when she's got make-up on. I do think she looks good in a dress, I believe all women look good in dress. I wasn't asked about her achievements. I do think she looks fit in a dress."
In the same video he said "a woman's best place is in the kitchen and on her back". In an apparent attempt to clear up those remarks Fury suggested he was referring only to his wife.
"I am a role model to young people. A very big role model, a 6ft 9in role model," he said. "I love my women, my wife ... She knows her place, I know hers. That's our business. Because I'm in the spotlight, people are making a scene of it."
The petition calling for Fury's removal from the list of nominees has over 80,000 signatures, however the BBC has indicated Fury will not be removed from the short list.
Register for free to continue reading
Registration is a free and easy way to support our truly independent journalism
By registering, you will also enjoy limited access to Premium articles, exclusive newsletters, commenting, and virtual events with our leading journalists
Already have an account? sign in
Register for free to continue reading
Registration is a free and easy way to support our truly independent journalism
By registering, you will also enjoy limited access to Premium articles, exclusive newsletters, commenting, and virtual events with our leading journalists
Already have an account? sign in
Join our new commenting forum
Join thought-provoking conversations, follow other Independent readers and see their replies