Tyson Fury free to fight again after receiving backdated two-year ban from UK Anti-Doping
The former heavyweight champion of the world has received a two-year ban from boxing which has been backdated to December 2015, UK Anti-Doping has announced
Luke Brown
Tuesday 12 December 2017 18:23 Comments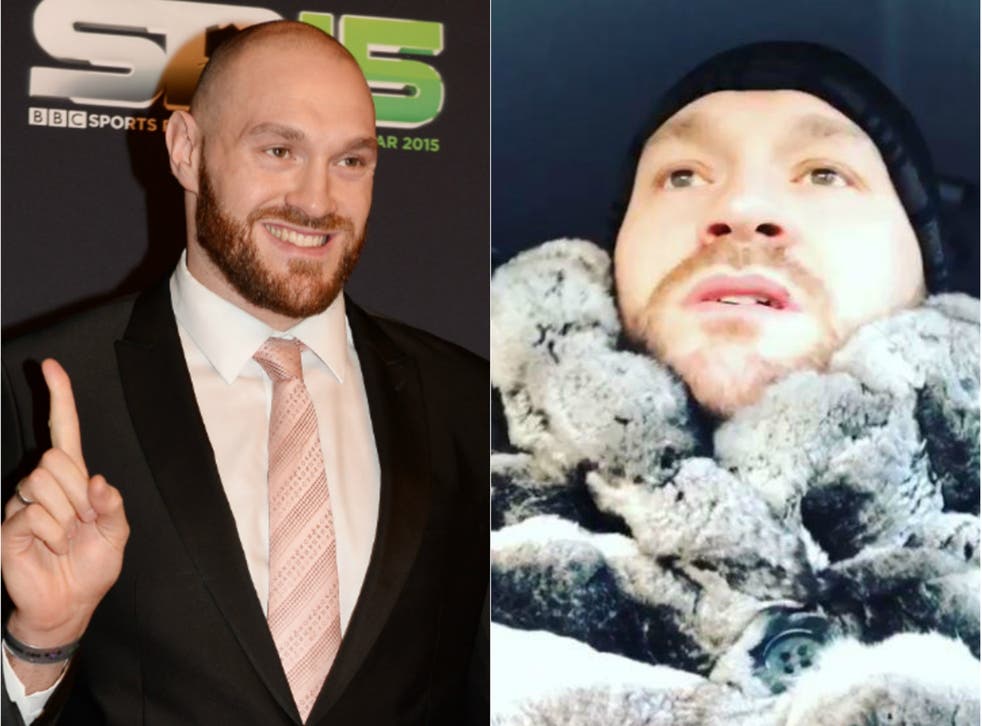 Tyson Fury is free to resume his boxing career after accepting a backdated two-year ban.
The former unified heavyweight champion has not fought since his stunning world title triumph over Wladimir Klitschko in November 2015, after he tested positive for a banned steroid in February 2015.
Fury's cousin and fellow heavyweight fighter Hughie, 23, also tested positive for elevated levels of the banned steroid nandrolone.
Both men blamed the result on eating uncastrated wild boar. It is a similar defence to the one used by Spanish cyclist and two-time Tour de France winner Alberto Contador, who tested positive for the banned steroid in 2010.
The two heavyweights claimed they had "never knowingly or deliberately committed any anti-doping rule violation" and have accepted a backdated two-year ban. That means Fury is free to resume his boxing career, subject to receiving a license.
In a statement published by promoter Hennessy Sports, Fury said that he was looking forward to returning to the ring and resuming his career.
Britain's current boxing world champions

Show all 8
"I'm a fighting man through and through and I've never backed down from anyone in my life and I was certainly not going to back down from fighting this dispute," said Fury.
"Hughie and I have maintained our innocence from day one and we're now happy that it has finally been settled with Ukad and that we can move forward knowing that we'll not be labelled drug cheats."
"I can now put the nightmare of the last two years behind me, which has been particularly hard on my family, but with their support and strength, along with my uncle Peter, Hennessy Sports and Morgan Sports Law, we've fought through relentlessly together and I can now enjoy Christmas with my family and new-born daughter.
"Next year I will be back doing what I do best, better than ever and ready to reclaim the world titles which are rightfully mine. It's time to get the party started #themacisback."
The 29-year-old's case has been complicated by several other factors, though, as he failed a test for cocaine in September 2016 and later admitted using the recreational drug to deal with depression related to his injury and Ukad problems.
As part of the compromise deal, Ukad withdrew a charge against Fury of failure to provide a sample in September 2016.
However, his February 2015 win over Christian Hammer has been officially disqualified. "All titles, prize money and ranking points that [Fury] secured as a result of his victory in that fight are forfeited," the Ukad statement read.
The result of this fight will now likely be changed to a no-contest.
The UK Anti-Doping (Ukad) statement read: "Tyson Fury and Hughie Fury have agreed to resolve the proceedings by Ukad against Tyson Fury and Hughie Fury based on the reported presence of elevated levels on nandrolone metabolites in urine samples that they provided after their respective fights in February 2015; and against Tyson Fury on his alleged failure to provide a sample in September 2016.
"Ukad's position is that the anti-doping rule violations it has asserted have been committed and the consequences set out in the UK Anti-Doping rules should apply.
"Tyson and Hughie Fury's position is that they have never knowingly or deliberately committed any anti-doping rule violation. In recognition of the respective counter-arguments and the risks inherent in the dispute resolution process, each side has accepted a compromise of its position."
Earlier this week, Fury outlined plans for his comeback and said he wanted to fight five opponents in 2018.
"There is a lot of politics involved in boxing," he said. "It is not just two fighters getting in the ring and fighting. There is so much to do. One day we would probably both like to get this fight sorted.
"That is all very unimportant to me. Where it is, who it is, what date it is. As long as I get back out there in 2018, I will be happy.
"I am itching to get back in there, and we are well in the planning stages. It is all starting to come together. I want to get four or five fights in next year. I am ready for that amount."
Register for free to continue reading
Registration is a free and easy way to support our truly independent journalism
By registering, you will also enjoy limited access to Premium articles, exclusive newsletters, commenting, and virtual events with our leading journalists
Already have an account? sign in
Join our new commenting forum
Join thought-provoking conversations, follow other Independent readers and see their replies