Tyson Fury sends Jessica Ennis-Hill a Twitter message to try and explain sexist comments amid SPOTY controversy
Fury has faced a furious backlash after being included on the shortlist for the BBC's Sport Personality of the Year award despite controversial comments on gender, homosexuality and abortion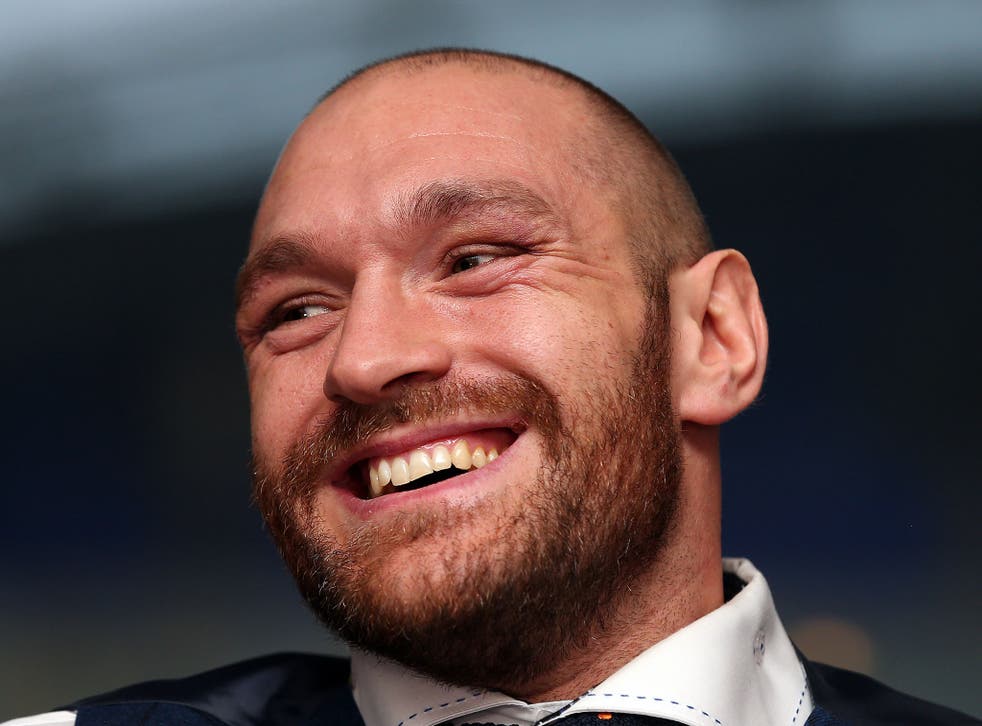 Tyson Fury has defended himself after making derogatory comments about women by directly tweeting Olympic gold medallist Jessica Ennis-Hill to explain he was "giving a woman a compliment".
World heavyweight champion Fury has been in the headlines this week for all the wrong reasons after a campaign was started to remove him from the BBC's Sport Personality of the Year award shortlist.
The 27-year-old was recognised for his achievement in defeating Wladimir Klitschko last weekend, handing the Ukrainian heavyweight his first loss in over 10 years and just a fourth of his 68-fight career.
However, Fury made controversial remarks in the build-up to the fight when revealing his views on subjects such as homosexuality and abortion in an interview with the Daily Mail, and he has also been seen making sexist remarks about Ennis-Hill and former Ultimate Fighting Championship title-holder Ronda Rousey in a video interview with iFL TV.
Fury originally said of Ennis-Hill: ""That's the runner, isn't it? I think she's good, she's won quite a few medals for Britain, she slaps up good as well, when she's got a dress on she looks quite fit.
Britain's current boxing world champions

Show all 8
He later added of women in boxing: "I'm all for it. I'm not sexist.
"I think they are very nice when they're walking around that ring holding them cards.
"I believe if a man should go to work all his life, a woman can go to work as well. If you're not good enough, you won't make it anyway. Who am I to say don't you do that because you're a girl? What I believe is a woman's best place is in the kitchen and on her back. That's my personal belief. Making me a good cup of tea, that's what I believe."
After receiving heated criticism from his comments and seeing a petition signed by more than 45,000 people to have him booted off the Sport Personality of the Year award shortlist, Fury took to Twitter to message Ennis-Hill in an attempt to explain his comments.
Fury said: "If I'm going to get in trouble for giving a woman a compliment what has the world come to, I said u look fit in a dress?
"I've got more personality than all the other competitors put together, in this years [SIC] @BBCSPOTY who can compete with my sporting achievement!!
"Seems to be a lot of jealousy towards me since I won the title, remember that I'm a Gypsy I'm the best fighter on the planet, it must hurt!!!"
Despite the heavy opposition to Fury's inclusion in the award shortlist, the BBC have refused to bow to pressure to remove him, and have claimed that his selection is purely down to his sporting achievement and not his personal beliefs.
A BBC spokesperson said: "The Sports Personality shortlist is compiled by a panel of industry experts and is based on an individual's sporting achievement – it is not an endorsement of an individual's personal beliefs either by the BBC or members of the panel."
Join our new commenting forum
Join thought-provoking conversations, follow other Independent readers and see their replies