Tyson Fury responds to WWE superstar Braun Strowman
Tyson Fury on his WWE debut with Braun Strowman, fame, and why he will not fight Conor McGregor
Fury is set to make his wrestling debut against Braun Strowman in Saudi Arabia on Thursday, but is adamant that the project has nothing to do with prize money or earning further fame 
Tyson Fury has insisted the decision to plan a WWE fight against Braun Strowman next week is a step in the right direction for his career.
Fury, who did not consult his advisers before announcing the fight, will make his professional wrestling debut when he takes on the 6ft 8in American at the Crown Jewel showcase in Saudi Arabia on Thursday.
While the move was not approved by his promoter Frank Warren, Fury maintains that the "spontaneous" decision is a "great" moment in his life.
"I didn't take a lot of persuading," said Fury, who also announced he could have an MMA fight in December. "Almost none at all.
"Nobody knew about it until I appeared on Smackdown in the Staples Centre. I didn't even tell them [my advisers], otherwise they would have advised me not to do it. Nobody is happy, but I would not be Tyson Fury, aka The Gypsy King, if I wasn't spontaneous.
Tyson Fury vs Otto Wallin - in pictures

Show all 22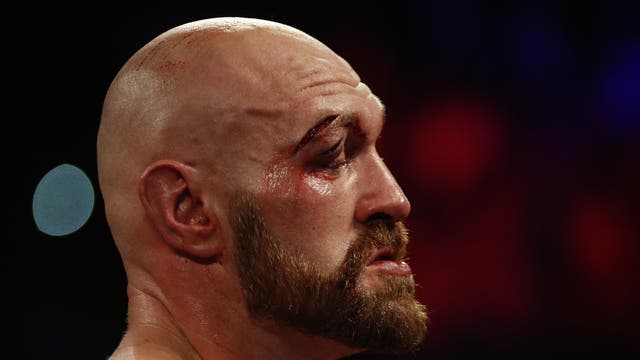 When Fury was asked whether the project could be of detriment to his boxing career – as feared by Warren – he agreed, but said he wanted to do it anyway and would relish the new experience.
"I love WWE and I think it is great for entertainment. I think it is great for my life and my career.
"Let's just say everyone is going to be shocked [by my professional wrestling skills]. It is something that I have always wanted to do, so I took the bull by the horns. If I get injured, I get injured.
"Nobody can teach me how to box. What I don't know about boxing isn't worth knowing. That's a fact.
"I am unbeaten in 11 years, I am 30 fights unbeaten as a professional. I have won five World Championships and every honour there is to win in boxing, and I am still only 31.
"I can box with my eyes closed, I know every move there is to do. You cannot teach an old dog new tricks, so I am not bothered about the boxing, because I can always do that.
"It is like riding a bike, no matter how long you go without riding a bike you will always be able to ride it when you get back on. For me it's the same with boxing. It is easy to me."
Fury's last boxing contest was a win over Otto Wallin in September, while he is still set to face Deontay Wilder in a rematch next year, with the previous bout between them in December 2018 having ended in a draw.
Fury received prize money of £7 million after his bout with Wilder, but he maintains that neither fame nor money is behind his decision to take on Strowman.
"It is lucrative, but at this stage of the game after all the fights and lucrativeness I have had, it is not about that. It is about enjoying life.
"I am not concerned about getting more profile than I have already got. I wish I didn't have a profile.
"People say they want to be famous. But there are a lot of sacrifices to be made for fame. To be a normal person is actually the best thing you can be.
"I said to my wife: 'Do you think I will ever live a normal life?' She said: 'No.' That's pretty s****y when a human being cannot live a normal life."
Conor McGregor has hinted in the last few days that he could be tempted to follow Fury into WWE, despite having announced his return to the UFC for January in Las Vegas.
However, Fury laughed off suggestions that he could face the Irishman in the ring.
"Will I step into the ring with Conor McGregor? Are you crazy?
"Given the fact that he is 5ft 7in and 10st and I am 6ft 9in and 20st, I don't think it would be very fair.
"Maybe if you put five Conor McGregors in there, with ten Floyd Mayweathers as well, then it may be even.
"We have weight categories for a reason. You can't match small guys with big guys, it doesn't work."
Join our new commenting forum
Join thought-provoking conversations, follow other Independent readers and see their replies