Tyson Fury vs Dereck Chisora II: Controversial Fury takes vow of silence at press conference
Move was in protest against the British Boxing Board of Control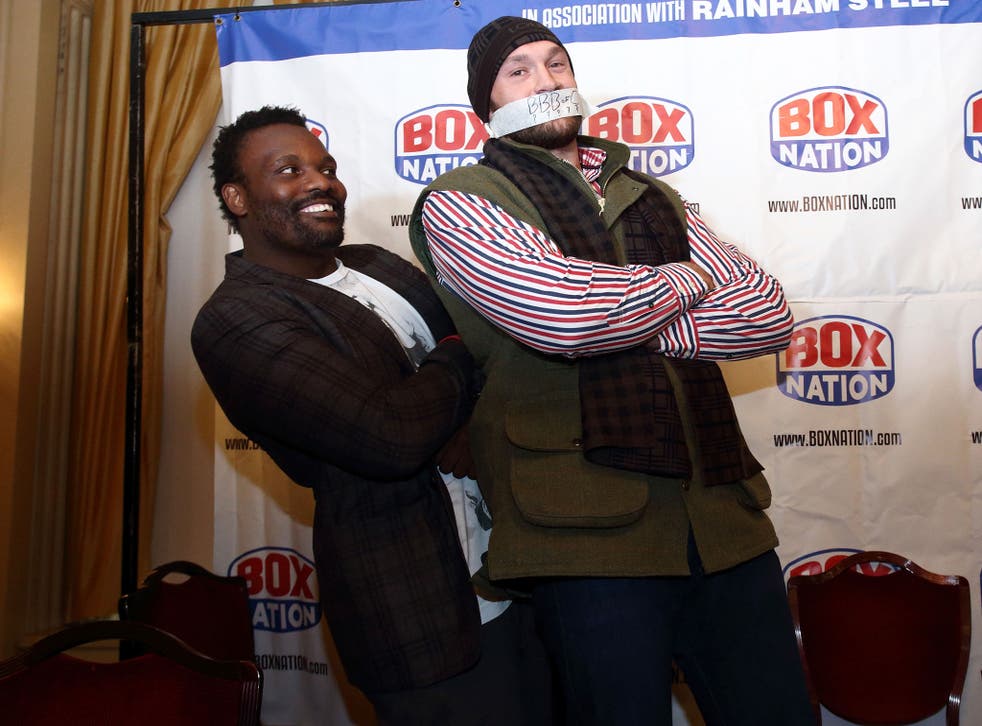 Tyson Fury wore tape over his mouth and refused to utter a single word on Monday in protest against his fine from the British Boxing Board of Control.
Fury was handed a misconduct charge and fined £15,000 for his behaviour at a press conference in June, when the 26-year-old launched into a number of expletive-ridden rants at Dereck Chisora and journalists.
The tape strapped across Fury's mouth had 'BBB of C' and question marks written across it.
Fury will face Chisora for a second time on November 29 at London's ExCel after winning the first bout on points in 2011.
Promoter Mick Hennessy, speaking on Fury's behalf, said: "At the end of the day you need characters to be able to be themselves whatever they're confronted with.
"Sometimes you're going to get a gentleman with Tyson and sometimes, if he's rubbed up the wrong way, you'll get another side of him.
"At the end of the day surely he should be allowed to be himself.
"We could be in jeopardy of this fight not happening - we all want the fight to happen so that's what this is about."
Fury, who has won all 22 of his fights to date, signalled with hand gestures that he plans to keep the tape on for all interviews ahead of the bout and that he would knock Chisora out in the first round.
Hennessy and Peter Fury, Tyson's uncle and trainer, also feel aggrieved after they were not allowed to attend the meeting with the board earlier this month.
Hennessy said: "Neither of us were allowed in the meeting and we had to sit outside in the corridor.
"It's in the regulations you can take a licence holder with you into the meeting."
Peter Fury added: "Tyson has committed misconduct but me and Mick were disrespected and that's another matter entirely and we don't agree with that.
"Tyson was there to be reprimanded and he takes it on the chin."
He added: "We've got a BBB of C dummy, which is what the board wanted, and we've got Bill and Ben the flower pot men sat next to him."
The match-up, which has sold 12,500 tickets so far, serves as a WBO heavyweight title eliminator with the winner earning the right to face reigning champion Wladimir Klitschko.
The fight was scheduled to go ahead in July but had to be called off after Chisora fractured his hand in training.
"This is a fight game," said Chisora, who has lost four of his 24 career bouts.
"When you're in the gym and it comes to the crunch time your focus is not to go in the ring and be a chess player, you're looking to kill the guy on the other side.
"He wants to take something that's yours, it's boxing, it's one of those sports.
"I don't blame him (for the tape). He can keep the tape on for all the interviews but I think we could make a wager that he won't keep it on for the next eight weeks."
Chisora added: "I'm going to knock him out, it's a simple fact, I don't know what round but I'm going to knock him out."
PA
Join our new commenting forum
Join thought-provoking conversations, follow other Independent readers and see their replies