Tyson Fury vs Wladimir Klitschko rematch may never happen as world heavyweight champion could retire
Fury has admitted that he could walk away from the ring and reject a rematch with Klitchsko after struggling to find the motivation to continue his boxing career
Jack de Menezes
Thursday 04 February 2016 09:35 Comments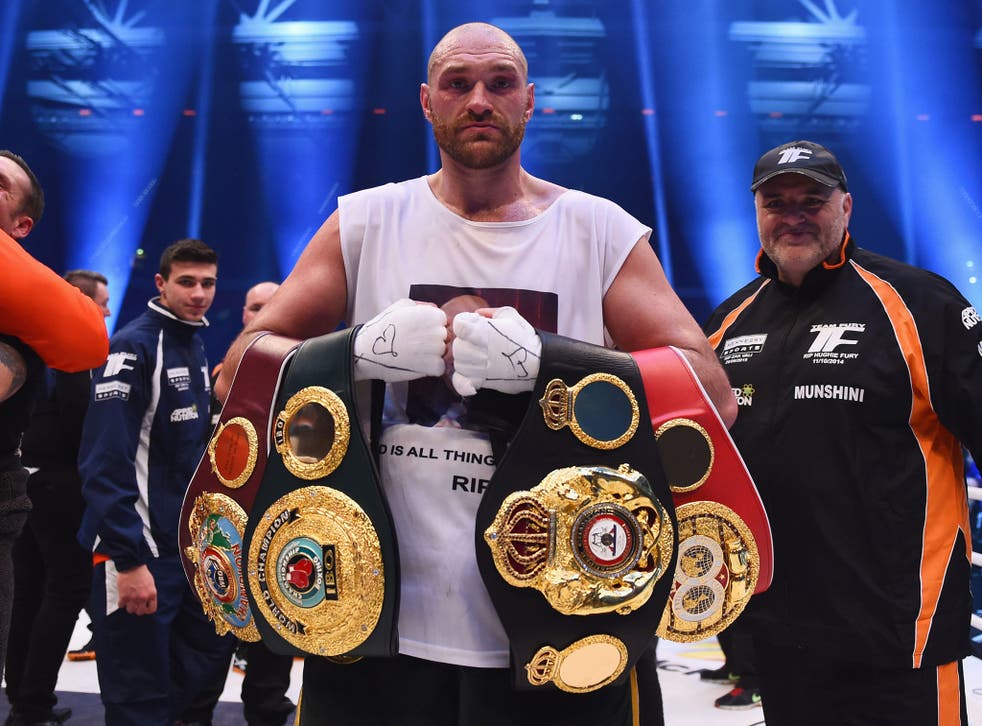 Tyson Fury has revealed that he could quit the sport without defending the world heavyweight titles he won in November by beating Wladimir Klitschko because he is "struggling to get motivated".
The 27-year-old stunned the world when he ended Klitschko's near-11-year reign as heavyweight world champion with a unanimous points victory in Dusseldorf, although the two are expected to face off again in a rematch after a clause was inserted into the fight contracts that allowed the Ukrainian an immediate chances to get his belts back.
Wembley Stadium has been touted as a possible host venue for the heavyweight rematch, but Fury has spoken out to claim that the fight may not even happen now, with the Manchester-born boxer unwilling to continue his career for the sake of earning money alone.
"I'm struggling to get motivated," Fury told BBC Radio 5 Live.
"I could walk away. I could just sail into the sunset unbeaten with all the belts and live a normal life."
He added: "All that I would be boxing for is money and I always thought to myself I never want to let sport become about money."
Fury went on to stress that he wants to spend more time with his young family – wife Paris and two children Prince and Venezuela.
Boxing champ 'Lucky' Fury "not surprised" by win over Klitschko
But the most telling point for Fury is that he acknowledged he has achieved his "dream! Of becoming heavyweight world champion, and not does not know what more he wants from the ring.
"I've accomplished a dream," he said. "It's about how much motivation I have to keep going on.
"There is life after boxing and I don't know what I'm going to do at the moment. I haven't even cemented I am going to fight in a rematch."
Should the Fury vs Klitschko rematch go ahead, it's predicted that a summer showdown in one of Europe's biggest city's will be negotiated between the two camps, although it's believed that the United Arab Emirates have also made a large offer to both boxers in a bid to host the second encounter.
Register for free to continue reading
Registration is a free and easy way to support our truly independent journalism
By registering, you will also enjoy limited access to Premium articles, exclusive newsletters, commenting, and virtual events with our leading journalists
Already have an account? sign in
Register for free to continue reading
Registration is a free and easy way to support our truly independent journalism
By registering, you will also enjoy limited access to Premium articles, exclusive newsletters, commenting, and virtual events with our leading journalists
Already have an account? sign in
Join our new commenting forum
Join thought-provoking conversations, follow other Independent readers and see their replies