Vasyl Lomachenko knocks out Jorge Linares to prove he is a tiny boxing magician without compare
On Saturday night Loma invaded Madison Square Garden, one of the dirty old sport's towering citadels, and dazzled again with a stunning display of both the ancient and the modern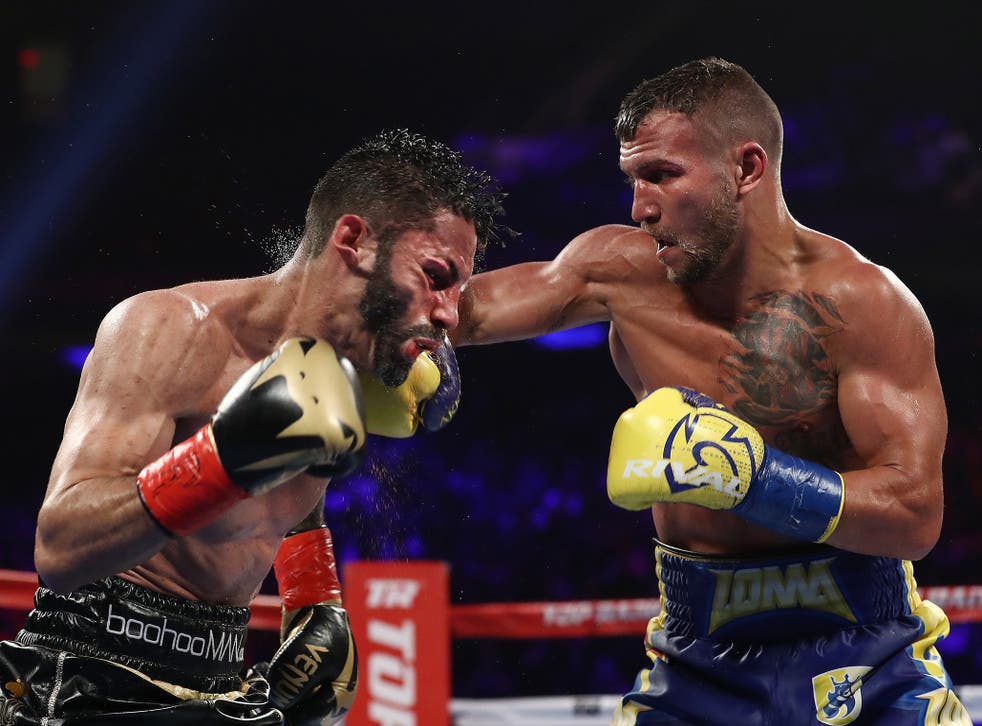 It is proving increasingly difficult to compare the ring exploits of Vasyl Lomachenko with the boxing icons everybody adores as the greatest in the game, men who wander fondly in glorious memory of their victories.
Lomachenko is the tiny boxing magician from the Ukraine and on Saturday night he invaded Madison Square Garden in New York, one of the dirty old sport's towering citadels, and dazzled once again with a stunning display of both the ancient and the modern. Had he taken to the stage and made a fat elephant vanish under the dubious shroud of a pocket umbrella he would have not impressed any more than he did. This was pugilistic sorcery in the purest of forms.
Lomachenko knocked out Jorge Linares in round ten to become the lightweight champion of the world; it was only his 12th professional fight, his eleventh consecutive world title fight and he became a champion in a third weight division. Nobody has ever compiled statistics like that and his combined boxing record - he won two Olympic gold medals - is now 415 fights with 413 wins.
No wonder promoter Bob Arum, a veteran of 52 years making fighting dreams happen, is struggling to place his latest boxer. "How can you compare him with (Muhammad) Ali or (Sugar Ray) Leonard? He's unique, I can't compare him," Arum said. Arum is not alone, Lomachenko is destroying the old-form guidelines.
At times Lomachenko moves like any of the timeless masters from the Twenties and Thirties, his shifting feet glide by fractions, his fists flow like a matador wielding the final dagger. He is reminiscent of a man called Benny Leonard, the real darling at an earlier version of the Garden, a fighter so venerated that he is close to mystical.
There are other times when he cracks away with thoroughly modern punches, angled in from wide, turned nastily on impact for extra hurt and all part of a show blending perfect poise, timing and the neglected element of sickening power. There is never, and I doubt there will ever be, a question asked about Lomachenko's stamina and heart and that is because the very best never have to answer the basic questions. It's an insult to ask about Ali's heart and Lomachenko is now in that company of idols.
On Saturday night he was even caught and dropped by Linares, a fearsome champion, in round six: Lomachenko went down in a heavy heap, rolled, regained his feet and cleared his head as he left Linares to punch the air for the remainder of the round.
In round ten a short left under the tightly tucked elbow of Linares sent him down in agony. He took the ten count on all fours, his dribble forming a puddle on the canvas, ruined and confused and hurt; slow motion pictures could barely conceal the blur of the left, it was simply too fast for the human eye - this is not an exaggeration - to detect. It needed slow motion to look normal. No wonder Arum is lost for words.
Lomachenko has also beaten terrific, respected boxers to win his titles, he has not feasted on the fat harvest of protected champions, the paper warriors with their gaudy baubles. He has forced exceptional and unbeaten champions to stay in their corner, to quit rather than face any more pain and frustration in the centre of the ring. He, like the greats, breaks hearts in different ways, confusing, hurting and damaging his opponents on all levels. Linares had lost three times in 47 fights, had been a world champion on and off since 2007 and was rightly considered the best lightweight in the world. Lomachenko has that title now, but the search is on for new titles, harder tests.
Lomachenko, who is now 30, lost his second professional fight, his first attempt at a world title, when the hoary veteran Orlando Salido failed to make the stipulated weight, was a stone heavier on the night and had a referee that allowed him to hit Lomachenko low and illegally for twelve rounds; the tight loss on points made Lomachenko, it was the instant apprenticeship no amount of simulation in sparring can supply.
"I'm a different man now," warned Lomachenko. All the greatest fighters in history are human, that all have bad nights.
Now Lomachenko must find a necessary diversion, another difficult fight to keep his mad momentum. He could move to light-welter, an increase of another five pounds, and that would mean he has moved from nine-stone world champion to ten-stone, the type of shift that is not uncommon in boxing but often happens over a longer period, which, in theory, allows the boxer to grow into the weight. Lomachenko, however, is setting his own agenda, an original journey that is truly magical. It's also a privilege to witness.
Join our new commenting forum
Join thought-provoking conversations, follow other Independent readers and see their replies