Newly stoical Wladimir Klitschko obsessed with beating Anthony Joshua to regain his titles
Klitschko has put a life as a motivational speaker on hold to target a return to the very top of his sport, after he was unceremoniously dethroned by Tyson Fury in 2015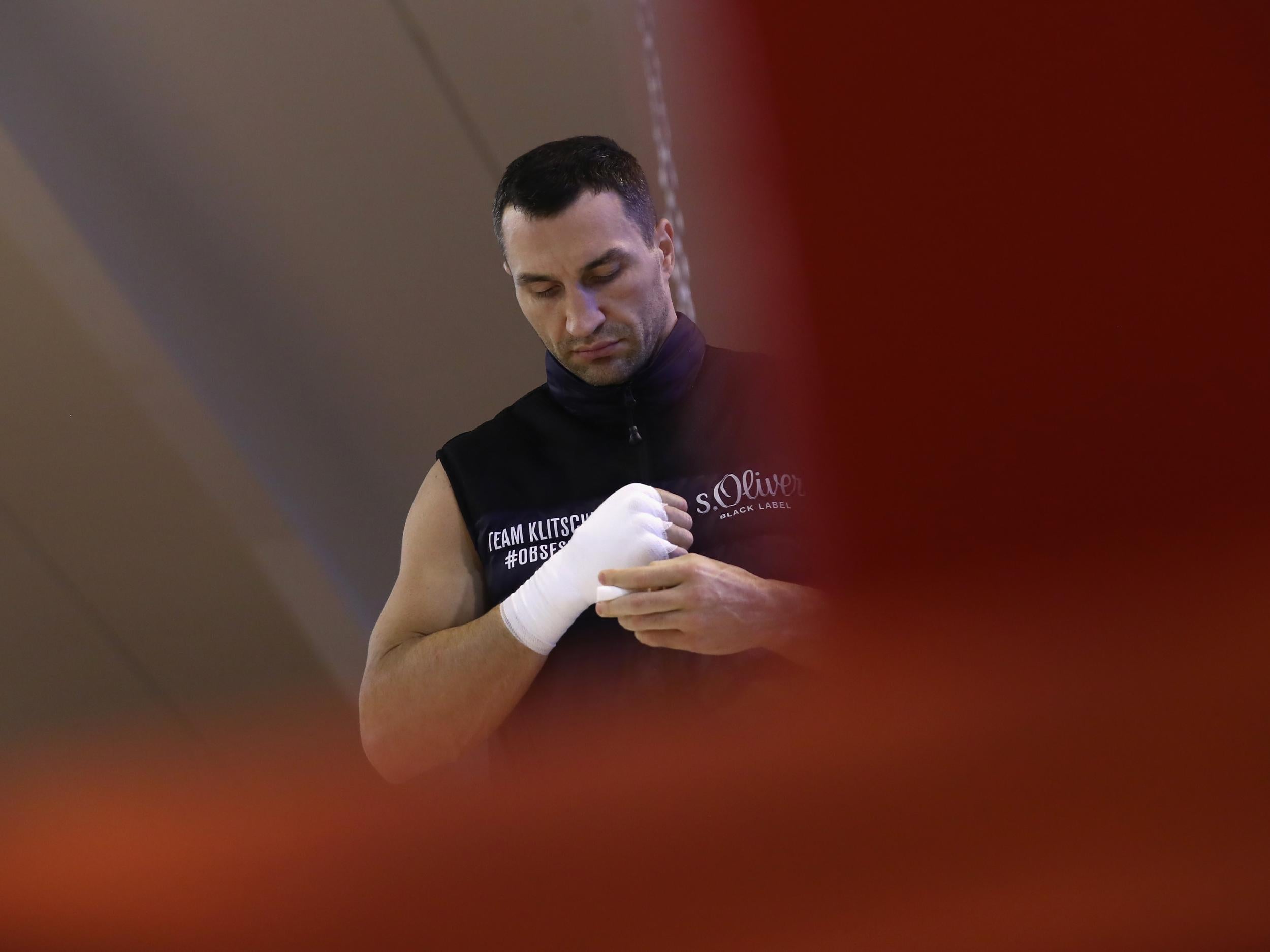 The smiles, the jokes, the comedy are gone and the desire is back in Wladimir Klitschko's life after an absence of about a decade.
At a time when the fallen champion, now 41 and obsessed with regaining his world titles, should be dedicating his life to lucrative cameos as a motivational speaker — part Steven Berkoff baddie and part dead-pan giant — he is hitting paid sparring partners behind locked doors. It sounds like he is hitting them very hard.
Klitschko fights Anthony Joshua for a selection of heavyweight boxing's glittering trinkets in front of 90,000 people at Wembley Stadium on April 29, and it is a fight that is only happening because he was bored, had a bad night and lacked the hunger of his earlier years when he lost his belts to Tyson Fury in 2015.
Fury, understandably, would dispute the Ukrainian's version of events on that night in Dusseldorf when Klitschko was made to look raw, poor and desperate at times in what was a boxing masterclass by the exiled British fighter.
"It was my fault that I lost to Tyson, my fault that I got four losses," explained Klitschko, who has won 64 of his 68 fights. "I didn't do enough, I was too cautious on the night. It was not my team and it was not Tyson Fury – it was me."
In the months, weeks and days before the Fury loss there was a comfortable, relaxed feeling surrounding Klitschko and that has now been replaced by a far more serious mood, just a tiny smile the safe side of malevolent.
Britain's current boxing world champions
Show all 8
Big Wlad knows that his reputation was exposed and he knows that his 27 previous world title fights, including 25 wins, was in jeopardy because he failed to deal with a man he expected to break. Fury laughed at Klitschko's ponderous efforts, each grin hurting more than anybody had managed in over a decade.
People imagine that a boxer needs to be knocked out, cut, require oxygen and then, after a night of hopping between an ice bath and a hot bath, pee blood for a month to be broken. That is not always true and Klitschko is the other type of broken boxing man, the desperate one, the dangerous one, the one that isolates his life until he gets a chance at redemption.
"I needed the Tyson rematch, I was ready and it vanished two times – it is gone now and now it is time for Anthony Joshua. I know I have to prove the pillar of my success, I have to pick myself up," added Klitschko. He is a licenced and accredited motivational speaker.
"I was the champion for a long time and now I have had to start again," said Klitschko.
"It has happened before. I was beaten and I had to come back. People forget that it was not always so easy for me. I hated it when I lost, I hated it before and I hate it now."
The loss before the Fury defeat was in 2004, his first with Manny Steward in his corner, and he was beaten in five rounds by Lamon Brewster. Klitschko claimed that his water was tainted that night and that he was hallucinating during the fight; three years later, in his third defence, he stopped Brewster in six rounds. He made fifteen more defences before losing to Fury.
"Now it is my window, you know, boxing is like Mount Everest," said Klitschko.
"There is just a small amount of time when you can climb Everest, some people die and Everest is still there. I will not waste the time. This is the most important fight of my career."
Tyson Fury: What has happened since he won his titles?
Somewhere tonight Klitschko and the people that are close to him will sit down and continue to plan their ascent, and in the dark and silence they will watch every second of the film they shot when Joshua was a sparring guest at their retreat.
"I will not make mistakes this time," Klitschko insists, his deathless delivery a reminder of the difference between this man and the cheerful champion that Fury beat.
Join our commenting forum
Join thought-provoking conversations, follow other Independent readers and see their replies