Wladimir Klitschko considering options after Anthony Joshua defeat with retirement or a rematch both possible
Klitschko thought he had done enough to put Joshua away in the sixth round but was powerless to respond as Joshua roared back late to maintain his unbeaten record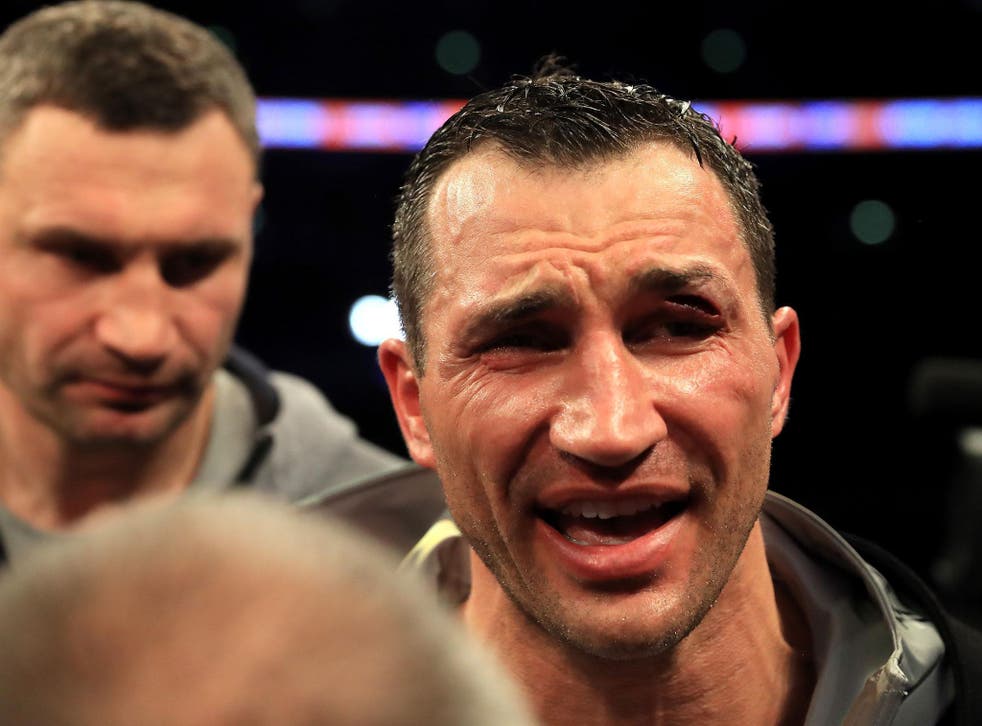 Wladimir Klitschko isn't going to rush into any decision over his future after he was sensationally stopped by Anthony Joshua in a thriller at Wembley Stadium.
The Ukrainian was stopped by the Brit in the 11th round of a compelling fight to suffer only the fifth defeat of his professional career, a second successive loss after going down to Tyson Fury in November 2015.
Klitschko thought he had done enough to put Joshua away in the sixth round but was powerless to respond as Joshua roared back late to maintain his unbeaten record.
Anthony Joshua's career in pictures

Show all 23
Even in defeat Klitschko proved he remains among the world's leading heavyweights, even at 41-years-old, and insisted he would take his time over what to do next refusing to rule out the possibility of a rematch with Joshua sometime down the line.
"I am not going to consider anything or be making any statements right now," he said. "It's too early; I actually feel pretty good, considering I lost. I will take my time. I have a rematch clause in the contract, which I can execute at certain times, and right now will not be making any decisions. If I'm going to fight it'll be a rematch, of course."
The Ukrainian, who has secured 54 stoppages from his 63 victories, spoke of his surprise that Joshua succeeded in recovering from such a heavy knockdown.
He also insisted that the 27-year-old champion remains "vulnerable" before, having long dismissed his points defeat by Fury in 2015 as an "off-night", saying he had no excuse this time around.
"I thought he wouldn't get up," Klitschko said. "He managed to get up: respect. From that moment I felt he was out of gas and concentration. He recovered through the rounds.
"I could have done more to finish him off after he went down, but I was pretty sure 'This is going to be my night' so I took my time.
"I got caught and the blood was streaming into my eye, and it was difficult to see due to the thickness of the blood. I recovered well, took a beating, but recovered well.
"I've always been a fan of AJ's talent since our sparring sessions. How he's going to develop, we'll see. He's vulnerable, and this may be something he will need to work on, but he's today's success.
"He's the unified champion, so you have to respect it. It was a good fight. The fans enjoyed it. I wish I'd been the winner. AJ did a good job. He was trying, was focused, and even if he went down, he got up, came back.
"He managed to see my left hook and block it, so he was well prepared. I didn't have an off-night. I was in tremendous shape. All respect to Joshua."
Klitschko was also asked about the video prediction he had recorded onto a memory stick and which he plans to auction, and he responded: "The prediction is right there.
"Only the buyer of the robe: it doesn't really matter. I'm sure there's going to be a person who'll buy it. If they decide to share it with us, he or she is welcome, but my prediction is right there.
"We both did great, we did a lot for the sport how we promoted this fight, respectfully treated each other. On the response from the fans, it was a great night. It was an exciting, exciting fight: I'm happy about that and that's what I'm taking with me.
"I don't feel as someone who lost. Tonight, we all won. Even if I didn't get the belts, I don't feel that I lost, in my name, my face, my reputation. I definitely gained, even if the result was not on my side."
Join our new commenting forum
Join thought-provoking conversations, follow other Independent readers and see their replies