Tyson Fury responds to WWE superstar Braun Strowman
Tyson Fury: Why wrestling is '100 times' harder than boxing ahead of WWE Crown Jewel match
Fury will face Braun Strowman in a wrestling match in Saudi Arabia on Thursday
Tyson Fury has described wrestling training as '100 times' harder than his usual boxing preparation and insists he will be back to his usual sport in time for February 22.
The 6ft 9in heavyweight raised eyebrows earlier this month when he announced that he would be taking part in a WWE wrestling match just weeks after he received 47 stitches to close the gaping double-cut he sustained against Otto Wallin on September 14.
Fury will face Braun Strowman in a wrestling match in Saudi Arabia on Thursday after appearing at a Smackdown event in Los Angeles earlier this month when a clip of him knocking out a series of security guards went viral.
His promoter Frank Warren described the cameo appearance as 'risky' due to the nature of his healing cut while Matchroom Boxing boss Eddie Hearn has claimed that Fury's move into wrestling is evidence that he's done with boxing.
But Fury, 31, is adamant that his long-term future remains in the sport to which he has dedicated most of his life to after discovering how physically exhausting wrestling can be.
February top 10 pound-for-pound boxers in the world

Show all 16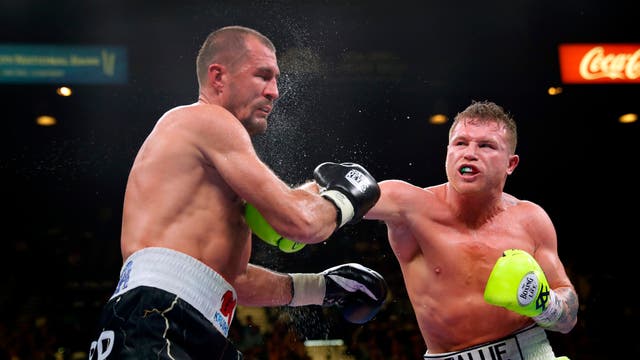 "It's very taxing on the body," he said. "Very hard work. There's a lot of impact to the human body which is different to boxing because you don't really take any impact when you're boxing, well at least I don't. The cut [against Wallin] was my first one in 10 years.
"I don't take any impact in boxing but wrestling you take impact every day getting power-slammed suplexed, everything you can think of. I've been getting chucked out of the ring too. It's all just impact impact impact. It is painful to say the least.
"I don't get hit when I'm boxing really. I would say there is 100 times more impact than in boxing because I'm actually getting picked up and slammed onto a hard floor. I don't ever get that in boxing, ever.
"I can honestly tell you that if I spar for 10 or 12 rounds, I might get hit five times. In this you're getting impacted every day you train. Every time I go to that gym and train for two hours there will be impact, getting smashed onto the floor, the ropes or into a corner.
"Anyone who says wrestling is easier than boxing is full of shit. They don't know what they're talking about.
"I thought I had a hard schedule boxing twice a year, being away in training camp for 10 weeks. These guys are away every day and wrestle five nights a week. Braun Strowman had 191 matches last year, I had two. So which one is more taxing on the body?"
Fury had been slated to take on Deontay Wilder in a much-anticipated rematch on February 22 following their memorable and controversial draw in Los Angeles last December.
But the severity of the cut that Fury suffered against Wallin had seemingly left the timing of that fight in doubt.
There were also suggestions that Fury's decision to take part in the world of WWE was evidence that he did not expect to be fit enough to face Wilder in four months' time.
But Fury says he will be boxing on the aforementioned date whether it is against Wilder or not. The American WBC heavyweight champion takes on Luis Ortiz on November 23 and a defeat would leave the Gypsy King in need of a new opponent.
"We've got to see what happens," Fury says. "Wrestling has offered me an opportunity and I've taken it with both hands, let's see where that leads but there are no big plans for the future.
"When it comes to February 22, It's not me, Wilder has to fight Ortiz so let's see how that fight goes and then we can make a decision. If he loses then it's definitely not going to happen in February, it won't happen at all.
"If he loses we will have to look for a new opponent for February 22nd. Either way, I'll be boxing on February 22 in Vegas, whether it's Wilder or not. What happens in other people's lives or careers is none of my concern but in my life and career, I'll be boxing February 22nd.
"That's for sure, providing I don't get run over in the meantime. Whether the cut is ok or not, I will still be fighting February 22 because that's what I do."
On the wound, he added: "It was only 40 days ago it happened and it's doing alright now. I've been told it will take 100 days until it's fully healed. It should be alright,
"It could open up, but I could walk into the door and open it up, anything could happen. That's the sort of risk element that you face in day-to-day life."
Join our new commenting forum
Join thought-provoking conversations, follow other Independent readers and see their replies