Commonwealth Games 2014: Katarina Johnson-Thompson will not take part in Glasgow
The heptathlete has a foot injury, leaving her 'absolutely devastated'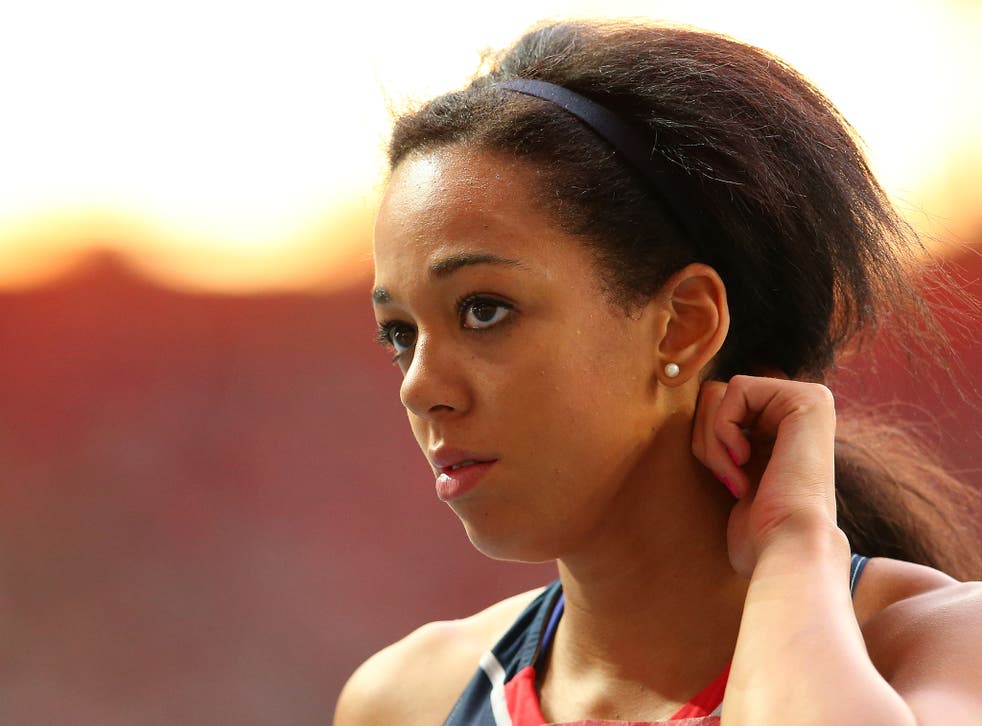 A "devastated" Katarina Johnson-Thompson was forced to pull out of the Commonwealth Games just two days before the start in order to avoid inflicting potentially "long-term" damage to her fledgling career.
Johnson-Thompson, the world's top-ranked heptathlete and one of England's leading golden hopes in Glasgow, injured her left foot in training last week and intensive treatment has not had the necessarily prompt effect.
The 21-year-old has been advised that should she attempt to compete in the most gruelling event in women's track and field she risks suffering serious injury that could jeopardise a future that holds the prospect of an Olympic medal in Rio in 2016.
"We are really disappointed for Katarina as the Commonwealth Games was a big target for her this year, but the key thing is ensuring we don't risk her long-term career," said Neil Black, British Athletics' performance director.
Glasgow had been set up to provide the breakthrough for one of Britain's brightest young athletes. Johnson-Thompson is in the best form of her burgeoning career, setting the leading score in the world in 2014 and a personal high of 6,682 points at the high-class Hypo-Meeting in Götzis last month. It is a total that would have won gold at last year's World Championships and the third-highest score managed by a Briton, behind Jessica Ennis-Hill and Denise Lewis.
In Götzis, Johnson-Thompson finished 41 points clear of Brianne Theisen-Eaton, the Canadian world silver medallist seen as her main rival in Glasgow, underlining her status as favourite for the first gold of her senior career.
"I'm absolutely devastated that I'm not going to be able to compete in Glasgow," said Johnson-Thompson. "The Commonwealths was a key target for me this year and I was feeling so good in my preparation up until this week, so this is a real blow.
"All the advice is telling me that I risk long-term damage if I compete in a heptathlon in just over a week's time and I have to take that advice for the sake of my career. I really hope to be able to compete in the long jump at the European Championships next month but it doesn't take away how gutted I am that I won't be at the Commonwealths."
Johnson-Thompson won long-jump silver at the World Indoor Championships in March and set a personal best in the same event in the Diamond League meet at Hampden Park – a test event for these Games – only 10 days ago. Louise Hazel, who won heptathlon gold in the 2010 Commonwealths, suggested competing in that event in Glasgow might have been an unnecessary risk.
"I just question whether that was perhaps a little bit much for her ahead of the championships," said Hazel.
With Ennis-Hill out of the sport following the birth of her son last week, Hazel injured after coming out of retirement to try to make Glasgow and 17-year-old Morgan Lake choosing to compete in the World Junior Championships, it leaves England with Grace Clements, a bronze medallist four years ago called up to replace Lake, and Jessica Taylor to fly the St George's flag in the heptathlon.
"We're confident that with treatment and careful management she will still be in a position to compete in the long jump at the Europeans next month, but a heptathlon starting next week could result in long-term damage," said Black. "I know she is devastated as this was her main aim this season. However, Katarina and her coach Mike [Holmes] are incredibly experienced as an athlete-coach pairing and realise that it is not worth risking long-term injury."
Register for free to continue reading
Registration is a free and easy way to support our truly independent journalism
By registering, you will also enjoy limited access to Premium articles, exclusive newsletters, commenting, and virtual events with our leading journalists
Already have an account? sign in
Register for free to continue reading
Registration is a free and easy way to support our truly independent journalism
By registering, you will also enjoy limited access to Premium articles, exclusive newsletters, commenting, and virtual events with our leading journalists
Already have an account? sign in
Join our new commenting forum
Join thought-provoking conversations, follow other Independent readers and see their replies